Monuments in Deptford Church of St Nicholas, South London
Heavily bombed in World War II, St Nicholas Deptford contains but a remnant of the sculptured monuments which are described in Victorian guidebooks, but that remnant is still significant and includes a few rather good things, along with the finely restored body of the Church itself, and some fittings.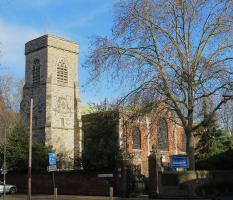 St Nicholas Church, Deptford.
There had been an earlier Parish Church, pulled down in 1696, and rebuilt save for the steeple in the following year, the architect being Charley Stanton. The old steeple was crumbling dangerously by 1710, and the local people wanted to pull down and replace it, and the tower, and indeed the whole Church. In the event, happily none of this happened, and various repairs and strengthenings followed in subsequent years. The top of the tower was lost in a gale in 1901 and replaced, and then in World War II, as noted, it was bombed. What we have now is a mixture: the tower in stone of around 1500, the rest brick, rather low, rather flat, with stone doorways and looking somehow incomplete.
The interior, seating mostly replaced and the centre rather empty, is dominated by the wooden Reredos or altarpiece, noted further down, but we start with the monuments which are the interest of these pages:
Monuments
Boyle and Fenton monument by Epiphanius Evesham, early 17th Century.

The Hon. Roger Boyle, d.1615, was eldest son of Richard, Earl of Corke, and Captain Edward Fenton, d.1605, who captained the Admiral's ship at the battle with the Spanish Armada, and had other naval victories over the Spanish, and commanded an unsuccessful attempt at discovering the North West Passage. A large alabaster monument with alto relievo scene with figure sculpture. The main figure, presumably Fenton, is shown as a young man with tunic, pantaloons, high boots and a ruff, is kneeling on a tasselled cushion, with his prayer desk in front of him. This is the usual depiction of a Tudor or Elizabethan monument, but here, the figure has one hand on his open bible, the other praying, and has his body turned so as to look outward towards the viewer. Behind him, a cherub raises one arm to push up the hanging drape of a canopy of a tent-like structure above; within this, is a covered desk with a skull upon it. On the rear wall, a painting hangs, with the scene indicated in low relief, showing a coastline with a couple of houses clustered in front of a church, and a choppy sea with ships and then a further coastline; perhaps indicating the defeat of the Armada. The rest of the monument consists of side pilasters, a receding part outside of these, an entablature and curved pediment on top, broken to admit a painted cartouche of arms. The inscriptions are on the sideboard like base, and to the outer sides are further arms etc. A good example of an Elizabethan mural monument in the grand manner, and known to be by an significant early English sculptor, Epiphanius Evesham (and completed by James White) - more information on this monument is on this page.

Peter Pett, d.1652, remnant of monument by John and Matthias Christmas.

Petri [Peter] Pett, d.1652, with a long Latin inscription, and a note that the monument was renovated in 1822 by John David Rolt of Deptford. Just a panel with domed top, a thin border, and a cartouche with painted coat of arms on top, part of a more ornate memorial destroyed in the bombing: the cartouche used to be under the panel on a shelf, beneath which was a panel showing a ship's hulk in relief, and some scrolly surround and base. At the top was a top-heavy curved pediment enclosing a carved coat of arms, and to the sides were small pillars and naked putti. It is a loss, of a monument believed to be by the sculptors John and Matthias Christmas. (For a London example of sculpture by these artistic brothers, see the pictures of the Raphe and Mary Hawtrey monument in Ruislip Church, on this page; and that to Dame Leonora Bennet, nearby in Uxbridge Church.)

Richard and Mary Evelyn, 1680s, hanging drape.

Richard Evelyn, and Mary Evelyn, d.1685, daughter of John and Mary Evelyn. The upper part of the monument is carved as a hanging drape, one of the most pleasant styles of small monument, with the drapes starting from a ring at the top centre (an upper terminus of shield and two winged cherub heads has gone), hanging in short festoons to the top corners, and then hanging curtainlike on each side to form a frame. Instead of the normal lower fringe at the base, there is inset the panel to Mary Evelyn, as an oval with frondy crossed branches forming a frame to it, most elegant. There is a disparity between the two parts of the memorial, but each part is a good thing in itself.
John Turner, d.1672, son(?) of Thomas Turner and his wife Elizabeth, with a long Latin inscription, as a black panel with cut out top. Presumably the surviving remnant of some ornamented monument.
Jonas Shish, d.1680, and his wife Elizabeth, d.1678, and their eldest son, John Shish, d.1686. The father was a master shipwright, and the son Master Shipwright of his Majesty's Yard, Deptford. Also commemorated are the third son, Thomas Shish, d.1685, Master Shipwright of his Majesty's Yard, Woolwich, and the latter's on Kendrick Shish, d.1685, a youth. Only the central black inscribed plaque survives, but information close by includes a photograph of the monument as it used to be: with Classical border, two weeping cherubs at the base, and a broken pediment which once would have contained some central device, and smaller cherubs on the sloping sides.
Robert Castell, d.1698, erected by his wife Margaret Castell, 'who erected this Monument to his memory though he himself hath left behind much better and more lasting monuments, such were his piety towards God, affection to ht established Church, Loyalty to his King, Justice in his dealings, hospitality to his neighbours, bounty and Compassion to ye poor, fidelity to his friends, kindness and Fatherly care for his relations, his considerable benefactions to this parish & particularly his zeal and Generous Contributions for ye rebuilding and Adorning this Church...'. Another cartouche, here the border consisting mostly of drapery, with overlapping and looping pipe-folds. At top and bottom are mini-cartouches enclosing painted heraldic arms, and at the top sides are winged cherub heads, plump and Nero-ish. Lower down are carvings of several fruits and flowers, carefully rendered; a winged skull or deaths-head at the base has been lost. An accomplished piece.
Isaac Loader, put up in 1701, a cartouche monument erected by Thomas Lucas and William Streek, churchwardens, 'In thankes to so generous a Benefactor & for the encouradgement of others to imitate good works of Piety & Charity thi[s] Parish have thought fit att their own charge to perpetuate [his] memory and ye voluntary contributions... towards the rebuilding and beautifying this Church'. With the rough shape of a turtle's carapace, surrounded by scrolling, hanging drapes, and two winged cherub heads, and a painted shield of arms at the top. Nicely done, if hardly subtle in its message.
Elizab[eth] Wiltshaw, d.1709, 'who gave ye product of 120 L to ye poor of this Parish, annually for ever', and Judith Fiot, d.1713, 'and gave 130 punds ye product of which is, for ye putting out apprentice one poor child born in this parish, annually for ever'. A nice oval panel with moulded frame, acanthus leaves at top, bottom and sides, and an embracing surround to the lower part of finely carved leaves, olive or bay. A bit has been lost; a group of droopy flowers at the base, centre, and at the top, a small urn.

Oval compositions, early 18th Century: Wiltshaw and Hughes monuments.

John Hughes, d.1710, with a long Latin inscription. An oval panel of lightly veined marble with a border.
Katherin (Gunman) Wivell, d.1713, 'a woman whos piety beauty & Virtue none excel'd.', noting her offspring William and Lidia, and six deceased children. A cartouche monument, with domed central inscribed panel, roughly a broad oval in shape, surrounded by a carved border of scrolling and minor drapery and acanthus leaves. At the top, a miniature cartouche of arms, painted, and a bit more drapery. At the base, in place of a normal bracket, are a pair carved skulls, complete with lower jaws and rather macabre.

Early 18th Century cartouches: Wivell and Boulter monuments.

William Boulter, d.1714, and grandson Richard Wilkinson, d.1725. Another excellent cartouche, rather simple but with nobility of composition, as near to a cool Classical cartouche as Baroque can get. The inscribed panel is violin-shaped, surrounded by a border of carefully balanced, almost symmetrical scrolling, the usual knots at the top corners, and upper cartouche with painted shield of arms. At the base is a little scallop shell, a nice touch.
Ann South, d.1732, and daughter, also Ann South, d.1748. A beautiful cartouche, rather broad, with the border made up of Acanthus leaves and flowers, excellently composed. There is a small scallop shell near the bottom, and at the top a painted shield of arms between two scrolls.
James Wall d.1759, with a eulogy, nephew Isaac Wall, d.1796, and his wife, Joyce Wall, d.1792. Plain round-topped panel of white marble.
Sir Richard Hughes, baronet, d.1779, with a eulogy. Plain panel with slight surround, hinting at some larger, now destroyed border.
Lieutenant Peter Butt RN, d.1780 'of wounds received on board HMS Conqueror... in Action with the French Fleet in the West Indies', and his brother Lieutenant John Butt, d.1799, 'drowned while in Command of an Armed Ship in the North Sea', and their mother, Grace Butt, d.1824. Plain panel with upper and lower triangular appendage.
Henry Karmock, d.1816, Vestry Clerk fo the Parish, and solicitor. Classical monument with the inscribed panel within a border of stripy marble, surrounded by a white marble border of conventional fireplace design, a streaky grey backing panel, and upper black marble cut to pediment shape. At the base, a small apron and two carved, leafy corbels. Signed by the stonemason, B. Smith. Unusual to have this sort of panel with mixed types of marble at this late date.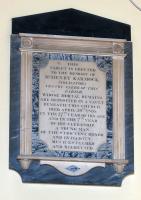 Henry Karmock, d.1816, by the stonemason B. Smith.
Also in the Church
wooden Reredos, with Classical central portion, painted panels of Moses and Aaron, much carving, and wooden panelling to the sides, with two wooden statues of the Prophet Isaiah and Saint John. The rich wooden carving, with festoons of fruit and vegetables, cherubic heads, panels of decorative vines, and a Royal coat of arms on top, is apparently the work of Grinling Gibbons, and has beautiful delicate detailing. I don't know if the two statues, apparently Isiah and St John, are by him, but they would look to be 17th Century, and show much character, particularly in the styling of the beards and the hands.

Reredos by Grinling Gibbons, and carved figures.

The pulpit is also early 17th Century, believed to have been made for the previous Church on the site. It is also of wood, with a short stair, and the most interesting part is the carved figure of a boy underneath holding it up, a young Atlantes if you will. A strange thing of furrowed brow and almost mediaeval aspect.
There is other wooden work: a great carved Royal coat of arms, heavily painted, high on one wall; a narrow cabinet of fretwork, an organ with painted cherubic heads (I am guessing these are wood underneath the gilt), and on top an Angel brandishing a trumpet (see picture at top of page). And a panel, of similar date to the reredos, which may also be by Grinling Gibbons, or of his school, showing the Prophet Ezekiel in the Valley of the Dry Bones: he stands in the centre, surrounded by many skeletons and naked figures, underneath billowing clouds with cherub heads blowing winds, and a figure of the deity.
A painting of Queen Anne, by Kneller, much cleaned, in an ornate gilt frame with arms at the top, the supporting lion and unicorn being extremely ornamental of their breed.
A plain tablet to Christopher Marlowe, d.1593, erected in 1959 by the Association of Men of Kent and Kentish men, to replace a bombed monument.
A granite panel noting that the Church, damaged in 1940 by enemy action, was restored in 1958.
Several excellent descriptive posters, including one noting some of the lost monuments in the Church damaged by the WW2 bombing, and then finished off by local children and vandals. Several fragments of carvings from monuments are attached to the wall, including flowers, a cherub head, scrolls, a cloud, and a shell.
Outside: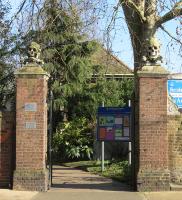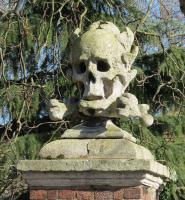 Entrance to St Nicholas Chuchyard, and carved skull.
The best feature by far is the grim entrance to the Churchyard, with a skull and crossbones on each pier. The Church occupies the centre of the yard, which with its enclosing brick walls and a few trees and bushes, feels medievally small and atmospheric. There are several great altar tombs, and headstones, in various states of disrepair, adding to the evocative space.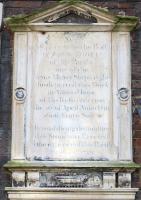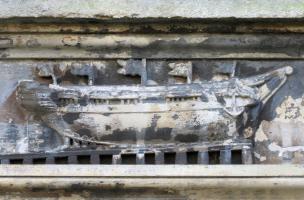 Monument to John Addey, d.1606, and carving of ship being built.
On the walls of the Church itself are winged cherub heads (see picture near top of page), and a couple of exterior monumental panels, one on top of the other, the upper commemorating John Addey, d.1606, Master Shipwright, and the lower a later panel recording his bequest of £200 to support the poor people of Deptford, which was used to buy land and put up buildings which had raked in over £650 by 1862. Betweeen the two, seemingly but probably not associated with the upper, older panel, is a carving of a ship being built on a ramp; the lower panel has one surviving pillar capital with a small figure carved upon it, and at the base, relief carvings of the shipwright's tools. This monument is signed by a local stonemason, Hobbs of Deptford.
With many thanks to the Revd. Louise Codrington-Marshall for permission to show pictures of the monument in St Nicholas, Deptford.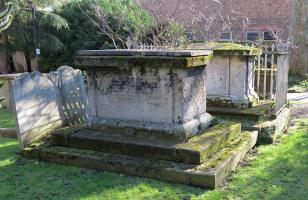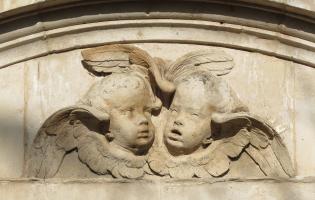 Tomb chests in the churchyard, and cherubs over a door.
Boyle Fenton monument // St Paul Deptford // Deptford Town Hall
Go North West to St Mary Rotherhithe // perhaps via the Caryatids in Southwark Park
Monuments in some London Churches // Churches in the City of London // Introduction to church monuments
Angel statues // Cherub sculpture
Visits to this page from 25 October 2015: 6,482