Monuments in St Paul, Deptford, South London
St Paul, Deptford is one of the 50 New Churches intended to be built in London under the 1711 Act in the time of Queen Anne, of which only a dozen were ever put up before the money ran out. The architect of St Paul was Thomas Archer, known also for his church of St John Smith Square, Westminster, highly controversial and after WWII bombing, converted to a concert hall, and for St Philip's Cathedral in Birmingham.
St Paul's was completed in 1730, and from the outside is most impressive, seen from along the path of trees to the entrance to the old churchyard, with its massive, curved portico of Tuscan columns, tall, slender spire on a rounded tower, really very Baroque, and with the whole body of the building raised up on a platform reached by a flight of steps: 'showing a true feeling of dignified effect and a refreshing disregard for economy'.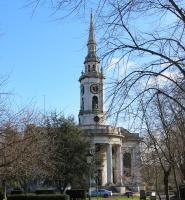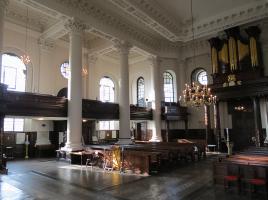 St Paul, Deptford, by Thomas Archer.
Inside, the Church is almost square, with similar ends and sides, and is unique in showing the astonishing richness of the decoration which Thomas Archer was capable of, above all the plastered ceiling, with moulded flowers and foliage and repeating floral forms, Corinthian free standing pillars and attached ones, perfect Classical Roman niches and arches and arched windows, walls enriched with delicate Adam style decorations, restored in gilt on blue.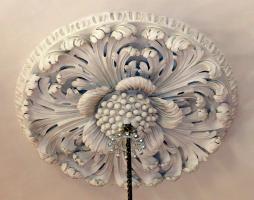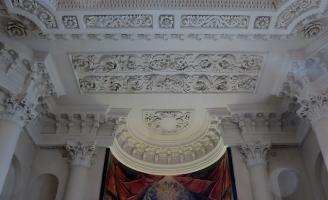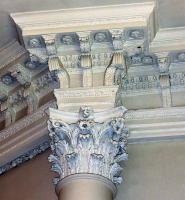 Ceiling decoration, virtuoso designs by Thomas Archer.
Although it is the architecture which impresses, to turn to the main obsession of these pages, there are several monuments, rather few, and but worthy pieces in themselves.
Monuments
Matthew Ffinch, d.1745, his brother Benjamin, d.1749, the latter's son, also Benjamin, d.1767, and wife Sarah, d.1774. Also Mary Hannah Ffinch, d.1837, and her husband Matthew Ffinch, d.1845. A grand monument centred on a large funeral urn with looped drapery to the sides. It stands in front of a frame of coloured marble, with above, a succession of baroque shelves rising to a central orb; directly above the pot is a carving of two winged cherub heads flanking a cartouche of arms. Under the pot is a gadrooned (corrugated) shelf, and below that, a sideboard like construction on the front of which is the inscription. More a piece of architecture than sculpture, and suitably impressive.
Maria, Finch, d.1754, with a Latin inscription. An excellent example of an 18th Century obelisk monument in coloured marbles. The obelisk, sharply narrowing towards the top, forms the upper 3/5 or so of the monument, cut in grey marble, with upon it a high relief carving of an egg-shaped pot, of delicate aspect and with light-seeming flowers descending on either side, which stands upon a curly base with reddish marble and carved leaves,a gain very delicate. Underneath is a shelf and the inscribed panel, with receding outer frames or pilasters to the sides, and outer scrolls with palm leaves to match in style the base of the pot above, as does the red marble apron below the lower, highly carved shelf. The apron, with two curly, fluted brackets in support, is surrounded by an outer apron of grey and black marble, which has itself supporting corbels and a central terminus, carved with leaves etc, and bears a cartouche of arms. The quality of the carving and the nobility of the design mark this monument out.

Joseph Nollekens' monument to Admiral Sayer, d.1776.

James Sayer, Vice Admiral of the White, d.1776, wife Katherine, and her parents Rear Admiral Robert Hughes and Lydia. 'In the War of 1739 he had the thanks of the Assembly of BARBADOES for his disinterested Conduct in the Protection of their Trade and he first planted the British Standard in the Island of TOBAGO. In the War of 1756 he led the Attacks at the taking both of SENEGAL and COREE, and was Commander in Chief off the French Coast at BELLE ISLE at the time of the making of the Peace in 1763'. The inscribed panel is surmounted by a large, triangular composition formed by a carving of partially unfurled sail, in front of which are an anchor, sextant, cannon, shovel etc, with a painted shield of arms in front. On one side a small drape hangs down, on the other, a heavy rope. At the base, two large brackets, one signed by the eminent sculptor Joseph Nollekens.

Monument to Elizabeth Bell, d.1809.

Elizabeth Bell, d.1809, Miss Elizabeth Bell, d.1814, Adam Bell, d.1825, husband of the first-named Elizabeth, their daughter Dorothy Shears, d.1835, and Mary Ann Bell, d.1833. Panel with cut-out corners on a grey marble backing, with upper shelf above which is further grey marble cut to the shape of a pediment, with acroteria, and a central painted shield of arms. At the base, feet with carved flowers and buds. The use of such a marble at this date is unusual.
Mary Garrett, d.1812, a white on black monument where the panel, most unusually, is shaped as a curved, pointed arch, or upturned shield – it would be much more conventional the other way up, but looks good as it is. Under this is a narrow shelf, and then a curved apron which bears a shield of arms carved in low relief with some black paint and gilding surviving; three small leaflets hang below. The black backing panel has truncated corners.

Revd. Charles Burney, d.1817, monument by L.A. Goblet, and bust.

Charles Burney, d.1817, Prebendary of Lincoln and Chaplain in Ordinary to His Majesty. With a eulogy. The early 19th Century interpretation of an obelisk monument. Monochrome marble, with the obelisk so broad at the top that it appears as more of a plinth or headstone. Carved on its front is a roundel bearing a relief profile portrait of Mr Burney, hanging form a hook with ribbons, and supported on a book; other books and manuscripts to the sides. Below the central shelf is the inscribed panel, which has side pilasters, and a lower shelf, quite chunky, supported on two brackets, one of which is signed by the monumental mason, L. A. Goblet. There is a separate bust of Charles Burney in a niche, plump and yet rugged, and draped in a great robe approximating to Classical drapery above his clerical collar.

John Bacon Junior's panel to James Sayer and family.

Henry Sayer, d.1789?, wife Sarah Sayer, d.1822, a co-heiress of John Collier of Hastings, and children Sarah, d.1780, Mary, d.1807, and Henry Jenkinson Sayer, d.1820, and his daughter Cordelia, d.1820. White panel with receding sides, carved with fluting, and upper shelf on which is a curvy-edged black panel bearing a shield of arms with a pair of finely carved crossed branches, with drooping leaves signifying death. At the base, an apron with curved base, made in white marble with a dark streak, and a slight carving of an open book attached by a ribbon. By John Bacon the Younger, a prolific sculptor of considerable merit whose main output was funerary monuments.
Arthur Putt, d.1835, wife Mary Putt, d.1832, and an infant grandchild, Arthur Henry Camberlin, d.1837. A rather blocky monument, with a panel on the front with black surround, affixed to a box-like structure with upper shelf, a small pyramid shaped top, and two upside-down bells as supports below.
Allin Price, d.1831, his wife Ann Maria Price, d.1849, put up by their son Allin Foord Price. A large tablet of white marble, with upper and lower shelf and moulded feet, on a black backing.

Euphemia Crombie, characteristic Arts & Crafts panel.

Euphemia Wallace Crombie, d.1895, a Temperance Worker, and erected by the Temperance Society and Friends. Pale panel with surround of bright red-and-buff stone border, a colourful thing characteristic of the decades around the turn of the Century, heralding a return of the coloured marbles and alabasters that had vanished abruptly in about 1800.
John Harrison, d.1753, a fairly modern panel commemorating the founder and first surgeon of the London Hospital. Polished white marble panel with inscribed line border, small moulded feet and an upper shelf.
Also in the Church:
The decorative embellishments to the interior architecture have already been noted at the top of the page. We also have:
Outside the Church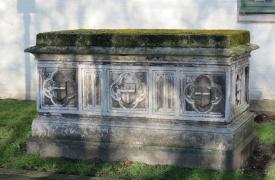 Outside, the Churchyard has been mostly cleared, with the odd tomb, including a large altar tomb with quatrefoils enclosing shields round the sides (see picture above). The visitor will also want to see the Sandford Estate War Memorial, which consists of a granite obelisk surrounded by four obelisk bollards, and a modern granite water bowl, fontlike, in memory of Hugh Taylor, d.1900.
With many thanks to Fr Paul Butler, Rector of St Paul and Dean of Deptford, for permission to show pictures of the monuments inside the Church; their website is http://www.achurchnearyou.com/deptford-st-paul/about-the-church-building.html.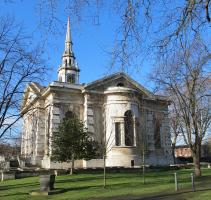 St Nicholas Deptford // Deptford Town Hall
Go North West to St Mary Rotherhithe // and the Caryatids in Southwark Park
Other London Churches // Churches in the City of London // Introduction to church monuments
Angel statues // Cherub sculpture
Visits to this page from 26 October 2015: 5,689