Cranford Church Monuments, Hillingdon, Middlesex
A small brick and stone church in the most remote region of south Middlesex, within the precincts of a large heathy park, it is notable for three grand monuments, and several lesser ones, of the 17th and 18th Century.
Although there is believed to have been a church on the site since Saxon times, and in Norman times it belonged to the Knights Templar, the current building is 15th and 18th Century. Thus the squat tower and chancel are of the 15th Century, and the brick-built nave is of 1716, after fire destroyed an earlier one likely of similar date to the tower. Inside, the Church is dark and atmospheric, with an open roof with tie-beams, a little gallery by the tower with a doorway behind through which the bell-ropes can be seen, and the narrow space dominated by the monuments; the 20th Century furnishings are rather of the Catholic tendency.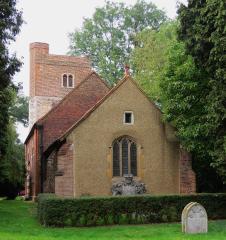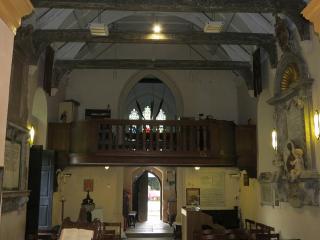 Cranford Church, St Dunston, outside and inside views.
Monuments
There are three grand monuments with figure sculpture, being to Sir Roger Aston, d.1612, Lady Elizabeth Berkeley, d.1635, and William Smythe, d.1720, and really not enough room in the narrow Church for much else monumental: a few large panels, together with a similar number of minor works. We take them, as usual, in date order:
Sir Roger Aston, d.1612 and first wife Mary (Stuart), d.1606. A Jacobean monument on the grandest scale, worthy of a Cathedral. It is a 'kneeler monument', that is to say includes painted statues of kneeling, praying figures in a style that appeared in Elizabethan times and was widespread through to the 1640s (lots more on such monuments on this page). The archetypical monument of this type includes man and wife kneeling on cushions, facing each other across a small prayer desk, under some pillared round-headed arch and with a coat of arms at the top. Sir Roger had two wives, and both of them face him across the prayer desk in what we can imagine as a rather intimidating tableau for their husband. There were four daughters, who breaking the convention regarding girls being behind the mother, are symmetrically disposed, two on each side of their parents. A swaddled infant is in front of the father. The richly carved and painted figures are on a great blocky base of alabaster. There is a great arch rising high above Sir Roger and his wives, supported on black marble pillars of the Corinthian order, and the girls behind each parent mean that there are two wings to this superstructure, with further pillars and entablature. Atop the central arch is the coat of arms, with open-cut scrolls (strapwork) to each side; on top of each of the lower sides is a painted shield of arms. There are a pair of spandrels above the central arch, with depictions of seated cherubs or amorini, a keystone head, and small winged cherub heads to the sides, repeating carved patterns within the arch and coloured pendants from its ceiling, and other detail, in marble, alabaster, paint and gilt.

William Cure the Younger: monument Sir Roger Aston, d.1612, and wife Mary Stuart, d.1606.

The figure of Sir Roger is in full plate armour, white ruff above. He has short curly hair, whiskers, and squarish cut beard. All the figures are painted, and doubtless repainted several times, and with the bright colours and reddened cheeks, they look somewhat mannequin like, but despite the layers of paint, the fineness of the carving is evident in the backs of the hands, the lined forehead and treatment around the eyes. His wives are shown rather young, presumably fair in the way of those times, as opposed to the grim, unflattering old harridans often portrayed on monuments of this period. They both wear bonnets and great ruffs, and are richly clothed with lace around sleeve and breast, a vast skirt on the front one, a complex necklace on she to the rear. The four daughters, each with a hairstyle and dress similar to their mothers, are shown as extremely busty, in a fashion unusual in such kneeler monuments. Really a most splendid and spectacular monument, documented as being by the early English sculptor William Cure the Younger.

Lady Elizabeth (Carey), Lady Berkeley, d.1635, 'daughter and sole heire of George Carey Lord Hunsdon, sonne and heire of Henry Carey Lord Hunsdon, sonne & heire of William Carey, and of the Lady Mary his wife, second daughter and coheire of Thomas Bullen, Earle of Ormond and Wilshire, father also of Queen Anne Bullen [Anne Boleyn], wife to Kinge Henry the eighth, mother of Queene Elizabeth later Queene of England'. The panel is enclosed in a heavy black frame with curly side-pieces, and upper broken segmented pediment enclosing a carving of a swan. Below is a heavy table tomb or chest, with fluted pillars on front and sides, and two painted coats of arms, and on the upper slab of this structure, thus in front of the inscribed panel, is a reclining effigy of a woman. What a remarkable sculpture it is – she is shown in a winding sheet, almost fully covered, including her hair and a veil below her nose, like some Arabian princess. This outer sheet is knotted above her head, twisted to form wide sleeves to her exposed hands, and lightly wound around legs and feet. The carving is excellent, the composition dramatic. She lies on her back, one arm across her upper chest, the other across her stomach, to give a balance to the upper body. Her hips are slightly twisted, so her nearer leg is lower than the further, and they are bent at the knee so that her lower legs lie on their sides and backwards. The semi-recumbent figures of the previous generation were stiff and without movement, and here we have a naturalistic figure, as if sleeping and slightly curling up. A privilege to see such a monument.

Nicholas Stone the Elder: Lady Berkeley, d.1635.

Although not included in his own notebooks or the list of the sculptor's works published by the Walpole Society, the monument is known to be by Nicholas Stone the Elder, as the contract for its making survives. There is an effigy by him to Sir William Curle in Hatfield which has a similar pose of the legs relaxed to one side while the upper body lies prone, and the surviving figure from the John Donne monument in St Paul's Cathedral has a more conventional pose, but has the same idea of showing the figure in a shroud or winding sheet as for Lady Berkeley. Among many other important figural monuments by this early and significant British sculptor is the grand edifice to Thomas Sutton in the Charterhouse, London, and my personal favourites are the figures on the gateway to the Oxford botanical gardens (Oxford Physic Garden).

Dr Thomas Fuller, d.1661. A difficult to read black, oval panel within a cartouche, all curvy scrolls in alabaster. The wide border includes two books, a now blank cartouche which doubtless once contained painted arms at the top, and a ferocious little batwinged skull at the base. On the right hand side above the book is carved a small hourglass, another memento mori symbolic of life running out. He was a significant author, writing on religious, historical and political matters, above all 'The Worthies of England'. George, Earl of Berkeley, whose monument we note below, was his patron in later life and gave him the living of Cranston. The panel to Fuller has been suggested in the relevant modern Pevsner volume (i.e. not by Pevsner himself) as being by the sculptor Thomas Burman, but this attribution has been rejected elsewhere.
Carolus (Charles) Scarburgh, d.1693, carved as a hanging cloth, a particularly worthy style of monument. Here, the folds of drapery hanging down at the sides are held at the top by a knot, falling in triangular fashion to where they are held by small plump cherubs peeking from behind. A shield of arms, painted, is between them. The inscription notes that 'This Marble Monument is Sett up & Dedicated By the Lady Scarburgh, Relic to Sir Charles Scarbrugh, Who by no Violent Distemper But by a Gentle & Easy Decay Departed this Life...' Well carved, though the cherubs are particularly repellent to the modern eye, at least to mine, and particularly in the jowls of the faces.
George, Baron of Berkeley, d.1658, etc etc, and noting the deaths of his son Charles, d.1641, 'drowned is his passage to Fraunce', and daughter Elizabeth, d.1661, and ending that 'This deceased Lord, besides ye nobility of his birth, & ye experienc he acquired by forraigne travailes, was very eminent for ye greate candor and ingenuity of his disposition, his singular Bounty and affability towards his Inferiors, and his readines (had it been in his power) to have obliged all mankind'. A large Classical baroque wall monument, with the central black panel having an inscribed border, wavy side pilasters, and above, a broken pediment enclosing a curved (sectional) pediment, bearing a painted cartouche of arms with a small winged cherub head below it. At the base of the monument, a black shelf under which is a broad apron bearing white marble drapery in a pair of hanging festoons across the breadth, and with painted shield of arms upon it. The monument was apparently put up around 1700, at the same time as that noted below – it is not uncommon for the monument due to the father not to be put up until his errant son has died and left instructions in his will for his own monument, and in a last twinge of guilt, one to his father.

Baron Berkeley, ca.1700.

George, Earl of Berkeley, d.1698, the son of George, Baron of Berkeley noted above, and with a very similar monument, down to the wavy shaped edge of the outer pilasters and the inclusion of little flowers within the inner frame. A few details are varied, as in the slightly more ornate capitals above, and the festoons below, and the Earl has a coronet above his coat of arms. He was a Privy Councillor to King Charles II and King James, and like his father, married an heiress called Elizabeth.
William Smythe, d.1720, with a Latin inscription – he married Elizabeth Berkeley. Another grand monument, of completely different style. Under the inscription is an oval panel incorporating a relief portrait bust of the deceased, wearing a soft hat and loose clothing. This is supported by two cherubs, unclad bar whisps of drapery, and in extravagant pose. There are knotted hanging drapes carved on the inscribed panel, which is flanked by receding pilasters, carved repeating flowers on the shafts and with winged cherub heads at the tops. All this supports a semicircular arch – we cannot call it a pediment, with a large gilt seashell within it. On the very top is a large shield of arms within a cartouche with hanging floral festoons, one of which is broken. An apron at the base between curly brackets with mouldings incorporates another shell, with two festoons of flowers leaves and ears of corn in front of it. The whole in streaky marble with some painting and the seashells gilt.

Elizabeth Feild, d.1727: grand 18th Century carving.

Elizabeth Feild, d.1727, her husband Pelsant Reeves, Arthur Reeves and Euseph [Joseph] Pelsant, with a final date of 1729, and Latin inscription. Pale panel with narrow gilt frame surrounded by a broad frame of beige marble carved in relief with a variety of fruits, grains and flowers. There are curly outer side scrolls, and on top a pediment broken at the top to admit a cartouche with painted arms; to right and left are small flaming bowls. The base splays out, and forms the top of a second, broader panel monument, with the same overall style including carved frame, side pieces formed as scrolling, and a central panel, here of white marble with dark streaks and surrounded by its own inner border in green serpentine. At the base, a repeating wave design is carved on the shelf, with below that, festoons of leaves and fruits with a central wreath, all extremely well carved. To left and right are brackets with mouldings. The two were obviously made as a pair, or rather the second was probably made to accompany the first, with the apron of the upper, earlier monument being removed to put on at the base of the extended monument.
William Hird, d.1760, and wife Mary Hird, d.1780. Plain panel with narrow black and white border.
Mary Gregory, d.1773, and various relatives, ending with Charles John Gregory, d.1796, a midshipman in the Navy who died of Yellow Fever at Cape Nichola Mole in the West Indies. Panel with inlaid serpentine border, a wider dark border, an upper shelf and upon this a segmented (curved) pediment enclosing a small carved figure of a seated girl, holding a flower, and with a funereal urn on a plinth. At the sides are sunbursts in roundels. The base of the monument is a curved apron and bears a small shelf of arms, carved in low relief and painted.

Mary Gregory, d.1773, and family.

Charlotte Rose, d.1855. In a style of monument to resemble the side of a casket tomb, with acroteria, or ears, at the upper corners, and a slight panel cut to form a rimless oversized curved pediment between, bearing the shield of arms and motto. The casket is supported on carved lion feet, supported on a shelf, and the whole is on a rectangular white backing.
Three plain white marble panels to later members of the Berkeley family – Craven Fitzhardinge Berkeley, d.1855, MP for Cheltenham, Thomas Moreton Fitzhardinge Berkeley d.1862, and Maurice Frederick Fitzhardinge Berkeley, Lord Fitzhardinge, d.1867, Privy Councillor and Admiral.
Maurice Child, Rector until 1950, brownish stone panel, decorated by a roundel with chalice in front and the motto 'Thou art a priest forever'.
Also in the Church:
A modern reproduction of a brass to Nicholas Bownell, just the inscription without any engraved picture.
A wooden eagle lectern.
A wooden statue of a priest, rather modern I think, holding a long pair of tongs [St Dunstan?]
On top of the pillars supporting the Chancel arch are two small cherubs holding cartouche shields, painted things of the mid 20th Century and over-sweet. One of the cartouches is a painting of the Pelican feeding its young, the young being too-pretty chicks, and the other has the Lamb of God with crusader flag. Along with a crucifixion on the wall and a painted statue Virgin and child, these are among various Catholicish items installed by Martin Travers, who restored the Church from the mid-1930s.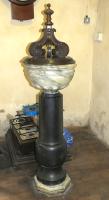 The font.
Outside:
In the small Churchyard are a few interesting pieces, most notably the great Coat of Arms of the Berkeleys against the wall of the Church, with an accompanying ledger stone on the ground in front of it. The supporters of the coat of arms are well carved but somewhat time-ravaged rampant lions, one chained, like the unicorn on the Royal coat of arms.
Among several gravestones with minor carving we may note an 18th Century example of a skull and crossbones to John Laverick, a very naïve one to Richard Sutton, d.1735, and a winged cherub head with crossed torch and trumpet to John Savidge, d.1755.
And a couple of less usual later monuments, including a slab as if a series of natural steps to Anna de Vignoles, d.1893, and one as a rough oval stone bearing a large crucifix, to Gustave Low, d.1903.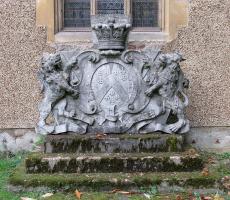 Cranford Church has good information on its monuments; their website is http://www.saintdunstan.org.uk/section/10.
Harlington Church // Harmondsworth Church // West Drayton Church, Hillingdon // Hayes Church
Monuments in some London Churches // Churches in the City of London // Introduction to church monuments
Angel statues // Cherub sculpture
Visits to this page from 29 Nov 2017: 3,663