St Peter's, Northampton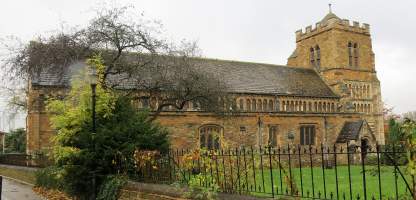 St Peter's Church, Northampton.
St Peter's Northampton is an ancient church, supposed to have been erected about the same time as Northampton Castle was built by Simon de Senlyz, first earl of Northampton, in 1075. It situated on the edge of the town, on the natural walking route from the railway station into the centre. It is a long, low church with a short, squat tower, largely faced in the beautiful orangey brown local stone which is characteristic of the town, most evocative. The long line of blank windows, the odd and apparently purposeless buttresses, which would seem to serve no structural purpose, and the interesting arch at the end under the tower (see picture near the bottom of this page), with its crumbling decorations, all point to something rather unusual. The inside is filled with Norman arches, with alternately clustered pillars and single ones, which separate the nave from the aisles. It is the capitals of these pillars which are a surprise, for they bear Saxon carvings. Those near the entrance of the church are mostly geometric and with lesser ornament, and could be excused as Saxon workmen working for Norman masters, perhaps, but as we progress along the nave we see strange beasts, vigorously carved in high relief, which are so individualistic and assured that (though I have no particular knowledge of the art of that period) it would be hard to credit them to other than a Saxon church for Saxon times. The church guardians when I visited suggested they were likely from the Saxon church, reused in the Norman replacement, which seems entirely reasonable. Also in the church is a single great grave slab, dated to 10th-11th C, also understood to be from the previous church, and attributed, the label says, to St Ragenar, a Saxon noble killed by Vikings in 870, giving rise at one time to a costly shrine. We see a tall slab with swirling leafy Saxon patterns in relief, with the image of a face (a Green Man), a bird, and some animals variously identifiable. A strange and remarkable piece.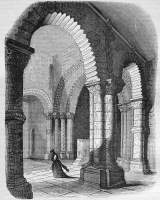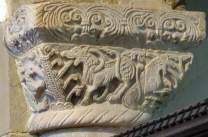 Interior of St Peter's church showing the Norman arches, and Saxon capital.
We should mention the woodwork, with presumably 18th or 19th C divisions of part of each aisle, and some of the monuments are thus fenced off from the main body of the church.
On to these monuments then. We have 20-odd panel monuments and one memorial bust, the majority from the 18th Century, half a dozen from the 19th Century, and one from 1914. As well as the bust, the collection incorporates a few carvings of winged cherub heads, and the styles of the monuments show a variety of classical panels with pilasters and summit pots etc, compositions based on the pyramid, and one in the style of a hanging drape. Several are signed, and we have work by the eminent sculptor Matthew Noble, an equally or more eminent monumental sculptor Robert Blore, and good examples of the Northampton School as represented by Henry and William Cox, John Hunt, and the less exciting John Whiting. The collection is complementary to that in the Parish Church, which is generally open, and which contains further examples of the work of these Northampton men.
We start with the several monuments to two 18th century families, and then proceed to note the rest in customary date order.
Jeffcutt family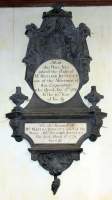 The unusual monument to Richard Jeffcutt and his wife, Martha.
Henry Jeffcutt, d.1712, Alderman, and wife Alice, d.1737, and daughter, Mrs Christian Farrin, d.1767, added later to the bottom of the panel. Lovely script. To left and right, round Ionic pillars, shelf above and below, at the top a winged cherubic head flanked by pots with gilt flames, at the base, apron with crossed fronds in high relief and other minor decoration.
George Tompson, d.1735, Alderman, and wife Judith, d.1737, daughter of Henry Jeffcutt. Panel with frame, or slight pilasters, supporting an open curved pediment on which is a flaming pot. Underneath, shelf and apron carved with a winged cherubic head. Our first example of the work of Samuel Cox of Northampton.
Nicholas Jeffcutt, d.1739, Alderman, and sister Mary, d.1740, with nice flowing script with long curling tails, and beneath, separate little panel to Richard Jeffcutt, d.1757, nephew. The whole with fluted pilasters, entablature with four flowers, shelf supporting a small pot, and a base apron with open Bible in front of crossed trumpet and torch, with small winged cherubic head. Again signed by Samuel Cox, and rather similar in its choice of materials to the Tompson memorial noted above.
Richard Jeffcutt, d.1750, Alderman, and wife Martha, d.1779. His inscription in a white circle, hers below on a separate broad panel, with behind and above a complex drape hanging as if from a tall tent, knotted, and with complex folds. In the centre of this, a cherubic head and garlands. Odd little pots or terminals on the side, and apron with little leaves and swirls which might once have held a motto; some dangling flower below, perhaps moved from elsewhere on the monument. The most original and unusual of the Jeffcutt monuments.
Treslove Family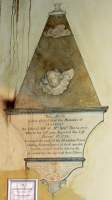 Harriot Treslove, d.1778, monument in manner of Henry Cox.
Thomas Treslove, d.1749, wife Penelope, d.1785, and sons Samuel, d.1785, and Thomas, d.1790, as a shaped white panel in clean white marble, with shelf above which are two stages, one in grey marble, then a tall pyramid in orangey marble. At the second stage, a winged cherubic head, and on the front of the pyramid is a cartouche, now blank; the pyramid is flanked with small flaming pots and topped with perhaps a shell. Crossed branches on the apron, and odd little flowers at base and on sides. It is signed by the second of our Northampton memorial sculptors, William Cox, and is characteristic of the work of this talented artist.
Esther Treslove, d.1768, and infant daughter Sarah. Clean-cut white marble tablet as a square with portions of a circle above and below, with on top a coiled shell with guttering flame or tiny acanthus, and certainly acanthus at the base.
Harriot Treslove, d.1778, wife of the second Thomas Treslove, with rather similar monument, in terms of shape, pyramid and winged cherub head, but simpler, with however a cloud above the cherub head, and a nice acanthus bracket. Either by William Cox, or a close copy of his style.
Other monuments, in date order: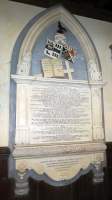 Robert Blore's monument to Revd. Edward Lockwood, d.1802;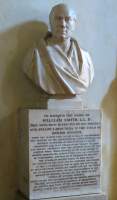 Matthew Noble's bust of William Smith, Geologist.
We may note aside from the monuments, the altar piece itself, and the mural decoration on the wall behind, in a sort of William Burgesque fashion, quite effective without detracting from the Norman character of the church. As well, near the door is a modern mosaic of St Peter, we must presume, done in the modern Greek style with an assured treatment of the face, and using Italian smalti.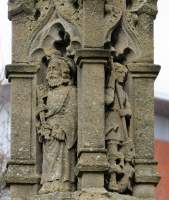 Figures of St Peter and St George on the war memorial.
Outside, we have already noted the curious arch. A couple more bits of sculptural interest:
Small seated sculpture of St Peter with his key in a niche above the porch door, which is likely modern or recut 19th Century work.
A tablet on the exterior wall to the men of St Peter's who died in WW1, with three panels, little ornament, and cut text which could have easily been from 20 years earlier.
A stone pillar bearing a squared-off upper storey in Gothic with four small carved figures: a crucified Christ with two female attendants, Saint Peter, Saint George, and Justice, all rather worn, but still in fair shape and carried out in a consciously medieval style, carved either after WW1 or perhaps for the Boer War (see picture above).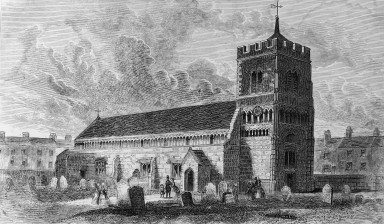 The church in the 1850s.
The engraving above, from the 1850s, is pleasingly comparable with the modern photo from the top of this page. There is some sort of leanto construction to the left of the pucture which has gone now, and the little cross at that end of the roof, but otherwise it has not been further touched. What has changed since then is that the numerous gravestones that dotted the grass around the church have been moved, and the backdrop of modest houses has been altered.
St Peter's Church in Northampton is vested in the estimable Churches Conservation Trust, whose website is found here.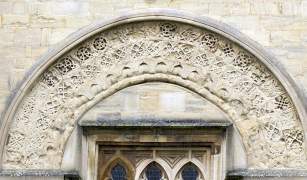 Arch under the tower.
Half a mile's walk out of Northampton is Hardingstone, and along the way stands one of the three surviving Eleanor Crosses with interesting medieval sculpture (see this page), and further away but still in Northamptonshire is Geddington, where the second surviving Cross is (see this page for Eleanor Crosses).
Northampton // Sculpture in some English towns
Sculpture pages // Introduction to church monuments
Visits to this page from 13 Mar 2014: 6,045