Sculpture on the Manchester Coroners' Court and Fire Station, London Road, by J. J. Millson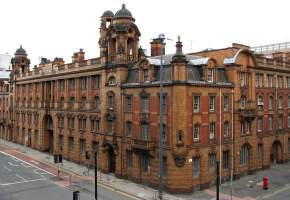 From the upper level of Manchester Piccadilly Station, looking out over London Street, can be seen one of the most excellent and important Manchester buildings from a sculptural point of view – the Coroners' Court and Fire Station. It occupies a whole block, a massive baroque pile completely clad, with orangey faience and terracotta panels. It has little cupolas, a larger corner dome, a little fancy steeple, and prolific architectural sculpture in the best taste. Counting the reliefs, half round, and full statues, there are over 30 figures in all, plus eagles and minor decoration – all the work of J. J. Millson, who seems not to have done architectural sculpture in Southern England, but was responsible for external sculpture at Oldham and Rochdale Art Gallery.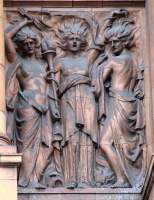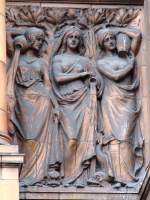 Principal Fire and Water panels, by Millson.
The architects were Woodhouse Willoughby and Langham, and the building bears the date 1905 above the principal entrance, which is that to the Fire Station, facing Piccadilly Station. This entrance has above the two-storey arched doorway, a frieze consisting of two figural panels flanking a window with two spandrel figures of lounging cherubs, holding respectively a torch and a pot. The left panel shows three symbolist-style semidraped women with startling flying hair, spirits of Fire. The lefternmost holds a fork, perhaps thunderbolts; the central one has an Asklepian torch entwined with a snake, and another snake in her other, upraised hand. The third has her back to us, for compositional effect, and has no accoutrements. The right hand panel has three calmer girls, representative of Water, somewhat more demurely clad, pouring from pots. A couple of rather stylised dolphins squirm at their feet, and behind, a leafy tree.
Below, within the arched portion of the door, two seated figures, rather difficult to see clearly. On the left, a semidraped girl watering a plant, (Water) and to the right, another Fire girl, with torch and small brazier, and perhaps a lamp.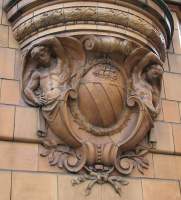 Corbel, with male half figures.
It is worth walking completely round the building to admire the sculptural work. On the corner with Whitworth St is an elegant corbel with two half figures, male, and a central shield depicting a small sailing ship (lots more ship sculpture on this page).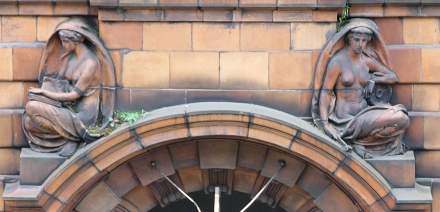 Education and Industry.
Below the turrets near the corners are smaller doors: one with a pair of girls, one with a book, one with a cog and hammer, Education and Industry presumably (various other allegorical figures of Industry are shown on this page; and Education on this page). They are cowled, with drapery about their legs, but otherwise unclad, and rather muscular.
Above the door of the Coroner's Court, another pair of seated girls, somewhat more severe – one with a mirror (emblematic of Truth), the other a Justice figure, fully draped, with nice mail shirt, helm, sword and scales (various other figures of Justice are on this page; Truth on this page).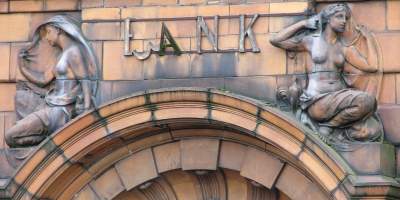 Sleep and Awakening.
The corner door on London Rd, with Fairfield St, once a Bank entrance, has another pair of girls, only partially in the round. Again. both are draped about the legs, and have cowls or hoods – the leftern one with eyes shut, drawing her veil closed, must be Sleep or Night, and the other, a very winsome wide-eyed girl, pulls open her veil and is Dawn or Awakening – a cockerel stands behind her. (By compararison, see this page for allegorical figures of Evening, and sculpture of the month from May for two other figures of Awakening.)
On the Police Station side, there are two pairs of reclining figures, male and female, semidraped, with horses behind. One pair has the man holding a torch downwards to extinguish it, while the girl cradles the mouth of another pot pouring water. In the other pair, the man his back to us, and reins in the horses, while the girl holds her drapes.
A third pair, this time both girls, continue the Water and Fire motifs, the girl on the left with a sail and a water fountain, she on the right with a torch and brazier. A final pair, male and female, are not particularly doing much, and show sails of ships behind. These last show very fine treatment of the nude or semi-nude figure, and the poses of all these pairs, with the twist in the torso, from almost facing at the shoulders to almost in profile at the hips, are very assured. Rare it is indeed to see terra cotta work of this quality.
Higher up, on the two towers near the corners of the London Road frontage, are balustrade-level seated figures which are hard to appreciate given the height and angle of view, though some can be viewed from a higher than street vantage from one exit of Piccadilly Station. There seem to be four figures on each of the two towers, and we can be sure of at least seven:
A mother with child, who has lost a hand;
A long-necked girl with sword and scroll;
A girl with a lion, who has also lost a hand;
A girl with lion, with hand intact, holding a pot. The lion has his foot on a globe
A girl with a child, and a pot – she shades her eyes;
A girl with sword, peering over the balustrade;
A crowned queen with cornucopia.
Finally, higher up on the towers, are eagles on globes supported on dolphins. There appear to be four for each cupola, between pairs of pillars. As well, we see faces in sunbursts, and further examination of the building will be rewarded with a variety of minor decoration, including lions' heads and festoons.
The sculptor, J. J. Millson, a native of Manchester, is a bit of an unknown to me: he was responsible for the exterior architectural sculpture for the art galleries in Bury, Rochdale and Oldham, but appears to have done nothing in the south, and I am unaware of other works by him. The Manchester sculpture though, is of variety enough to give us a feel for the style of the artist, at least at this period. What we see is Arts and Crafts, in the faces, hair and full figures of several of the girls, and of course the background. We also have a touch of the symbolist, in the panels and the figure of Sleep or Night. Millson gives more than a nod to the Classical, especially in the tower figures, which recall the drapery and poses of ancient Greek works in the British Museum. In pose we have more of the classical calm than the baroque, certainly. He likes his female figures more than his male figures and there is a sensuousness in his work. In the panels, the strong pictorial sense suggests Millson may have trained as an illustrator. Regardless, a most excellent sculptor, and I would rank this building as being among the most important schemes of architectural sculpture in the country.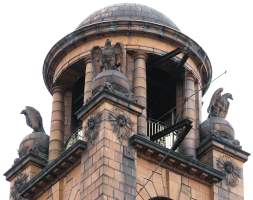 Cupola and eagles.
This page was originally part of a 'sculpture of the month' series, for June 2012. Although the older pages in that series have been absorbed within the site, if you would wish to follow the original monthly series, then jump to the next month (July 2012) or the previous month (May 2012). To continue, go to the bottom of each page where a paragraph like this one allows you to continue to follow the monthly links.
Sculptors // Sculpture in some English towns // Manchester statues, Albert Square // Piccadilly Gardens
Visits to this page from 13 Mar 2014: 7,568