Adrift, sculptural group in St Peter's Square, Manchester, by John Cassidy - Sculpture of the Month for April 2017
Just by the Central Library, in St Peter's Square right in the centre of Manchester, is a most exceptional piece of ideal sculpture, called Adrift, by the sculptor John Cassidy. Originally having been made in 1907 and on display in the Manchester Art Gallery from 1908, after World War I it had become the centrepiece of Piccadilly Gardens, then in 1953 moved to one side, where it stood for many years, somewhat sidelined. With the conversion of Piccadilly Gardens to the setting for some lump of modernistic architecture, Adrift then disappeared for some years into the depths of Manchester Council stores, before re-emerging in St Peter's Square by the Central Library in 2009, then being whipped away again a couple of years later during building work, before reappearing late in 2014.
The group shows a standing man, nearly nude, surrounded by several nude collapsed figures likely comprising his family. The man is heroic in musculature and pose, pacing forward up a slope, apparently out of the sea. One arm is raised up, clutching in his fist the end of his cloak, which hangs down in wavy folds, giving a dramatic silhouette. His other hand, hanging downwards, grips the upraised arm of a nude girl, head forward in exhaustion or unconsciousness; he has clearly just dragged her to safety. She is young, vulnerable, and we see her ribs protruding to the sides. Behind her is a young man, her brother we can assume, still fit but far less muscular than the standing figure of his father; he too is slumped, resting or collapsed back. One hand grips a protruding stone, hanging on to avoid sliding back into the water, the other is against his chest.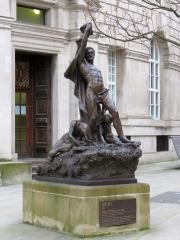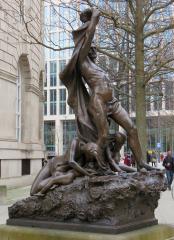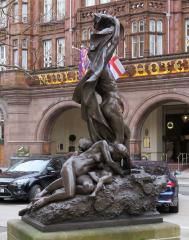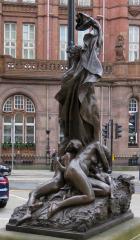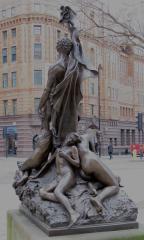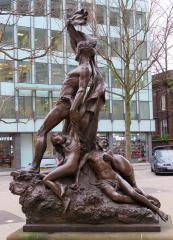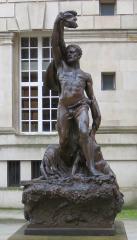 Adrift, by John Cassidy, different viewpoints.
Behind the youth, her back against his, and to the left of the standing figure as we view him, is a woman, reclining forward, kissing an infant who lies prone under her. She surrounds him protectively, kissing his cheek, her hair falling forward in front, one of her arms across his body, the other behind his head, her breasts almost touching his chest, and one of her legs is drawn up, knee bent, under the child's.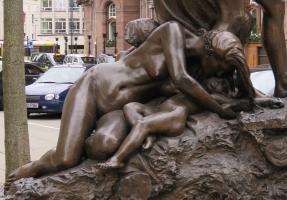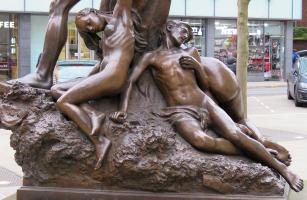 Mother and infant, and the girl and the youth.
The modern panel in front of the base gives a quote noted as the sculptor John Cassidy's own description of the sculpture: 'Humanity adrift on the sea of life, depicting sorrows and dangers, hopes and fears, and embodying the dependence of human beings upon one another, the response of human sympathy to human needs, and the inevitable dependence upon Divine Aid'.
The panel also notes that the group was presented to Manchester Art Gallery in 1908 by James Gresham – what a noble gift.
The sculptor, John Cassidy (1860-1939), spent his career in Manchester, first as an art teacher and then mostly as a portrait sculptor. Among Cassidy's portrait sculpture in Manchester can be mentioned above all the large bronze Edward VII in Whitworth Park, and the statues of John Rylands and his wife Enriqueta Rylands in the John Rylands Library. Also in that library is a group by him 'Theology directing the labours of Science and Art' dating from 1898 – that group, together with Adrift, are about the only public works by Cassidy other than portrait sculpture and war memorials, of which he made a goodly number. A bit more on John Cassidy can be found on this page.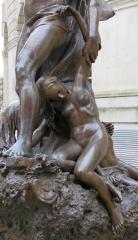 Figure of the girl.
Back to sculpture of the Month for March // Onward to May
Town Hall // Albert Square // Piccadilly Gardens // Free Trade Hall // Coroner's Court and Fire Station sculpture
Sculpture in some towns in England
Visits to this page from 1 Apr 2017: 4,150