John Cassidy (1860-1939)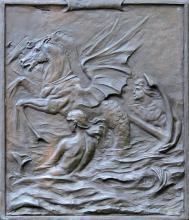 John Cassidy - seahorse plaque.
The Manchester-based sculptor John Cassidy was born in Ireland, learning his craft in Dublin and then at the Manchester School of Art, where he settled in 1883. In 1887 he attracted note by modelling an astonishing number of busts of visitors to the Manchester Royal Jubilee Exhibition during the six months it was open. He exhibited in Manchester, at the Royal Cambrian Academy, thus being a provincial rather than London based sculptor, and though he did show works in London in the New Gallery, I can't think of any public works by him in London. Cassidy worked as an art teacher and sculptor of portrait busts and statues, and after World War I, war memorials. There is a rather comprehensive website about John Cassidy at http://www.johncassidy.org.uk/.
Cassidy's work in Manchester includes the large bronze of King Edward VII in Whitworth Park, and the statues of John Rylands and his wife Enriqueta Rylands in the John Rylands Library. Also in that library is a group by him Theology directing the labours of Science and Art dating from 1898, and not far off, behind the Library, in St Peter's Square, is his excellent ideal group Adrift – see this page. In Bolton are Cassidy's statues of Benjamin Dobson and John Dorrain. And far from Manchester, in Bristol, the statue of Colston, with relief plaques around the sides of the base, is also Cassidy's work.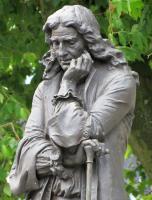 Colston statue in Bristol.
Cassidy's war memorials include one at Heaton Moor, Stockport, Manchester, and one using the same figure of a soldier at Colwyn Bay in North Wales, at Eccles in Salford with a winged Victory on top and a soldier in relief on the tall shaft, another winged Victory at Skipton, North Yorkshire, with a statue of a man at the base called 'The sword-breaker', and at Stourbridge, with a statue of 'Victorious Peace' on top as a nice Edwardian style girl with flower and furled flag.
Cassidy's portrait sculpture is very decent, competent, but not as characterful as the best of the Victorian and Edwardian sculptors. His Manchester statue of Edward VII is the best of the bunch, but more because of the breadth and solidity of the kingly figure rather than the portrait per se. His statues of John and Enriqueta Rylands show little of spirit, though the sculptor clearly enjoyed the drapery on the female figure. His soldiers, free standing or in relief, are likewise worthy but not that exciting in my view. Better are his historical figures – the Edward Colston in Bristol especially (see this page). Much better are his allegorical and ideal figures, few examples that we have. Here, he shows a sympathy for the nude figure in a sinuous, dreamy New Sculpture fashion. As well, the fishes on the base of the Colston memorial, assuming they are his, are splendid things.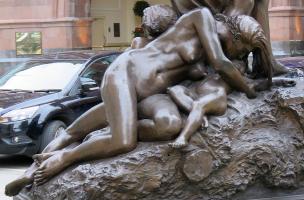 Cassidy's Mother and Child from the group Adrift.
So far as allegorical and ideal sculpture goes, Adrift is by far and away Cassidy's most important piece. In Aberdeen, in Duthie Park is a statue of Hygeia by him, granite and therefore simply carved, and the harmless 'Philosophy inspiring Science and Art' has already been mentioned. There are several intriguing titles to works exhibited by him – Love is Dead, The Captive, The Reaper, Humanity, and so on, but in the main, these may have only been intended or realised as small maquette-sized works, or never have gone past the clay or plaster stage, which is to say no one was willing to pay the sculptor to go beyond the exhibition model. In the end, like so many others, aside from his success in winning commissions with war memorials, Cassidy was able to make his way only with his portrait sculpture.