All Saints Parish Church, High Wycombe, Monuments
The Church of All Saints, High Wycombe, is in the old centre of the town, and the tower forms a picturesque backdrop to the cluster of buildings at this end of the high street. There was a church on the site from the 13th Century, but from the exterior, the oldest part is in fact that tower, which dates from the early 16th Century, but like the rest of the Church was refaced with new flints in late Victorian times. The tower is of three stages, with a balustrade at the top and corner pinnacles which are 18th Century additions; at that time, the Church was extended and lengthened somewhat, and there were the usual Victorian repairs and additions. The outside of the building is pleasingly irregular with a range of doors and different styles of windows, all redone in Victorian times, but the inside is much older. Particularly note the south Porch, ancient on the inside, Victorian on the outside, with niches within which stand small statues of Saints Matthew, Mark, Luke and John, with Saint Timothy round the side.
Inside, the Church is long, lofty, with narrow nave supporting a wooden ceiling, with a series of pointed arches separating the nave from the aisles; these arcades date from the 15th and 16th Century, as does much else of what we see inside: apparently some work is 13th Century, including the windows in the North Aisle.
It is along the aisles where most of the monuments we have come to see are ranged. But the most important and grand ones are further back, in the twin chapels on either side of the chancel. We start with these.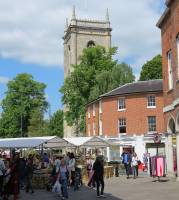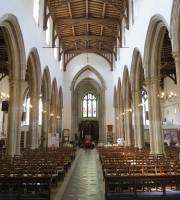 High Wycombe Church, view from High Street and interior.
The two main monuments in the Chancel Chapels:
Henry Petty, Earl of Shelburne, and family, by Peter Scheemakers, completed 1754
A truly grand monument. Here we have the work of a major sculptor, with three figure groups, life size or even a little larger, and two allegorical figures above, and a large pair of cherubs, a dozen figure statues in all, plus a bust and a coat of arms with sculpture of a Pegasus and a horse or unicorn. There are many great towns in England which do not run to as many as 12 full size statues, or even one of this quality, so this is an assemblage worth visiting indeed.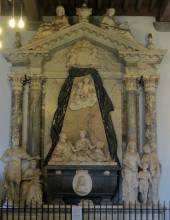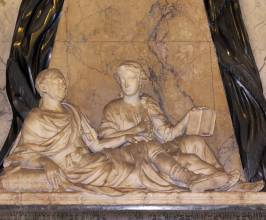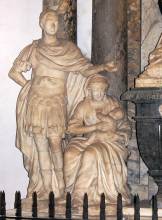 Scheemakers' monument to Henry Petty, Earl of Shelburne, 1754.
The monument centres on the reclining figures of Henry Petty, Earl of Shelburne (d.1751) and his wife, Arabella (d.1740), reclining in the fashion of noble Romans on a black sarcophagus, bearing the bust of the Earl's father, Sir William Petty. Behind them rises a tall obelisk, draped around the edges with black stone drapery, and with upon it a cloud from which two naked cherubs look down (an information note in the Church suggests these may represent two infant children of the Earl). This construction is within a great canopy, with pairs of coupled Corinthian pillars to left and right, supporting a completely open pediment, within which is the coat of arms. Allegorical figures lie on the slanting sides of the pediment, and between them is a pot, and to the sides, small flaming urns. At the base of the pillars on each side are the standing figure groups. To the left, as we look at the monument, thus on the Earl's right hand, is his eldest son, James, Viscount Dunkeron (d.1750/51), his wife Elizabeth (d.1742), and infant son, also d.1742. To the right is the group of the Earl's daughters, Julia (d.1719), and Anne (d.1727), and their young brother, Charles (d.1717). Thus all the Earl's closest family died before him. All this information on names and dates is from the modern information note by the monument. To complete the structure, we should note the lengthy inscriptions on the monument are on a long, sideboard like structure underneath the sarcophagus and figures, and the whole is enclosed by an iron railing. The whole edifice reaches almost to the ceiling.
Looking at the figures, the Earl and Lady Arabella, as noted, are dressed Roman style, with drapery and sandals, and are shown reclining, he resting an elbow on a pillow, she holding up a book. His eldest son, James, is even more Roman, in the costume of a soldier, with plated tunic, and swept back cloak. He stands above his seated wife, who holds her sleeping infant nuzzled against breast and enfolded with a protective arm. On the other side, the sisters stand on either side of their brother, charmingly classical, with swirls and sweeps of drapery, beautifully and confidently executed by the sculptor. Up on top, the allegorical females are Justice, instantly recognisable by her bronze scales, and Prudence, carrying a mirror to show Truth, and with a snake entwined about her other arm and with its head held in her hand.
The sculptor, Peter Scheemakers, is best known for his statue of Shakespeare in Westminster Abbey, of which a more recent copy is the one in Leicester Square. The High Wycombe statues are characteristic of his designs, with the elegantly reclining central figures, the relaxed poses of the standing figures, and the complex, assured drapery. His sculptural practice was large by the time of this monument, and though the concept and design would certainly have been by Scheemakers himself, we cannot know how much of the actual carving was done by his hand. Regardless, statues like these would grace the finest cathedral or museum or public space in the land. More on Scheemakers, noting some of his other works, on this page. And more pictures of the Shelburne monument on this page.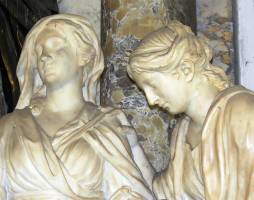 The Earl's daughters.
Sophia, Countess of Shelburne, d.1771, by Augostino Carlini
Another monument on a grand scale, though eclipsed in size and grandeur by that to the Earl of Shelburne opposite. The inscription on the base notes that she was the daughter of John and Sophia, Earl and Countess Granville, wife of William, Earl of Shelburne, Baron Wycombe, and mother of John Henry, Viscount Fitz-Maurice, and William Granville Petty. The figural group, then, shows the Countess with her two children, posed with a great urn on a plinth in the rear. The Countess wears robes, with some slight sleeved upper garment, a long skirt, and a headdress which merges with her long cloak. The style is medieval rather than Classical, using a Renaissance style of drapery based on broad, somewhat stiff cloth shapes forming flattened concavities rather than deep folds. Her hair is swept back, her face long and intelligent. She gazes at the naked, plump figure of her younger son, who stares back into her eyes, an arresting and intimate double portrait. The Countess steadies rather than carries her son, who is instead seated upon the top of the funereal urn, embodying the concept of 'in death, life', and emphasising that this is a monument to the living persons rather than just a remembrance of the dead. And then we have the elder son, standing, facing the viewer, one hand raised in benedictory gesture, the other holding a veil of cloth over him; he wears a shroud over some undershirt. Behind, a tall obelisk of black marble. The spirit and style of this monument is Italian, and it is a noble thing of its time.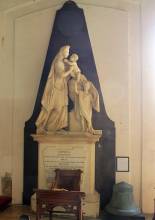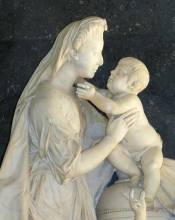 Lady Shelburne and offspring, by Agostino Carlini.
The sculptor, Agostino Carlini, was from the city of Genoa, but spent most of his life in England, where he became a founder member of the Royal Academy.
Other Monuments
There are something over 50 other monuments in the Church, dating from the early 17th Century through to World War II, including a fair number of plain panels of human and historical rather than artistic interest, but the collection includes examples of cartouches - domed round or violin-shaped panels surrounded with complex carved decoration - obelisk or pyramid monuments with tall pointed marble panels evocative of Egyptian mores, a couple of not-quite-obelisks where the top is less ambitious than a full fledged obelisk, and a variety of black-and-white monuments designed as if they were the ends of tomb chests or caskets. The sculptural decoration includes high relief carved pots and funereal urns, typically partly covered with drapery (a staple of monument decoration), floral and other minor decorations such as books, and a few figural pieces, including full figures including the Sarah Shrimpton monument and, much smaller, the Isaac King panel, and the odd winged cherub head. The sculptors and stone masons of several of the monuments are known, and apart from Scheemakers and Carlini noted above for the two major works, we can see work by the Westmacotts, of great importance among monumental sculptors, and indeed late 18th-early 19th sculptors in general, also John Bacon the Younger, and several lesser names, including a local stonemason, Broughton of Wycombe.
17th and 18th Century Monuments
There are four monuments from the early 17th Century. Three of these, with their black panels with pale, close-set lettering, hearken back to the previous Century, of kneeler monuments and strapwork (see the Introduction to Church Monuments page). The fourth, to Elizabeth Roberts, is a cartouche monument, and links closely with the first of our 18th Century examples, six decades later. Continuing in the 18thC Century, we have the Sarah Shrimpton monument of mid-century, the most sculptural monument in the Church after the Shelburne ones, and a work of art in its own right. The Pettipeer and Wingrove monuments, from similar dates, are relatively modest examples of the grand Classical panel with side pilasters (flat pillars), upper pediment, lower shelf, brackets and central flat portion called an apron. Towards the end of the Century we are into the white on black panel era, which lasted through until the beginning of the Victorian period, which saw a large volume of relatively simple monochrome panels, often with modest sculptural decoration, that are so widespread in churches across the country. The last in that century, to John Bates, d.1795, is a more ornate example with some ostentation.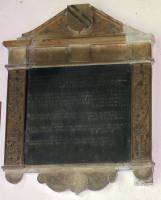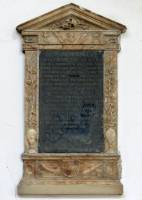 Early 17th Century: Bradshaw and Wheeler.
Gulielmi [William] Bradshaw, d.1614, wife Margeriae, d.1620, and son William, d.1596. Classical monument, with black panel in Latin text which is particularly hard to read at the top. The sides of the frame bear a low relief carving of stylised vines with flowers, at the top is a black entablature, above which is a pediment shaped triangle, borderless, with a shield of arms. At the base, a thin shelf, side half-round brackets, and a small apron with further low relief flowers and scrolls. I would think that there was once rather more to this monument, and the brackets and aprons may be a later repair or come from some different monument.
Jacob Wheeler, d.1627, a significant Alabaster panel. The inscribed central panel, gilt capitals on black, lists out his various bequests to the poor, and notes that his trade was as a shoemaker, which explains the sculptural decoration at the top of the monument. Thus we have across the entablature a range of shoe-making instruments carved in low relief, indeed an unusual subject for a monument. Above this is a pediment, enclosing a skull and crossbones as a memento mori, for this is, after all, an early 17th Century monument. The side borders each have a delicately carved little vase at the base, from which emerges a tall, rather stylised flowering plant. At the base, more strange instruments either side of a central shield of arms. The subject is unusual, but the style of monument, with its coloured alabaster, low relief carving in panels, and restrained Classicism, is familiar from monuments of the period.
Elizabeth (Sherley) Roberts, d.1639. A cartouche monument, thus a panel of somewhat curved shape, surrounded by a complex, wide, sculptural border. This is of rather early date for a cartouche, and while it has some of the usual elements: painted shield fo arms at the top, scrolling, ferny fronds and acanthus leaves, and a winged cherub head at the base, it is of unusual design, with many flowers down the sides, and it is the variety of these which gives the piece its charm. Rather than being given to extreme plumpness, the norm for cherubic heads, this example is more the head of a child, with some structure to the cheeks, and slightly parted, well-sculptured lips, albeit above a fat little chin.
John Bigg, d.1701, with a eulogy. Another fine cartouche monument. Here the outline of the central panel is dominated by two scrolls at the top, with a narrower portion below. At the top, a shield of arms, and from behind it hang drapes, held up by unseen pegs, hanging freely down and behind the sides of the inscribed panel, to where they rest on the heads of a pair of winged cherub heads, then swinging inwards to surround a now blank, doubtless once painted further shield of arms, with its own tiny scrolls around it, and several naturalistic flowers carved in lower relief. At the base, acting as a support perhaps, is a third winged cherub head. The monument as a whole is an original design, and though the individual parts – hanging drapes, scrolls, winged cherub heads – are usual.
Samuel Clark, d.1701, and wife Sarah (Lancaster), d.1694, with a rhyme which to modern eyes seems perhaps less than decorous for a funereal monument: 'Near to this spot, long unrecorded, lie // ashes and dust, all that of Clark could die. // Student and critic of the sacred page // E'en from a child he wrought to hoary age ...' etc. Black panel with a stone frame, which looks of rather more recent age.

Pettipeer and Wingrove monuments: mid-18th Century Classical.

Joseph Peytever [or]... Pettipher, d.1730, and son Joseph, d.1748, with a hard to read inscription. A stone panel, darkened by time, with arched top, or completely open segmented pediment, if you prefer, resting on side pilasters above a lower shelf, with two heavy brackets, fluted and curved, supporting from below. In the upper arch are signs of some attached carving, now vanished; perhaps a coat of arms, or something floral.
Sarah Shrimpton, d. 1753. A fine obelisk monument with figure sculpture. The lower part of the monument, bearing the inscription and a poem, forms the plinth or tomb chest end on which sits a sarcophagus, on which stands the high relief group of an angel and a funeral urn, on which is a cameo of the deceased lady. By Richard Westmacott the Elder, apparently, though when I visited the bottom of the monument was obscured and I could not see the signature. The angel is an arresting figure, one hand, and her gaze, directed upwards to heaven, the other holding the portrait roundel, enfolded in Classical drapes, diaphanously thin in ancient Greek Nereid fashion and worn off-the-shoulder – her exposed, full breast may be a reference to the fruitfulness of the Shrimpton family. Or perhaps this is not an angel at all, but the soul of Sarah Shrimpton, about to shed her garment (as souls are conventionally naked in sculpture of the period) and ascend to heaven. At an earlier date, such a representation would have been frowned upon, as making a judgement that she would indeed go to heaven, which however likely and desirable, was a judgement for God to make rather than mortals to presume. But by this time, there was something of a relaxation of the previous rule. Some credence is given to this second interpretation by the close similarity of the portrait bust and the head of the standing figure, for example in the treatment of the hair. Perhaps the sculptor meant to maintain some ambiguity. Note also the upturned torch emerging from behind the urn; this is a symbol of life extinguished, and also serves a compositional purpose, being a continuation of the line of the arm and helping to draw the attention of the viewer to the portrait. Others of the Shrimpton family are noted further down this page.
Samuel Guise, d.1753, Vicar of the Church, a small cartouche, too distant and poorly lit to appreciate properly, but certainly a good thing (see picture above). The central panel is domed, and around it are almost Durer-style scrolls, and thin drapery (not at all Duresque) caught up in two knots at the sides. At the top, a cartouche of arms, two winged cherub heads are to the lower sides, and at the base is a tall bracket bearing a floral decoration. A quarter millennium of grime has added to the visual impact of this piece.
Henry Grange, d.1755, wife Rachel, d.1746, and relatives through to 1807, added on a panel which could have held more. The panel has receding sides of grey, brecciated marble, upper and lower shelves, and above, a Baroque shaped pyramid cut with a curved outline, in front of which is an attached sculpture of a plump cherub, wearing a cloak. At the base, an equally curved apron bearing a low relief carving of a winged cherub head, between two block supports. The use of several types of marble is characteristic of the time, and through till 1800.
Robert Peck, d.1756, 'an eminent Attorney at Law', wife Elizabeth Peck, d.1749, son Robert Peck, d.1721, daughter Susannah Price, d.1780, and her husband (presumably), the Revd. James Price, d.1788, Vicar of the Church. Streaky white marble with thin, dark grey frame.
Mary Wingrove, d.1758. A Classical panel, with fluted side pilasters, and above, without entablature, a pediment (see picture further up page). This supports a central fame and remnants of two side ornaments, perhaps small pots or balls. At the base, under a gadrooned (corrugated) shelf, are two carved brackets with highly worked Acanthus leaves, and a central apron, now blank but perhaps once decorated with some painted emblem, and a single corbel of more Acanthus leaves below. The only example in the Church of a popular type of grander Classical panel, commonly found from the mid-16th Century through to the end of the 18th, and occasionally in the 19th Century too.

Elegant oval monument to Ferdinando Norton, d.1773.

Ferdinando Norton, d.1773, noting that he was 'one of his Majesty's Band of Musicians', and his legacies to the poor. Also his wife, Bridget (Woodroffe), d.1771. Oval monument surrounded by a narrow band of drapes, with a small oval shield of arms at the top, and the drapery caught at the top sides in knots, hanging freely down, and then curving inwards to the base where there is a small, leafy bracket. We could just about call this a cartouche, but the surround feels too thin, so the emphasis is on the oval panel rather than the frame.
John Hamilton Mortimer, d.1779, plain panel.
Joshua Morris, grandchildren by his daughter Anne, wife of Charles Harris, including the eldest, Charles, d.1781. Plain marble panel.
Elizabeth King, d.1782, panel with upper shelf with corrugated entablature below, and scrolling above to make a small so-called swan-necked pediment. The central part forms the base for a high relief Classical pot. The backing, of grey, streaked marble, is rectangular with a semicircular top. The poetic inscription, by H. More, starts 'Go, happy spirit, freed from sin and care, // Go claim the palm which patient sufferers wear...'
Joseph Shrimpton, d.1783, and wife Esther Shrimpton, d.1782. An interesting tomb chest end panel, with side pilasters, decorated with broad palm leaves at the tops, and a curly pediment above, with scrolls upon it and on top of that, a pot, carved with hanging drapes upon it. At the base, between two small supports is the apron, fluted and wavy in shape, with a hanging flower carved at the base. On a shaped black backing, and unfortunately I could not approach close enough to see if there is a signature of the statuary who made this interesting piece. See also John Shrimpton, below.
John Turner, d.1787, 'on board the Wycombe in the service of the Honourable East India Company, WAMTUN in CHINA'. Broad oval panel with narrow border, and single supporting bracket. There are many such monuments to those who worked for the East India Company scattered around the churches.
John Shrimpton, d.1787, Major of the Tower of London. Panel with wide frame, upper shelf and lower slight shelf (see picture above). Above the upper shelf is a curved (segmented) pediment, bearing a slight but rather exquisite little relief carving of a seated girl holding or cradling a pot. To the left as we look at the figure, is a sheaf of plucked corn, flowers, leaves, and what looks like a hairy seal, and to the right, thus behind the figure, is a Crusader shield, some mask or head, and behind, a pastoral scene lightly carved with palm trees and one deciduous one. By Westmacott (see also below).
Mary Spencer, d.1793, and Ann Dewes, d.1808, simple rectangular panel in a grey and white marble with such contrasting folds that it is hard to read the text – a good example of the sort of material which vanished from use in Church monuments from 1800.
John Bates, d.1795, father, also John Bates, d.1760, and brother Richard, d.1755. Like an obelisk monument, but with a Gothic top and in a shape as if a rectangle with a tombstone in front above. Against this black backing is a fairly large relief carving of a draped pot on a plinth, with upon it a flower and ribbons, and with curly side pieces also with flowers. Above this, a sunburst. Below, a shelf, with under it the inscribed panel, resting its curved base on a small support. An interesting variation on the obelisk monument.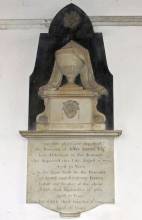 John Bates, d.1895.
19th Century Monuments
The early 19th Century monuments are a continuation of what we have already met in the late 18th Century, with a mix of white on black panels and plain white ones. The Church has a representative selection of the common types, incuidng tomb chest ends, casket ends, differently shaped backing panels, and several carved pots and other minor carving, along with a couple of unusual cases.
Charles Harris, d.1801, and wife Anne (Morris), d.1816. Plain marble panel with writing in a much older font, to match the panel to Joshua Morris noted above.
Susannah (Price) Jones, d.1802, wife of one Reverend and daughter of another, the Revd. James Price, one-time Vicar of the Church whose monument we noted above, and daughter Susan Philippa Jones, d.1806. Streaky white marble panel in grey frame.
Mary Ann Hakewill Nash, d.1808, a child, and added later, John Love Nash, d.1813, an infant, children of John and Martha Haward Nash. White panel with upper and lower border.

Manning monuments, early 19th Century; that to left by Sir R. Westmacott RA.

Samuel Manning, d.1811, and wife Ann Manning, d.1828. A modest obelisk monument. The panel forms the lower part of the monument, cut as a tomb chest end with feet, and with an upper shelf. On top is the obelisk, around half the height of the monument, which is not particularly tall, with upon it, an asymmetrically draped Classical pot. Competent. Signed by Richard Westmacott, London. This was a sculptural dynasty, and the date makes this likely a minor, early work by the most eminent of them, Sir Richard Westmacott RA.

Isaac King, d.1812, with small figure sculpture.

Isaac King, d.1812, a Justice of the Peace, and Honorary Member of the Board of Agriculture, and his wife Elizabeth, d.1822. A conventional Classical monument on the small scale, with frame, attached side pillars, and a shallow pediment, rimless, and a heavy base below. But it includes a figural group, a sculpture of a standing woman with suckling infant cradled on one arm, and a child nestling against one leg and clutching her long, Classical robe. Unfortunately, a front panel to the base and the feet have been lost, so that if there was a signature of the sculptor, it is now gone. Decent work with some good points, though the outline of the leg and the foot of the child are not convincing and there are uncertainties of anatomy and proportion.
Henry Allnutt, d.1813, and son Thomas Allnutt, d.1812. Plain white rectangle supported on two moulded brackets.
Henry Allen, d.1814, plain white panel with nipped corners and a central support.
Elizabeth (Ball) Bennett, d.1815, husband Daniel Benet, d.1826, and his second wife, Ann Elizabeth Bennett, d.1838. Another obelisk monument, rather similar to the Manning monument above, with the obelisk again occupying about half the total height of the monument. This obelisk bears in front of it a good-sized pot in high relief, covered in part by a heavy drape, well carved and assured in execution – again, rather like the Manning monument, if somewhat more ornate . The lower part of the monument, likewise, is the inscribed panel, cut with little feet and with a shelf on top, and a narrow black backing all round. It is unsurprising to find the signature of Richard Westmacott, London.
Revd. John Manning, d.1822, a casket in high relief on a base, upon which is the inscription, and this base on a larger plinth with repeating carved decoration around the upper rim (see picture further up page). The casket is a good thing: it has lion feet, with great curling Acanthus leaves rising from those up the sides. On top is a pediment-styled lid, with the acroteria bearing anemone-carving, with tonguelike stems. On the front of the casket is a fierce little snake biting its tail in a perfect circle.
John Hollis, d.1824. As a tomb chest end, with side pilasters, upper shelf supporting a pediment or lid, and supported on two curled brackets (see picture above left). Decorated with line ornament rather than representational carving. By the mason T. Mace, 14 Albany Street.
Jane Nash, d.1825, a child. Plain white panel with thin upper and lower border, as for the earlier Nash children noted above.
Philadelphia (Cayley) Slater, d.1829, and an infant son, with a long, Biblical eulogy. The inscription, in very small text, is on a panel styled as a tomb chest end, with heavy upper shelf, little block legs, and above, occupying the pediment position, a carving of an open Bible in front of a crucifix and olive branch, thus signifying Peace and Piety – this is reflected in the quotation from Isiah on the open page of the book: 'Thou will keep him in perfect peace whose mind is stayed on Thee because he trusteth in Thee'. On a dark, shaped backing panel in two parts. The monument is of interest as a minor work by John Bacon Junior and Samuel Manning, an enduring and prolific partnership who made many monuments. I wonder if this Samuel Manning was any relation to the Manning family commemorated in the Westmacott tablets noted above.
The top of a monument, perhaps 1820, showing a finely carved pot in relief, decorated with leaves, and covered by an asymmetrically poised drape. Against a black, curved backing, with most concealed behind panelling.

Hon. Aloysae Maria Smith, d.1830.

Hon. Aloysae Maria Smith, d.1830, with a Latin inscription. The inscription is on a rectangular panel, with a stepped panel below with painted arms; behind is the usual black backing panel and above is a shelf. On this is high relief carving of a rotund Classical pot, with leafy top and bottom, a fluted middle, and two curly handles, most appealing. The backing to this is cut to semicircular shape, which like this pot, is unusual.
Fanny James, d.1831, and offspring, with a long poem, in unusually small script. This covers the front of a monument shaped as a casket end, with moulded feet, and a lid in the form of a shallow pediment, with unusually shaped acroteria ('ears'), and an equally unusually shaped central appendage. The centre of the pediment bears a low relief carving of a central flower with two short garlands. The work is signed by S. Gomme Junior, Architect, 1838, but not, so far as I could see, by the stone mason.

Casket end monuments: Fanny James, Revd. Jones, Richard Slater.

Robert Nash, d.1831, and wife Charlotte Nash, d.1835. Tall panel with upper and lower shelf, curly feet below, and a too-tall pediment on top bearing a wreath carved in high relief, and with anemone acroteria. Signed by Mace, whose work we met in the John Hollis monument noted above (also pictured further up the page).
The Revd. Isaac King, d.1832, Vicar of West Wycombe. A nice composition: it is essentially a typical Classical piece, with side pilasters supporting an upper pediment (no entablature), and with a lower shelf, all rather in the vein of the monument to the earlier Isaac King noted above. But rather than the centre being just the inscribed panel, it is made as if a stage, thus receding upwards, with curtains above and hanging down the sides, and parted in the centre at the top to reveal a small funereal urn in high relief - see picture at top of page. Elegant and well made. The pediment encloses a crossed branch and downward-tilting torch, emblematic of life snuffed out. On a shaped black backing, and signed by E. G. Physick, sculptor, of 20 Upper Gloucester Place, Dorset Square.
Horace Hughes Bouverie Hills, and Marianna, both died 1837, infant and grown child and to their mother, Marianna Bennett, d.1840, presumably related to Elizabeth Bennett. Panel shaped like an upside down arch or bell jar, with shelf above, on which is a high relief carving of a draped pot, all on a shaped black backing. Signed by a local stone mason, Broughton of Wycombe.
Ann (Welles) Westwood, d.1839, and husband Thomas Westwood, d.1839. Panel with lower projecting base of grey marble, an upper shelf, and on this, a high relief carved pot, with the usual drapery, but unusually, held up at the sides by two rings so that it appears to float over the pot. Nicely rendered. The backing consists of a semicircle of black marble, and narrow side pieces.
Archibald John Murray, d.1840, a child. Plain white panel with nipped corners and a small central bracket with moulding.
Richard Barry Slater, d.1842, as a tomb chest end, with well carved leafy corbels as the feet, and a lid on which rests an broad, Oriental-looking urn, two-handled, encrusted with leaves and with a small flame carved at the top. On a shaped black backing with curvaceous top. The piece is signed by the mason, J. E. Stanfield, Windsor.
Revd. Thomas Jones, d.1838, Vicar of Ilmer, wife Mary Jones, d.1844, and their child Mary Susan, d.1822. As a casket end, with round feet, a not uncommon affectation, and pediment-like lid with two small acroteria - see picture further up, with casket end monuments. The overall shape is of an asymmetric pentagon, and the monument has a narrow backing strip of black marble in the same shape, and a lower shelf with its own blocky supports. By the stonemason Broughton, whose work we met in the monument to Marianna Bennett and children noted above.
William Rose, d.1846, and wife Charlotte Rose, d.1869. The central inscribed panel has frame, upper and lower shelf, and sculptural decoration on all sides. To left and right are outer curved, receding pilasters, bearing relief carving of bouquets of flowers. At the top is a pot with curly handles, draped more or less symmetrically in outline but varied in the detail of the relaxed folds, which spread across the full width of the top. At the base, a small apron with a little wreath in low relief above a jelly-mould terminus. All on a black shaped backing cut in four parts. Again by the stonemason Broughton of Wycombe.
Alfred Herring, d.1876, humble white marble panel on black backing; he was a servant to Lord Carington.
Elizabeth Murray Chilton, d.1888, in Manaia, Taranaki, New Zealand. Plain white panel with small inscribed crucifix on a black backing.
20th Century Monuments
The small selection of 20th Century panels, including the first and second World Wars, show the reaction against ornament and the move to the austere and the sombre plain memorial panel, regrettable from an aesthetic point of view, however understandable. In the Peachel monument at least is an example of the more decorative turn of the century type of panel in colourful alabaster, a return to the fashion of 300 years earlier.
Old brasses
Robert Kempe, d.1621, panel sadly without ornament, mounted on a modern wooden base. With a verse, starting 'Wife, children, wealth, this world & life forsaken. // In silent dust I sleepe...'
Margary & Mary Lane, wife (i.e. wives) of John Lane, undated. Panel with border of repeating inscribed pattern of leaflets, with a verse.
Modern brasses
Also in the Church
Part of a tombstone with a fine relief portrait of a Tudor or Elizabethan gentleman, with cap, curled hair, trimmed beard and moustache, a broad collar and many buttons to his visible garment. The inscription below reads 'Here lies ye Body of' and is then frustratingly terminated; the label suggests it to be William Coombe, alderman of Chepping Wycombe in 1657. The Royal Commission on Historic Monuments is more cautious, merely saing 'apparently part of a 17th Century monument'.
Boer War Memorial, a bronze panel with close set capital text, embossed, with above the list of names a small roundel with enamel of a swan, in the centre of three low relief panels with leaf designs. Lots more leaves and curly branches below in an exuberantly Arts and Crafts design.
Some floor slabs, including for example Thomas Archdale, d.1711, with a fine coat of arms.
The stone font, with panels showing carvings of saints and the signs of the evangelists, thus eagle, winged lion etc. Each panel, in the form of a Gothic window, is encrusted with decorative foliage, and little half angels stick out, gargoyle fashion, below each separating pillar.
A large bell, given by John Henry, Viscount Fitz-Maurice, the older boy in the Lady Sophia monument.
Some interesting old woodwork, including a small chest with two Caryatid angels supporting a cushion, a great chest bound with strips of iron, thought to be 16th Century.
Some insignia on the wall, including a painted shield, with an emblem of an elephant with upraised trunk. (This site notes some elephant sculpture on this page.)

Some bright Victorian stained glass, including various saints – I particularly like St Winifred – and a bit of modern work (see top of page).
A painted and much gilded wooden reredos, with various saints flanking a crucifixion, early 20th Century (see picture of detail below). The painted faces are a bit too sweet for modern taste to be comfortable, but the figure carving is decent, and the architectural surrounds and piercings very good.
Four small statues of saints in wood (again, see picture below).
A low pulpit with panels bearing carved leaves around Gothic blind windows.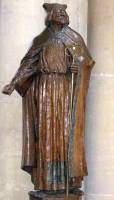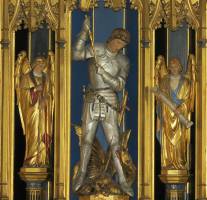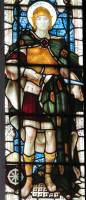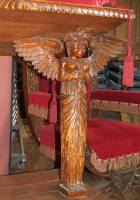 St Wulfstan statue, St George from the Reredos, St Martin, and an Angel.
With many thanks to the authorities at All Saints for kind permission to use pictures from inside the Church; see their website at http://www.allsaintshighwycombe.org/heritage.html.
Earl Shelburne monument // Other Buckinghamshire Church monuments
Introduction to church monuments // Angel statues // Cherub sculpture
Sculpture in some towns in England
Visits to this page from 1 July 2015: 7,859