Robert Smirke (1780/81-1867)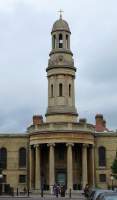 St Mary's Bryanston Square, by Smirke.
Sir Robert Smirke, the classical architect who designed the British Museum, was a London-based architect of the early 19th Century.
Smirke was the second son of the painter and Royal Academician of the same name, known for lively subject pieces from Don Quixote, Shakespeare and so forth. He was born in London, and took up architecture aged about 15 or 16, being in 1896 a student of John Soane, though not a favoured one, also studying under Soane's old master George Dance the Younger, and at the Royal Academy, and then spending some five years abroad from 1801-5, mostly in Italy and Greece. He then set up his practice in London. Success came quickly, with his appointment as architect to the Royal Mint in 1807, designing the new Covent Garden Theatre after the old one burnt down in 1808, and being elected Associate Academician in that same year. He became a full RA in 1811, worked on a variety of public buildings through till the 1840s, then devoting himself to the Commission for London Improvements, and more or less retired in about 1850.
Smirke is of interest to these pages because of the sculpture on a few of his buildings: the British Museum pediment (by Sir Richard Westmacott RA; for pictures (see this page), the Oxford and Cambridge Club in Pall Mall (half a dozen friezes by W. G. Nicholl), the Covent Garden Theatre already mentioned (itself burnt down but Barry's replacement includes the Flaxman frieze from Smirke's building) and in Bristol, the Old Council House (seated figure and a couple of panels). However, apparently he 'did not favour excess of ornament', boo hiss, so his other buildings generally do not have sculptural adornment. With or without sculpture, he designed noble Greek buildings, typically Ionic, and was also responsible for several so-called Commissioners' Churches, funded under a generous Act of 1818.
The British Museum, with its giant Ionic façade, took from 1823 through to the late 1840s, almost the end of Smirke's career – the famous round Reading Room was the creation of his brother, Sydney Smirke. Prominent in Trafalgar Square, on the left hand side as you look at the National Gallery, is Smirke's Canada House, one time Royal College of Physicians, again with Ionic pillars (noted on the Cockspur Street page). He is part-author of the Customs House in Lower Thames Street, being responsible for the interior Long Room, and the principle frontage to the river. His also is the King's College part of Somerset House (the East Wing), including the river frontage, which is a sympathetic copy of Chambers' existing building. Smirke's exterior frontage to the Strand was lost to academic barbarism, much as Collcutt's Imperial Institute in South Kensington was.
Smirke's churches include two London ones with round classical towers and giant porticos – St Anne's Wandsworth, and St Mary's Bryanston Square with a semicircular portico; this latter being something of a replica of his St Philip Church, Chapel Street, Salford (Greater Manchester) - pictured on this page. He has an important Gothic church too – again in the vicinity of Manchester, this is St George Tyldesley.
Smirke was also significant in his restorative work, overseeing the restoring of York Minster after a fire, more minor activity at Gloucester and Carlisle Cathedrals, and other work for a variety of important public buildings.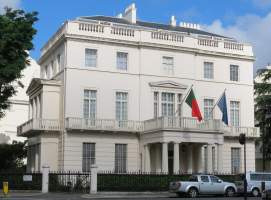 Free-standing house, now an embassy, by Smirke, no. 12 Belgrave Square.