All Hallows Barking (All Hallows by the Tower), City of London, and its sculptural interest
An ancient City church, the fabric and monuments including much which is pre-Fire of London, despite suffering in World War 2.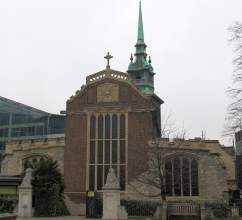 All Hallows Barking.
The Roman origins of the site are shown by a fragment of terrarae mosaic pavement, monuments and minor archaeological finds, see below, and remains of a Saxon church have also been found there. The church was founded by the nuns of Barking Abbey, Essex, hence 'All Hallows Barking'. Barking Abbey was itself founded by Erkenwald, King of the East Angles, in 675, and later Bishop of London. A chapel of the late 12th Century, built in the reign of King Richard I, supposedly had the heart of this great king buried there beneath the high altar, and Edward I presented a statue of the Virgin at the end of the 13th Century. The church became dilapidated and was rebuilt, and when a ship's chandlers house against the wall storing gunpowder barrels exploded in 1649, was much damaged, after which it was repaired and the brick steeple added in 1659. At this time a sculpted wooden angel was put over the exterior clock of the church, sounding a trumpet – this was later destroyed on suspicion of popery. The church passed unscathed through the Great Fire - indeed it was from the tower of All Hallows Barking that the diarist Samuel Pepys saw and described the Fire - but had several restorations in the 19th century, the last of these being in 1883 when the North Porch was added by the important Victorian architect J. L. Pearson. World War II bombing severely damaged the church, but walls, tower, the crypt of course, some of the monuments and a remarkable collection of brasses survived, the latter not covered on these pages. Rebuilding by Seely and Paget took place in 1949-58.
What we see then, is rather mixed on the outside, a picturesque combination of very old and new brick and stone, the 1883 Porch, and the top of the old tower bearing a different pinnacle than before WW2 – timber covered in copper. The interior is fairly large, some 108 ft long, lofty and atmospheric, again with a mix of ancient and modern fabric, furnishings and sculpture. The north wall and Lady Chapel are particularly medieval, and include a niche with a grill containing a small wooden statue. The crypt underground is the most ancient part of the church though, and it is here that we start our quest for the sculpture and monuments that this website is concerned with.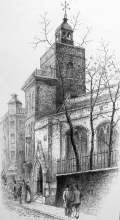 View showing the former tower.
The Crypt
The crypt or undercroft of All Hallows Barking is arranged as a small museum. The Roman origins of the site are shown by a fragment of tesserae pavement, casts of three Roman tombstones now in the British Museum, pots, and a worn stone sculpted bust. Saxon remains include a cross and a fine square pillar, again from a cross, with much battered but characteristic carving in geometric patterns and with the remains of a half figure on the front, showing two arms with long hands, and two beasts, perhaps dogs, standing below. On the side, remains of two further figures. Saxon ecclesiastical remains of any sort in central London are vanishingly rare hence these bear examination.
From medieval times is an important panel carved from Alabaster, an English craft once much exported across Europe, which according to the label depicts St Hubert, patron Saint of Huntsmen, a unique subject for one of these panels. In a characteristically crowded scene, we see a crowned figure on his horse, holding a falcon, with five other horsed figures shown (or at least their heads and mostly bodies, and too few horses' legs in Byzantine fashion), while at the base three dogs attack a small stag. Also fragments from figures or architectural sculpture – a female head as a corbel, a weeping cherub holding a skull, and a winged cherubic head from some memorial, also a very small cartouche on a festoon with small sculpted flowers including a rose, nicely worked.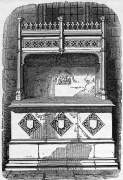 The Croke Monument.
There are a few monumental plaques down here:
William Penn, d.1644, military founder and Governor of Pennsylvania, a metal tablet from 1911 much broken, presumably in the War, but with a border showing small fruit and cherubs' heads, erected by the Pennsylvania Society of New York in 1911. He was baptised here – the font went to America afterwards, to Christ Church, Philadelphia – and educated in the parish school room in or adjacent to the church. For further founders of America interest, see the page on St Mary le Bow. We may also note that an early US president, John Quincy Adams, married in All Hallows in 1797.
A memorial with a bronze bust to James somebodyorother, but the light was too dim when I visited to identify them.
Daniel de Beauvoir, d.1706, a worn monument to him, and others of the family through to 1742, with finely cut script but no decoration. He was the youngest son of Charles de Beauvoir, whose more interesting monument is upstairs.
Samuel Walker, d.1818, and daughter Harriet d.1830, and wife Sophia d.1838, a discoloured panel.
And that is it for the crypt. A separate descent gives entrance to two small chapels, with a couple of slight modern statues and two plaques of Della Robbia work. The crypt and these two little chapels, though small, add much charm to the church and enhance the medieval spirit.
Main body of Church:
There is a nave and chancel, and low aisles to north and south. The furnishings were mostly bombed, but a wooden font cover, almost certainly by Grinling Gibbons, with three angels gathering flowers and fruit, considered one of Gibbons' best, had been taken to safety beforehand and survived. Under this is a new font of Gibralter limestone. There is a Wren-era pulpit, much carved, which was brought from the extinct St Swithun's London Stone. A rather splendid four-panelled group of paintings, the 'Tate panel', survived from an altarpiece of the late 15th century, and according to a label, come from Bruges in Belgium. There would have been a central panel, believed to show the adoration of the magi. Sir Robert Tate, the donor, had a chapel built for his tomb, as part of the Royal Lady Chapel which was later destroyed. An anonymous altar tomb with a canopy, made of Purbeck marble, which survived in the church until WW2, may plausibly have been his tomb. Another alterpiece, well carved with wreaths and scrolls and with paintings of Moses and Aaron, the gift of John Richardson in 1685, has not survived, and there is a modern painting of the Last Supper by Brian Thomas. The modern stained glass has descriptive pictures, including an evocative one with a ship, commemorating the Houlder Line Royston Grange, lost with all hands in the River Plate, 1972. And another one showing a little knight in armour, Sir Robert Knollys, d.1407, friend of the Black Prince, and who built a bridge across Seething Lane. Before turning to the stone monuments, we should note three small wooden figures of mediaeval times:
St Roche, a mediaeval carved oak figure c.1510, patron saint of plague sufferers, exposing his thigh to show a plague sore, a slender figure in carefully worked drapery.
St James of Compostela, carved wood figure, described as 'Apostle James dressed as a mediaeval pilgrim, with flask, staff and hats, attributed to the maker Arnt and from c.1484.'
St Anthony of Egypt, another small wooden figure, with flowing beard, in an alcove in the left hand (north) wall, with bars, apparently once the entrance door to a rood beam stretching across the church.
As noted before, this page does not cover the brasses, which fall outside the scope of this website.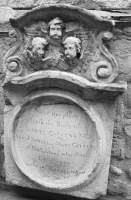 Monument to Gittens, in the churchyard.
The monuments are several, and we may note the following:
Alderman John Croke, d.1477, and wife Margaret, situated in the Lady Chapel of 1489. It is an altar tomb without effigy, thinnish pillars supporting a heavy canopy, with quatrefoil panels, tracery, a row of alternating shields and flowers, and other solid decoration. On the back slab are the remnants of brasses, apparently showing kneeling figures of the deceased, but not readily viewable – the (pre War) Survey of Monuments notes them as a kneeling man in civil costume with seven sons on the same plate, the second plate with his wife in widow's veil and five daughters. The tomb was restored by the sculptor Cecil Thomas in the 20th Century; his also is the casket sitting within the arch of the Croke monument, and we will note further of this sculptor's work later on this page. The casket is to the Toc-H Christian movement founded in WW1.
Hieronimus Benalius, d.1583, kneeling Tudor figure with prayer book, cushion, thick squared pillars to left and right, with designs of bell pulls, a mug, ribbons, arms, rather good, entablature above with tudor rose, coat of arms and knight's helm in circle above, support below, lots of gilding on coloured marbles, altogether a very rich effect, befitting the subject's trade as an Italian merchant. Mrs Esdaile, who along with Gunnis made the most significant early studies of English church monuments, ascribes this monument to the Southwark School of Masons.
Francis Covell, d.1621, citizen and skinner, and Margery his wife d.1643, and son Captain Thomas Covell. There are two typical early 17th Century figures kneeling and praying, facing each other on little red cushions. However, the rest of the monument is lost, and they are mounted on a modern granite wall monument. Once there were arches over them, thick, enriched pilasters to the sides, and above, a heavy curved pediment with a large and grim skull in the centre. Esdaile suggests this is the work of the sculptor and mason Gerard Christmas.
Baldwin Hamey, d.1640, with a Latin inscription in a roundel, apparently noting him as physician to the Russian Tsar, a black ellipse in a rectangle, with a skull at base, shield above and smaller shields to side, decorated corners and shelf.
Revd. John Kettlewell, d.1695, Latin inscription in a flowing hand, on a pale cartouche with scrolled border incorporating two cherub's heads, oversize for their wings, and a little urn above. He wrote The Measures of Christian Obedience, published in 1681.
John Winder, d.1699. A pillar monument, rather unusual (not as unusual as all that – there is a matching one opposite), with faded writing on the Ionic pillar and below, difficult to read in the gloom. At the base is the inscription, noting that John Winder was a Barrister at Law of Grays Inn, who came from Cumberland where the family flourished above 300 years; and Nathan Winder, his brother, 'sometime agent for ye Hon E India Com[pany] at Bengall', d.1717, and Samuel Winder, of whom no details are given. A shield at the top of the pillar is flanked by cherubs on a shelf. Esdaile suggests this is the work of William Palmer.
Charles de Beauvoir, d.1702 'of the ancient family of the Beauvoirs in the land of Guernzey [Guernsey], one of ye searchers of her Majesties Custom-House in London in ye Reigns of King Charles' etc. We saw his son's monument in the crypt. An excellent cartouche, with the inscription surrounded by curled drapes, with knots and drop folds, two cherubic heads with their hair enfolded by the drapes, a shield above, and a skull peeking out below, above a floral bracket or corbel. Fierce little dragon's head and wings in profile above. Mrs Esdaile ascribes this to the City School of Masons.
The second pillar monument, to Giles Lytcott, d.1696, and wife Sarah Lytcott, d.1713. A pair of putti stand high up on either side of the Doric column; much damaged, at one time they held upturned torches. The base is carved with foliage and a little skull, and a central cartouche of arms. The inscription notes 'Giles Lytcott, of Stratford Langthone in Essex, youngest son of Sir John Lytcott of East Moulsey in ye County of Surrye, by Margaret, daughter of Sir Nicolas Overbury [and Sister of] Sir Thomas Overbury who was [poisoned in] the Tower. …. His eldest son Giles dy'd in ye East Indies in ye Streights of Molucca going to China in ye year 1688. His second son John dy'd in ye West Indies Comander of His Majestie's ship ye Pembroke…'. The square bracketed missing words are taken from the Survey of London. As with the other pillar monument, to John Winder, Esdaile proposes it as the work of William Palmer.
Edward Alexander, Citizen and Glazier, d.1775, roundel with portrait, shield below, on modern granite backing. The original monument was substantial, with the portrait roundel on a tall pyramid above the inscription, with a pot on top, and beneath was the surviving shield, on a backing.
Gunnis records three 18th C monuments by Peter Scheemakers, to Charles Wathen, d.1721, Anne Colleton, d.1741, and Francis Sherwood, d.1744, all destroyed or damaged in WW2. The Colleton monument was a grievous loss - it was a large thing, including sarcophagus on a plinth, a pyramid or obelisk above with a portrait bust of the deceased, in Roman costume, and two full sized cherubs standing next to the sarcophagus and leaning their elbows upon it. Beneath, two high relief pots on the base. The other two monuments were panels, that to Wathen including two winged cherub heads.
We should also mention one other monument among the 20 or so lost in the war, to James Hickson, d.1689. This was an ornate panel monument, with Corinthian pillars, scrolls, an open pediment on top with a shield, two reclining cherubs holding skulls on either side, and at the base, a further winged cherubic head. Hickson was a benefactor of the poor, and among his various charitable works, the inscription recorded his building of an almsouse for six poor people in the parish of South Mimms, Middlesex, and that he founded a school in the locality of the church, to educate 20 poor children.
There are a couple of modern panels and three interesting modern sculptures to note:
A tall metal panel showing Christ raising four nude figures, ie souls, rather art nouveau in style, erected by survivors of the Daily Mirror s own troop of sea scouts to their comrades Roger Sowerbutts Cornall, Christopher Henry Witt, Rowland Maurice Purnell, and Harold Walter Rendell, drowned off Gravesend in 1913.
Recumbent effigy in bronze, of Alfred Henry Forster d.1919, as a memorial to the fallen of World War 1. The sculptor was Cecil Thomas, whom we met as the restorer of the Croke monument, and the work dates from 1926.
Philip Thomas Byard Clayton, d.1972, a second full size recumbent bronze, in a consciously historic style, but with his feet resting on a rather modern terrier. There cannot be many such recumbent figures of such a later date. Apparently this is one of the very last works by the same Cecil Thomas, who died a few years later (1885-1976). The subject was a vicar of the church, who founded the Toc-H movement noted above, in Belgium in WW1.
In this context we mention too the small panel to Henry Blomfield Ellison d.1934, founder of Toc H in Southern Africa. A bronze panel with painted little pictures of a lamp, an eagle's head with crown round the neck, and some type of antelope.
A modern sculptural group of a woman with three infants, fibre glass after original bronzes, described on the label as 'showing a mother watching her baby's first steps with tears in her eyes, and two slightly older children looking on, given in memory of Fred Bowring, step-father to the sculptor, John Robinson (1935-2007). The title is First Steps. A rather attractive work with expressive, mobile figures.
Outside, in what remains of the churchyard are two monuments: a tomb monument with inscription on a panel and minor carving, to Joseph Steele of Cumberland, d.1835 and his brother Henry Steele; and a modest stone panel to Samuel Gittens, d.1777, son of Samuel and Mary Gittens of Barbados – a roundel on a square panel, with above, three rather worn cherubic heads under a canopy with a swirl on each side.
We may also mention exterior modern sculptural adornments: On the east front, high up, is a modern stone panel with male angels around an urn. And there are two short limestone pillars, with pyramidal groups of infant waterchildren or young mermaids, female and male, with little dolphins. And on Pearson's north porch and hence dating from about 1883, are three fine figures in stone, shown below. They are a central Virgin and child, St Ethelburga to the left, and some male saint to the right. The sculptor was Nathaniel Hitch, who specialised in such work.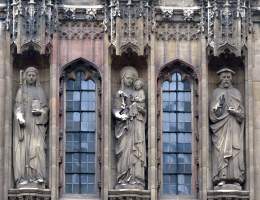 Nathaniel Hitch's figures for the North porch.
Go west to St Mary at Hill // or to St Dunstan's in the East // North to St Olave Hart Street
City Churches // London sculpture // Sculptors // Introduction to church monuments
Angel statues // Cherub sculpture
Visits to this page from 13 Mar 2014: 8,182