Sir Thomas Brock RA (1847-1922)
Sir Thomas Brock was an important sculptor of Victorian times through to his death in 1922, his grandest work being the Victoria Memorial in front of Buckingham Palace. He carved a number of other Queen Victoria statues (and designed the familar hooded portrait of her on old pennies), and was the sculptor of many other civic statues in London and elsewhere.
The sculptor Thomas Brock was born in Worcester, but came to London in 1866 where he became a pupil of Foley, and then, in the following year, entered the Royal Academy Schools. When Foley died in 1874, Brock completed many of his unfinished commissions. This gave him a smooth route into the public commissions which occupied the rest of his life. He was elected ARA in 1883 and RA in 1891, his diploma work being a bust of Lord Leighton PRA, and was the first President of the Royal Society of British Sculptors, also leading that organisation through WW1.
Portrait busts by Brock.
Brock produced many portrait sculptures, being one of the most industrious and successful sculptors of the time. His public statues are many. In London, aside from his last and greatest work, the Victoria Memorial, nearby we have Captain Cook at the other end of the Mall, and another Queen Victoria, standing, on Carlton House Terrace. Bronze statues of Bartle Frere and Robert Raikes are on the Victoria Embankment (see pictures above too; click any picture to enlarge or hover for caption), and the statue of the Pre-Raphaelite painter J.E. Millais is behind Tate Britain. Another bronze statue by Brock, of the actor Henry Irving, can be found on Charing Cross Road by the National Portrait Gallery, and another actor, Augustus Harris has a bust by Brock as part of a memorial fountain on the side of the Theatre Royal on Drury Lane. There is a bust of Henry Tate in Brixton, and a bust, with figure sculpture, to Joseph Lister in Portland Place. A statue of Gainsborough is on the staircase in the Royal Academy. In Westminster Abbey is Brock's grand tomb of his fellow sculptor, Lord Leighton, a statue of Gladstone, and some smaller memorial works.
Statues of Queen Victoria.
Elsewhere in England, Brock has another Queen Victoria in Birmingham(see this page), and another in Hove, another in Carlisle, and another in Worcester as well as Bishop Philpott in the Cathedral there; we may also mention a grand monument to Gladstone in Liverpool, the equestrian Edward the Black Prince in Leeds (see this page), and a stone statue of Rathbone in Sefton Park; two stone statues in Kidderminster, to Rowland Hill and Richard Baxter, Colin Minton Campbell (of Minton's) in Stoke-on-Trent, a bronze Robert Raikes in Gloucester, and Erasmus Wilson in Margate. Aside from the Leighton monument, there is an effigy of Lord Hervey in Wells Cathedral, and one of Capt. Charles Seely in Gatcombe, Isle of Wight.
Portrait statues by Brock in Northern Ireland include a Queen Victoria (picture above, click to enlarge) and Harland (of Harland and Wolff) by City Hall, Belfast, and General Nicholson in Dungannon. In Wales there is a bronze of Baron Merthyr in Merthyr Tydfil.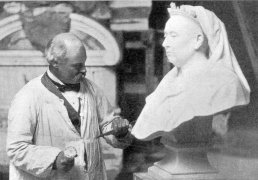 Brock working on a bust of Queen Victoria.
Brock had a variety of international commissions. He has various works which are or were in India, including a youthful Queen Victoria in Kolkota, and a more mature one in Bangalore. Another Queen Victoria by Brock, in stone, is in Cape Town, South Africa. In Australia, there is a Queen Victoria in Brisbane, the equestrian Edward VII stands in Macquarie Street, Sydney, and a bronze of Daniel O'Connell is in Melbourne by St Patrick's Cathedral. In Canada, Queen's Park, Toronto has another equestrian bronze by Brock of Edward VII. And an edition of his subject piece A Moment of Peril is in the gardens of Rosenborg Castle, Copenhagen, Denmark.
Brock's portraits are characterful, and some of his portraits even ironic, but I think it fair to say that much of Brock's work shows a certain coolness in mood, similar to that of Leighton's pictures.
Ideal figures by Brock.
While Brock was predominantly a portraitist, he has a few ideal figures to his name. Firstly of course the various grand allegorical figures for the Victoria memorial. The memorial, the Mall and Admiralty Arch were all put up as one grand composition, and on Admiralty Arch are two further massive allegorical figures by Brock: Navigation and Gunnery. Also in London, in the garden of Leighton House is A Moment of Peril, where an American Indian fights of a snake which has pulled down his horse, and a panel on the Bartle Frere monument has a figure of Courage. Brock has two excellent angels, comparable to the Victoria Monument figures, as part of the Liverpool Gladstone monument (see this page), and in Belfast are two excellent figures of Peace, one on the Titanic Memorial in Belfast, and the other on the Queen's University war memorial there (see this page). In these figures, Brock tends towards the muscular Grecian ideal, with a solidity, even massiveness in repose. Two standing ideal nudes by Brock, slighter and more winsome, were much reproduced in Parian porcelain, one called Eve, and the other under the name Bather Alarmed, but originally exhibited early in Brock's career as the nymph Salmacis. And a rare male nude by him, The Genius of Poetry is also pictured above.
Allegorical figures from the Victoria Memorial.