War Memorial by Thomas Brock, Queen's University Belfast
The war memorial in front of Queen's University, Belfast, is an example of Ideal sculpture by Sir Thomas Brock, with a beautiful Art Nouveau angel of heroic scale supporting a dying soldier. The University building itself has a grand Elizabethan frontage, and is the work of prominent Belfast architect Sir Charles Lanyon.
Thomas Brock's angel and soldier, Queen's University, Belfast.
In front of the grand Tudor-Gothic-styled Queen's University stands this excellent war memorial by the eminent sculptor Sir Thomas Brock. It consists of a dying soldier, hand clasped to his chest, still holding his short sword in his other hand, supported by and leaning upon a tall angel, holding aloft a wreath of victory. It commemorates those members of the University who fell in WW1, with further panels added for WW2, and was erected in 1924. Brock had died by then, and the memorial was finished by one of his proteges and assistants, Frank Arnold Wright, who had been nominated by Brock years previously to become a member of the Royal Society of British Sculptors.
Detail of angel statue.
Thomas Brock is best known today for his various statues of Queen Victoria, including the one in Belfast by the City Hall, and he was esteemed as a portrait sculptor, but just as characteristic of his work are ideal figures as here: the angel, massive and muscular, is typical Brock, and her Art Nouveau face, with its perfect mouth, finely modelled cheeks and downward cast eyes, excellent indeed. (see this page for some other examples of angel statues) The soldier, wearing only a slight drape, has the lightly rather than heroically muscled figure – an athlete rather than a wrestler, and this understated power is again characteristic of Brock.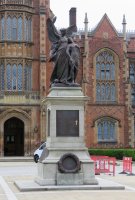 His assistant who completed the piece, Frank Arnold Wright, has some early pieces much in the vein of Brock, and as here, he completed after Brock's death, and maybe was responsible for rather more of, the Titanic Memorial, again by Belfast City Hall. He worked on well into the 20th Century, but I have not seen his later work.
Behind the War Memorial, the great central building of Queen's University was put up at the end of the 1840s, by the architect Sir Charles Lanyon, who designed so many Belfast buildings, being completed for 1849 when the University first opened. A great, long building of dark red brick with pale sandstone edgings, it features a squat central tower with pinnacles and a variety of shorter squared and gabled structures along the frontage, with near-equivalent emphasis to each part, so that the eye wanders along from feature to feature.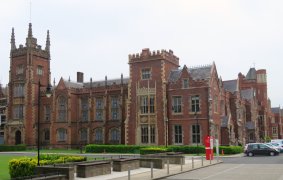 View of frontage and side of Lanyon Building.
Just along the road, walking away from the city centre, is the Royal Botanic Gardens, with a fine statue of Kelvin - see this page. See also main page linking to Belfast sculpture and sculptors.