John Henry Foley RA (1818-1874)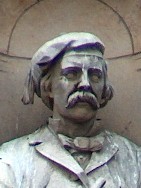 Foley, portrait statue on the V&A.
The sculptor J. H. Foley did not have an artistic background, being born into a Dublin grocer's family. He studied art in that city, and as a highly successful pupil, was able to enter the Royal Academy Schools in London. His first exhibits at the Royal Academy were in 1839, when his works Innocence and Death of Abel won much praise. By the mid-1840s he had a high reputation, and he was elected ARA in 1849 and full Royal Academician nine years later. He continued to send works to the Royal Academy Summer Exhibitions, a little under 50 works in all, until 1861, when he had an argument with the Hanging Committee regarding how they displayed his works. The Committee, as always, refused to back down, and thereafter Foley refused to exhibit at the Academy.
A statue of Foley on the front of the V&A depicts him as a rather gaunt figure, mustached, sporting a floppy cap - the cap was characteristic of him, as it is shown in pictures of the sculptor.
Asia and Albert from the Albert Memorial.
Alongside his many portrait sculptures, Foley also produced various ideal figures, mostly female, mostly semi-draped, in a smooth, simplified form, with Greek profiles, in the style of Flaxman. These included Ino and Bacchus, Egeria (in Bury Art Gallery), Innocence and so forth.
London portrait statues by Foley.
Among Foley's best portrait sculptures are considered to be those in Calcutta - Viscount Hardinge (1858) and Sir James Outram (1864). In London there is a Lord Herbert by him in Waterloo Place and Caractacus at Mansion House. He had a work called The Wanderer in the Great Exhibition and a Prince Consort in Birmingham by the City Hall. Some number of his female ideal figures were reproduced in Parian porcelain. Foley's crowning glory however was work for the Albert Memorial. He is responsible for the group Asia, one of four monumental pieces surrounding the Memorial, and for the actual figure of Albert that forms the centrepiece for the whole composition. Unluckily, he caught a chill while working on the former piece, and was already in poor health by the time he started on the Albert. Having taken this prized commission after the previously assigned sculptor Marochetti had died, Foley himself did not live to see his Albert assembled from the separate bronze sections it was cast from.
Among Foley's studio assistants was another Irish-born one, Samuel Ferris Lynn.