Sculpture by George Frederick Watts RA (1817-1904)

Watts, at the base of Physical Energy.
Although we are familiar with G. F. Watts mainly as a painter, he was also a sculptor of significance, although the number of sculptural works to his name was small, and he was helped somewhat with the technical aspects of casting by the sculptor J. E. Boehm. Perhaps one reason for the small number of works is that Watts had an allergy to plaster. It is unfortunate, because those statues that Watts did carry out are of great force. His most impressive is Physical Energy, a huge equestrian work, and one which, in typical reclusive shyness, he was most reluctant to have cast at all. The painter Millais encouraged him to do so in 1886, and some 14 years later the government offered to pay for it to be done, but it was not until 1902 that he was finally persuaded. Three castings were made - one is in Kensington Gardens, London (picture below, more pictures on this page), one forms the Rhodes Memorial in Cape Town, South Africa, and the third was apparently put up in Zimbabwe (then Rhodesia) in 1960. Another large equestrian statue is Hugh Lupus (1876/83) at Eaton Hall.
Clytie is typical Watts - the classical nymph who turned into a flower is modelled as a head and shoulders, her neck exposed as her face turns to follow the sun. One casting is in the Tate Britain. Watts's other statues are of people - Tennyson (1903) in Lincoln in the Cathedral precinct, the Monument to Thomas Cholmondeley in Condover, St Mary and St Andrew (an early sculpture from 1867), the Monument to Bishop Lonsdale (1871) in Lichfield Cathedral, where the subject wears drapery with complex folds in the ambitious manner of Greek sculpture of the best period, and Lord Lothian in Blicking Church, Norfolk. In London, as well as Physical Energy, Watts has a statue of Lord Holland in Holland Park, again working with J.E. Boehm - see this page for pictures.
Although Watts's sculptures are very few, they were of great influence and much admired. In the words of the eminent critic, Spielman:
There is no sculptor who has ever come nearer to obtaining the grandeur of form which is so wonderful in the Greek masterpieces... Grand in execution, noble in style, majestic in pose, masterly in execution... simple in line and full and rich in modelling... the whole is full of vigour and movement.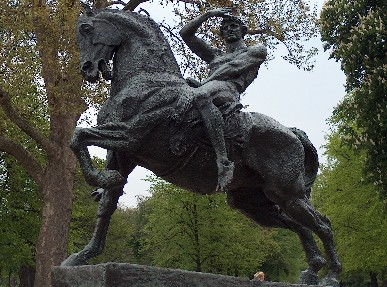 Physical Energy.
Visits to this page from 13 Mar 2014: 5,840