Thomas Woolner RA (1825-1892)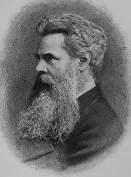 Thomas Woolner is an important portrait sculptor, the only sculptor among the members of the Pre-Raphaelite Brotherhood.
Woolner was born in Suffolk, and came to London in about 1838 where he studied sculpture under William Behnes. In 1842 he joined the Royal Academy Schools, and it was six years later in 1848 when he became one of the founding members of the Pre-Raphaelite Brotherhood. Some six years after that, struggling as a sculptor, he left for Australia, and his Pre-Raphaelite brothers drew a collection of portraits of each other to send to him. Holman Hunt also painted his famous picture inspired by Woolner's departure, The Last of England, showing a departing family setting sail. The picture is in the Birmingham Museum and Art Gallery, with a second oil version in Cambridge, in the Fitzwilliam, and a watercolour in Tate Britain.
Woolner did well in Australia, making in particular portrait medallions of those who had reached heights of eminence and wealth and had no indigenous portrait sculptor to make their images in stone. He was able to return to England in 1857 with an enhanced reputation and an established career. His subsequent work included among others, portrait medallions or full busts of Wordsworth, Tennyson (four times, the best in 1873), Macaulay, Browning (twice), Palmerston, Gladstone (twice), Darwin, Huxley, Sedgewick, Kingsley, Dickens, Carlyle, Coventry and Captain Cook. He combined in his portraits a Rossetti-like sympathy with his subject with a Pre-Raphaelite truth to nature, which at first some found hard to accept:
'Woolner's busts of Tennyson and Maurice are what may be called a new style; they purport to represent the actual man, without any smoothing over or idealising. We have no objection to the style - the more realistic the better. But we object to Mr Woolner's rendering of it... in the Maurice we cannot see the face for the wrinkles... in a similar vein the Tennyson's hair looks so hard that one might take it for strong nicely curled candlewicks steeped in oil.' - Cornhill Magazine