Thomas Woolner RA (1825-1892)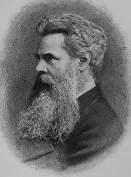 Thomas Woolner is an important portrait sculptor, the only sculptor among the members of the Pre-Raphaelite Brotherhood. He was born in Suffolk, and came to London in about 1838 where he studied sculpture under William Behnes. In 1842 he joined the Royal Academy Schools, and it was six years later in 1848 when he became one of the founding members of the Pre-Raphaelite Brotherhood. Some six years after that, struggling as a sculptor, he left for Australia, and his Pre-Raphaelite brothers drew a collection of portraits of each other to send to him. Holman Hunt also painted his famous picture inspired by Woolner's departure, The Last of England, showing a departing family setting sail. The picture is in the Birmingham Museum and Art Gallery, with a second oil version in Cambridge, in the Fitzwilliam, and a watercolour in Tate Britain.
Woolner did well in Australia, making in particular portrait medallions of those who had reached heights of eminence and wealth and had no indigenous portrait sculptor to make their images in stone. He was able to return to England in 1857 with an enhanced reputation and an established career. His subsequent work included among others, portrait medallions or full busts of Wordsworth, Tennyson (four times, the best in 1873), Macaulay, Browning (twice), Palmerston, Gladstone (twice), Darwin, Huxley, Sedgewick, Kingsley, Dickens, Carlyle, Coventry and Captain Cook. He combined in his portraits a Rossetti-like sympathy with his subject with a Pre-Raphaelite truth to nature, which at first some found hard to accept:
'Woolner's busts of Tennyson and Maurice are what may be called a new style; they purport to represent the actual man, without any smoothing over or idealising. We have no objection to the style - the more realistic the better. But we object to Mr Woolner's rendering of it... in the Maurice we cannot see the face for the wrinkles... in a similar vein the Tennyson's hair looks so hard that one might take it for strong nicely curled candlewicks steeped in oil.' - Cornhill Magazine
Woolner was elected ARA in 1871, RA in 1875 and Professor of Sculpture at the RA two years later.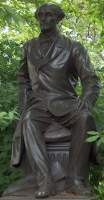 John Stuart Mill, Victoria Embankment.
Woolner's work is widespread. In London, his statue of John Stuart Mill is on the Victoria Embankment Gardens near Somerset House, his Palmerston is in Parliament Square, and a decayed bust of the surgeon John Hunter was in Leicester Square, before being removed for renovation. In St Paul's Cathedral, his is the memorial to Edwin Landseer, with a high relief roundel portrait, and a scene underneath with bier and dog, rather sentimental in recollection of the painter's works. Two lion heads to the sides recall Landseer's Trafalgar Square lions. In Westminster Abbey are Woolner's noble busts of Lord Lawrence and Tennyson, and monuments to Kingsley, Cobden and John Keble. Another monument is in Kew Parish Church, to the Director of the gardens William Jackson Hooker, with nice fern fronds as decoration (see picture on this page). Other portraiture is in the collections of the National Portrait Gallery, including a copy of his bust of Carlyle, one of his finest.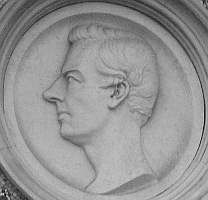 Portrait on the Chamberlain Memorial, Birmingham.
In Birmingham, Woolner made a youngish standing Queen Victoria which is in the Council House, and also the portrait on the side of the Chamberlain Memorial. In Manchester, his Bishop Fraser stands in Albert Square (see this page), with three well-composed relief panels round the base. On the side of the Town Hall, the great building by Alfred Waterhouse, are two large roundels by Woolner. He also made a series of noble kings and other figures for Waterhouse's Courts of Justice (Assize courts), which largely survived the demise of that building (see note on Woolner's sculptures in Manchester here). In Liverpool's Old Town Hall is a bust of James Aikin, a typical Woolner portrait, uncompromisingly depicting the wrinkles of age.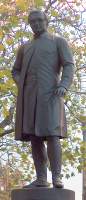 Panel from the Bishop Fraser Monument, Manchester.
In Oxford, the University Museum has Woolner's Francis Bacon as one of the stone figures against the ground floor pillars, and a free-standing Prince Albert in a cape. The Ashmolean Museum also holds a notable bust of Gladstone, with a tall base depicting scenes from the Iliad, showing his typical treatment of the male and female nude. In Merton College is his memorial plaque to J Coleridge Patteson.
We may also mention the Wordsworth monument in St Oswald, Grasmere, Cumbria, depicting a profile head in the style of Julius Caesar, a group of two children for the Fairburn Monument in Tunbridge Wells municipal cemetery, a bust of Lushington in Maidstone Museum and a full bust of the same subject in the Cardiff Museum, and also in Wales the Peel Monument in St Giles Parish Church Wrexham, very Pre-Raphaelite, and a plaque of Moses on Mount Sinai in Llandaff Cathedral, the only survivor of four Biblical subjects.
In Australia, I believe Woolner's most important work is the statue of Captain Cook in Sydney, a lively standing figure with hand raised, as he discovers new land. Woolner also has, or had, significant work in India including a David Sassoon in native costume for Bombay University, a statue in the same city of Cowasjee Readimoney, the very rich gentleman who erected the fountain on the Broad Walk in Regent's Park, and Lord Lawrence for Calcutta (the bust in Westminster Abbey being based on the same portrait).
It seems a bit odd to have a Pre-Raphaelite who was primarily a portrait sculptor with his Pre-Raphaelitism primarily expressed in the unsentimental truth to nature of his portraits. However, he did produce some number of the ideal, historical and religious subjects favoured by Rossetti, Burne-Jones, Millais and Hunt. Female figures include an Ophelia, a caryatid-like Love (1856), various memorial figures, most sympathetic, Eros and Euphrosyne, and The Housemaid, a contemporary subject. His ideal female figure tends to a fairly rounded form, but slender in waist and leg, if not in upper arm, and not typically muscular – the overall effect being a soft, girlish look. Hair is short and Millaisish or long and somewhat in the manner of Rossetti. His male figures tend to the muscular in a Greek idiom, and the archetypical one is Achilles shouting from the trenches (1868), a plaque in high relief in more than one version, most notably on the base of the Ashmolean bust of Gladstone.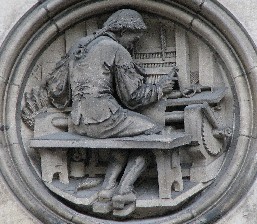 Woolner's sculptures in Manchester
Visits to this page from 23 Nov 2011: 8,282