All Saints Church, Kings Langley, Hertfordshire - Monuments
Kings Langley Church, Hertfordshire, is notable for the two statues – recumbent effigies – of Sir Ralph Verney and his wife Eleanor, and the earlier tomb of Edmund de Langley, and his wife Isabel, with modest sculptural adornment. There is a modest crop of panel monuments and a generally satisfying. atmospheric interior.
King's Langley Church.
Kings Langley, once home to a Royal palace and belonging to the crown, and so called to distinguish it from the area belonging to St Albans (Abbot's Langley - see this page), has a rather blocky church, All Saints, the short tower bearing a spike, with three bays of nave behind, and then lower, about the same length of chancel, with additions on the sides including a chapel; all battlemented. All Saints King's Langley is built of flint, with the usual stone dressings, and most of what we see is 15th Century including the tower, though there are a few features of 13th and 14th Century date, mostly visible inside, and there was the usual Victorian makeover. Inside, we note both the height of the nave, with its clerestory, and the width, and there is a good ambience given by the dark wood of the pews and ceiling beams, and the flagstones close to where the oldest monuments are.
Monuments
Altar tomb, c.1400, to Edmund de Langley and Isabel, and the Priory.

Edmund de Langley, 1st Duke of York, d.1402/3, and Isabel of Castile, d.1393/4: A great, solid altar tomb, lined with shields of arms, carved and painted: seven in front, and three at each end, which are unpainted; those on the rear are gone; quatrefoils within squares frame each shield, and a line of smaller quatrefoils is carved lower down the frontage and sides. On top is a heavy slab of Purbeck marble, with inscribed crosses but no inscription – though the Royal Commission on Historic Monuments suggests that this might be a replacement for an original similarly-sized slab in the North chapel, bearing an indent which may have been of Isabel. Such altar tombs of the 14th-early 16th Centuries tend to be similar, varying mainly in the number and size of the shields, and as Pevsner, the architectural historian noted rather regretfully, the King's Langley monument has 'a display of heraldry instead of artistic genius'. The historic and heraldic as opposed to artistic interest is of course much greater, and there is information by the tomb in the Church, and more fully in the Royal Commission on Historic Monuments volume for Hertfordshire, on this tomb. Edmund de Langley, so called as he was born in the royal seat in the village, was fifth son of Edward III, and became first Duke of York in 1386. His wife Isabel of Castile was daughter of the King of Castile. The tomb stood in the Dominican Friary church close by, and was removed to the Parish Church after the Dissolution.

Tomb of Sir Ralph Verney and Eleanor Pole.

Sir Ralph Verney, d.1528, and his wife Eleanor [Pole]. Over a century later, and here we have a tomb which again is based on an altar tomb, but with recumbent figures on top. They are rather battered: both have lost most of the contours of their faces, and much of their hands raised in prayer, and Sir Ralph is cut off below the knees, but there is still enough to see his carefully carved plate armour, and her layers of clothing and elegantly slender form. A cross lies between her hands, depending from a thin-linked chain, and her broad-cuffed sleeves protrude from under her long, fur-lined cloak in studied elegance. Normally a knight of this period lies on his helm, and we can see the much damaged remnant here; her head is raised on two cushions, with some decoration remaining despite the graffiti. Feet of statues at this time tend to rest on animals, and hers are on a pair of dogs, sometimes indicative of fidelity, again much damaged,. The chest underneath the figures has three panels, each with a lozenge within a square, trefoils and a central shield. Despite the damage this remains a significant piece of sculpture and enough survives particularly of Eleanor Pole to indicate the artistry of the sculptor. Sir Ralph Verney, who became Lord Mayor of London, came to King's Langley in 1487 according to information in the Church, and Eleanor Pole was a lady in waiting to the Queen and related to the Tudors, so this was a good match for him.

Sir William Glacocke, d.1688.

Sir William Glascocke, d.1688, of Aldamhome in Essex, knight, 'Master of Request and Judge of ye Admeralty in ye Kingdome of Ireland' under King Charles II, the inscription noting also that he married Sarah Mayne, daughter and co-heir of James Mayne of Bovington, Hertfordshire, and had a single daughter, also Sarah. Plain panel of pale, streaky marble with thin frame and surmounted by painted arms in an oval carved with scrolls, almost a simple cartouche.

Revd. Thomas Evans, d.1711, Vicar of the Parish of 32 years, his infant son Peter Evans, d.1690, his wife Eunice [Weeden] Evans, d.1726, and William Thomas, d.1727, Merchant of London. Plain white marble panel with thin border.

John Mariott, d.1723, of Chipperfeild [sic] in the Parish, and his wife Mary Mariott, d.1730. With a domed top and a frame.

Revd. John Jefferson, d.1790, Vicar of the Parish, Rector of Padworth, Berks, and Lecturer of St Anne's, Westminster, with a short poem. The inscribed panel has a thin inlaid border of red and white marble, upper and lower shelves, and above, an elegant urn carved in high relief on a narrow stem. Below, between the supporting brackets, is a black curved apron bearing a rounded with a painted shield of arms. Fairly typical of the period, in its use of colour, though sparingly, and the delicacy of the pot – though if the border was not there, it could as easily be early 19th Century.

Monument to Revd. Jefferson, and Westmacott's cherub.

Mary Elizabeth Crawford, d.1793, and her husband George Crawford, d.1813. Panel in a broad frame, supported on little feet, and a shelf above bearing a superstructure consisting of a roundel covered with a wreath of carved foliage; the roundel contains a seated cherub, weeping (picture above right). Signed by Joseph Bonomi [architect/designer], and Richard Westmacott [sculptor] (see this page for the Westmacott dynasty of sculptors).

Ann Betts, d.1822, husband John Betts, d.1842, and their grandson John Betts, d.1842, first of two panels to members of this family. White panel with upper and lower shelf, cut with curvy blank pediment above, and curly supports below.

Abigail [Arnotte] Betts, d.1833, of Balls Pond in the Parish, and her husband John Betts, d.1871, their son Henry Betts, d.1928, and his wife Eliza ['Ida'] Vale, d.1933, and their son John Arnott Betts, d.1971. Cut as a simple tomb chest end with blocky pediment above, on a black backing. Typical of the simpler white-on-black panels of the early 19th Century.

Robert Haldane Bradshaw, d.1835, white panel with thin frame, and a separate panel above enclosing a painted shield of arms with a frond and motto. There is a lower shelf supported on two black blocks, one signed by the most prolific of stonemasons, E. Gaffin of Regent Street (see this page), much better known for simple white-on-black designs.

Revd. John William Butt, d.1855, Vicar of the Parish, and his wife Charlotte Butt, d.1856, erected by their surviving children. Plain white plaque on black backing, despite which it is signed by the mason, Whitelaw of the New Road, London, known for rather quite ornamented white-on-black designs.

Arts and Crafts panels.

Arthur Hampton Longman, d.1908, churchwarden for 35 years, erected by Parishioners and friends. This is the Arts and Crafts period, and we see a typical small piece, with a brassy panel with embossed script and a simple repeating vine patter around it, on a red and white alabaster backing. The brass panel is signed by A&N. Aux. C.S.L. London.

Frederick Charles Fisher, d.1918, Vicar's Warden of the Church and benefactor. Another Arts and Crafts panel from the end of that art period. Thus with the favoured coloured stones of the time, pinky-brown and white alabaster again, and green and black serpentine, and detailing in gold mosaic. The colour is seen as sufficient of itself for decoration, and there is no sculpture bar the little cross above the inscription, on a gold mosaic backing.

Lucy Flora Weedon, d.1950, district nurse. Plain wooden plaque. This takes us back to the early 18th Century panel to the Vicar Thomas Evans, and his wife, born as Eunice Weeden.
Brasses: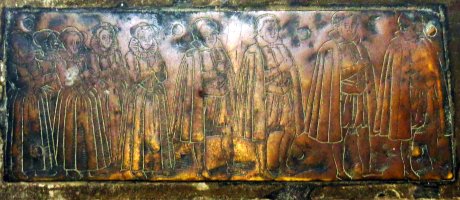 I saw one ancient brass with figures; the Royal Commission on Historic Monuments indicates others, but the visible one would seem to be the most interesting:
John Carter, d.1588, and his two wives, unnamed on the plaque with only their numbers of children recorded: 4 sons and 5 daughters by the first, and 5 sons and 4 daughters by the second, with inscribed images of them all. Carter is shown as a praying merchant, alas, with his face worn away; the figures of his wives, to either side and facing slightly towards him, have fared better: wearing the heavy clothes and wide ruffs familiar from kneeler monuments, and wearing hats; the one on the left seems younger, but I think this may be because she died younger; beneath her we see the five daughters and four sons, the girls clustered together, the boys in front, more spaced out (see picture above). The almost symmetrical composition under the second wife shows the four girls, one behind the other three, and the five boys in front again. 18 children altogether, my goodness.

There are also a couple of brief texts to others, the brasses being mounted on the walls but without surviving images.

Among several modern brass plaques from around the end of the 19th Century, we may note as typical of the more ornate style those to John Edward Groom, d.1900, organist, with a shield and a thick border, and Richard Joseph Gulston, d.1907, and his son, Cecil Gulston, d.1919, both Parish Clerks, with the typical font and red capitals and line inscribed border of the period.
Also in the Church:
Encaustic tiles taken from the ancient priory, dating from the 14th Century, in the Penn, Buckinghamshire style. The panel of 70 tiles is rather worn, as expected, but we can see a range of geometric designs, either single tiles or as groups of four, simple flowers, a charming pair of rabbits, and dimly, groups of three heraldic lions (i.e. Royal arms of England). There are also Victorian encaustic tiles, really good of their type and in proper medieval spirit.

An ancient chest bound with iron, perhaps 16th Century.

Pulpit, early 17th Century, most grand, with carved panels of flowers etc in relief, and cut-out dragons or griffins, and an equally decorated sounding board above.

A more than usually ornate 19th Century reredos [altarpiece], with conventional Last Supper in the centre and saints on the sides, and charming little figural scenes above (see picture above), including Moses striking the rock etc. Joseph Clarke was the designer, 1878, according to Pevsner.

Octagonal-sided stone font with quatrefoils, presumably Victorian.

19th Century eagle lectern, the eagle being more solid than the usual type.

Stained glass – a fair collection of Victorian and later glass, including some good faces to the female figures: example below; see also top of page.

20th Century woodwork, including the First World War Memorial, with decorated panels and flags; the pews, and the Organ with panelled door beneath, depicting angels in the spandrels, one with a trumpet, the other with cymbals, also a miniature balcony-like construction in one corner under the tower; a neighbouring brass notes a gift of stalls and oak case by Frederick Charles Fisher, 1915; other panels around the Church record beautifications at later dates.
Kings Langley Churchyard
Much of the churchyard near the Church has been cleared, with headstones removed to the sides, but a few larger tombs remain and a large part of the whole is preserved. Notable are:
A tall plinth with carved flower and wreath, to the Groome family, the first burial I think being of Sarah Goodwin Groome, d.1785.

A couple of tomb chests, rather plain 19th Century equivalents of the decorated altar tomb in the Church.

A crop of tombstones with minor carving, including that to Corporal H. Hall, Tank Corps, d.1920, with a relief carving of a WW1 tank.

A memorial seat in red terracotta, many-legged and decorated with Arts and Crafts flowers etc, quite unusual. See picture below.

A few late 18th Century headstones with characteristic 'cloud-shaped' tops.
All Saints Kings Langley's website is at https://beneficeoflangelei.org.uk/allsaints/all-saints-church-history/.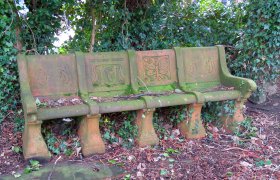 Nearby is Abbot's Langley church with more monuments, or for several other Herts' churches: see this page.