St Dunstan Church, Hunsdon, in Hertfordshire - Monuments
Hunsdon Church, west and south of Stansted Airport, is modestly sized, flint and brick with stone dressings to the mostly Perp windows, and tiled roof. The main features are the short flint tower, 15th Century, three stages to the battlements with a tall thin spire, and the picturesque little porch, wooden with a stone base, also Tudor I think. Inside, it is mostly nave and chancel, dusky wooden floor and pews and darker wooden beams above, most satisfying, with the large south chapel (Cary Chapel) separated off by a Jacobean screen, best in the county according to Pevsner, 4 lights to each side with thin Roman pillars, and a shield of arms above surrounded by an ambitious strapwork construction rather like that on many monuments of a century before: within this chapel is the large Cary monument. In the Chancel is another full recumbent effigy of Judge Forster. But we will proceed through the stone monuments in date order, starting with the Poynz memorial, and taking the several Charrington monuments all together at the end. Aside from Cary, Forster and Poynz, we have 18th Century grand wall monuments by the eminent sculptors Edward Stanton and Robert Taylor, and a couple of modest pieces signed by local stonemasons.
St Dunstan, Hunsdon Parish Church, Porch, and interior view.
Monuments
Francis Poynz, d.1526/8:

On the north side of the Chancel, behind the Forster monument, is the monument to Francis Poynz. Set into the wall, we see a stone recess, with broad Tudor arch above, blind windows to the sides, and inscription within: it is difficult to read, though the name on the first line is easy enough: despite his date of death being well recorded as 1528, it is hard to read the date here as other than 1526. Above is a shelf with a decayed carving of grape vines across it, bearing three shields of arms, painted, the central one with helm and mantling above. Running to either side runs carved crocketing. At the base, the floor of the recess is a wooden panel, and one has to wonder if there once was a brass under it, and perhaps a protruding sideboard-like lower section with panels or windows, now lost; a nice extant example of such, of almost identical date, can be seen in the Alfrey monument at St Helen's Bishopsgate for example.

Sir Thomas Forster, d.1612, effigy with canopy.

Sir Thomas Forster, d.1612. The monument is in the chancel, which is almost as long as the nave, and is a bulky and colourful alabaster thing with a fine canopy on top rising in front of a window. Under this lies the recumbent figure of Sir Thomas, bearded face framed by a large ruff and his scholar's cap. He is enveloped in a fur-trimmed gown, so apart from his hands, raised in prayer in the normal way, and with little ruffs to the sleeves, there are no other features to see, until his shoes protruding underneath; as is usual for these monuments, there is little sign of gravity on the heavy fabric, and the drapes hang as if the figure were standing upright. The figure lies on a great chest, panelled on the front and with painted shields of arms, with further decoration on the ends – the piece does not protrude so much from the wall, but this is accentuated by the red-painted rail around the monument, which obscures it to some extent until the viewer is very close.

Under the canopy and behind the figure are two coats of arms, and the inscription, which is in Latin. The richness of the monument comes from the canopy itself, supported on colourful-shafted outer Ionic pillars (there is a central black-shafted pillar) with a rich brown-and-pink entablature, rather than the figure or other sculptural decoration, which is relatively modest.

Sir John Cary, d.1617, and Lady Mary, d.1627.

The full length effigy of Sir John Cary, d.1617, Baron of Hunsdon (Lord Hunsdon), lies under a canopy, his wife Lady Mary [Hyde] Hunsdon, d.1627 beside him, thus further from the viewer. They are grandly robed, red painted with fur trimmings, wide ruffs, and he in armour. Their hands are raised in prayer, normal for this sort of monument, and their heads lie on the usual tasselled cushions, themselves patterned in damask. At the feet, he has a dog – it is woolly enough for a small sheep, but the coat of arms above has dogs – and she a swan. (Swans in later sculpture are noted on this page). Sir John is depicted in middle age, with straight aquiline nose, high forehead, and pointy beard giving an aesthetic look, and his wife a little older perhaps (she died a decade after him), her curly hair mostly under a hood. The tomb, of alabaster and streaky black marble, is recessed in the wall, so although the rounded arch of the canopy above is deep, it protrudes only a little from the wall. To the sides, a double pair of dark marble-shafted pillars, and although they support a bit of entablature above, the main central part is recessed again, as is the shield of arms supported on each side – the effect overall is that the maker aimed to use as little alabaster and marble as is compatible with a grand tomb. Above the arch is a shield of arms within a surround carved in relief, a bit of scrolling to the sides, and at the very top, a small swan on a base in the centre with little unicorn heads to the sides. There is some level of additional minor decoration, notably winged cherub heads, but again the impression is of a certain degree of economy. The whole is surrounded with an iron fence, with a bench in front, which takes a little from the visual impact of a tomb which after all is the centrepiece and purpose of the chapel. Pevsner tentatively suggested the sculptor as Maximilian Colt, who worked from 1602 through to the 1630s. However there are rather few documented monuments by him and as noted by Adam White, 'most attributions [to this sculptor] have very little to recommend them, being based on the misinterpretation of documents or on visual and circumstantial evidence which is thin and unconvincing'.

Grand 18th C panel to Felix Calvert, by Edward Stanton.

Felix Calvert, d.1713, erected by 'his Disconsolate Widdow' Elizabeth [Witt] Calvert, d.1722, noting their two sons and six daughters. The earlier of two grand panels in dramatically dark-streaked white marble, with pillars and pediment and carved ornament. The inscribed panel sits under a curved upper shelf on which sits an oversized cartouche of arms, painted, resting on winged cherub heads; this sits within a curved, open pediment resting on tall pillars to the sides of the monument, where the most contrasting marble is used. Outside of these sit a pair of flaming urns; a third, larger flaming urn is at the very top of the monument ,and plump cherubs recline on either side on the curves of the pediment. At the base, two curly brackets to the sides, and a descending central apron with the added inscription to Elizabeth, who was 'humble, without meanness, Generous, without Extravagance, & Charitable, without insolence, & strictly Pious'. Below this, a central terminus of two winged angel heads, cheek to cheek. It is seemingly signed but scratched out, but is recorded as being by Edward Stanton, mason to Westminster abbey who did the carving on the North Front, a prolific sculptor from a prolific family of them: the most eminent being his father, William Stanton.

Robert Taylor's monument to Robert Chester

Robert Chester, d.1732, of Briggins, with a lengthy inscription starting 'He was a Gentleman of known Affection, and Zeal for the Constitution of this Kingdom, both in Church and State, with respect to the Fundamentals, of which he was steady and inflexable, as he was in matters of an indifferent Nature, yielding & obsequious.' There is mention of his leaving in his will land to the parish to support the poor of the parish, though only those 'as have liv'd in it with Reputation but are fall'n to Decay & are Aged & past their Labours'. Chester was a director of the South Sea Company, and Briggins was his grand residence, which survives with some reworking, along with parts of the pleasure gardens attributed to the landscape gardener Charles Bridgeman, which in Chester's day had been adorned with statues. The house later passed to the Phelips family, also commemorated in the Church, and then to a later Lord Hunsdon. Anyway, our monument is the second grand early 18th Century monochrome Classical piece in the Church. To each side of the inscription are fluted square pilasters, with receding outer pillars and winged cherubs seated at the base, rather good Baroque poses (if you like cherubs, lots of architectural examples on this page). At the top, a heavy shelf and pediment, of the type called swan-necked, broken at the top to insert a miniature construction with its own pilasters and curved open pediment enclosing a low relief carving of a Classical woman with three naked children, the smallest at the breast.

She sits in front of a casket tomb – a not dissimilar one is outside the Church – and I think is a figure of Charity (not Mrs Chester as he left his grand house to his sister Jane, see below). To the sides sit another pair of cherubs, and on top, a flaming urn with falling festoons of flowers. Under the inscribed panel is a gadrooned (corrugated) shelf, big curly brackets, and a small carved panel with winged angel head, scrolling, and foliage around a central cartouche of the family arms, and at the very base, a winged death's head (more such things part way down on this page). Excellent overall. The sculptor was Robert Taylor, a prominent 18th Century sculptor who also in Herts carved the monument to Sir John Garrard at Wheathampstead; the centre part has a very similar design and the same marble to the sides. His son, incidentally, Sir Robert Taylor, became very successful in sculpture (the pediment of Mansion House above all) and more so as an architect.

Jane Chester, d.1736, of Briggins, who inherited the family seat from her brother Robert Chester noted above. She was 'A Lady of unaffected Piety, innate Modesty, And a most Engaging Deportment', which can be appreciated in the portrait carved in high relief of her above: we see her in Classical garb, with a careful treatment of her hair, including a plaited loop at the back, and a swirl of wavy curls round onto the neck and bust. The bust sits in an oval frame, with the inscription on a carved hanging below, knotted at the sides and with nice hanging tassels; at the top is the shield of arms with flowers to the side. Well composed and skilfully executed.

T. Plows on Hertford, panel to Revd. Matthew Martin, d.1765.

Matthew Martin, d.1765, Rector of the Parish. Panel with central raised portion, and a curved shelf to match above, with the shaped surround in a dark-streaked marble. By the local stonemason T. Plows of Hertford, who has two signed panels in Broxbourne Church, both with the same curved top as here.

Nicholson Calvert, d.1793, and his wife Rebecca Calvert, d.1794 – the husband was son of Felix Calvert of Furneaux Pelham Hall, Herts. Plain little thing, a simplified version of the Matthew Martin panel noted above, again on a shaped backing of dark-streaked white marble, cut with a curved shelf above.

James Taylor, d.1832, Solicitor to the East India Company, deposited in the family vault of Charles Phelips, the younger of which name married Taylor's daughter Caroline. Well it gives itself away as 19th Century, but hearkens back to 40 or 50 years earlier, with unattached pillars to the sides and then receding acanthus scrolls, and a heavy upper shelf with a pediment with acroteria. But the pediment is a plain cut triangle rather than a recessed pale one with a coat of arms in front, the central inscribed panel is ornamented with scrolls and shells and flowers on a wavy outline, and although the dark backing panel has pale diagonal stripes, it is a 19th century rather than 18th century choice of marble and cut. A short apron under the lower shelf has a shield of arms surrounded by flowers and leafy scrolls carved in relief, and there are two sets of brackets to the sides. Interesting, a little quirky.

Work of John Peck of Bishop Stortford, panel to Revd. Calvert, d.1831.

Revd William Calvert, d.1831, 55 years rector of the parish, and 61 years rector of Stocking Pelham. A white on black panel, carved as a tomb chest end, with upper shelf on which is a quirky little pediment, bearing a shield of arms, acroteria too low down on the sides, and with the feet below carved with Acanthus leaves. The black backing is cut to shape and has its own little block feet, one signed by a local stonemason, Peck of Bishop Stortford. He was John Peck, and has a panel of the same design, though different carved detail, to the Revd. Robert Tooke in Lambourne Church; another stonemason Arthur Peck, likely from the same family, had his establishment in Fore Street, Hertford.

Charles James Phelips, d.1903, erected by his wife Emily Susannah Phelips, d.1905, who is also commemorated. Compact white-on-black panel, carved as a tomb chest end. It has chunky side pilasters, a band of carved leaves above rather than an entablature, then a shelf on which rests the pediment, with carved shield of arms and ribbon, and acroteria to the sides. On a black shaped backing.

Charrington family:

Lt. Harold Charrington RN, d.1882, 'killed by Bedouin Arabs in the Desert of Mount Sinai', along with his comrades when in company with Prof. E. Palmer of Cambridge University 'while engaged on an important and confidential Mission connected with the War in Egypt'. Erected by Admiral Sir W.M. Hewett and Officers of his flag ship Euryalus. Gothic window style, with crossed flags above the inscription, and the spandrels (curved triangular shapes) above carved with flowers; tiny stylised flowers form a repeating pattern on the frame. The supporting brackets are carved with oak and wild rose.

Lt. Harold Charrington, d.1882.

Alethe Charlotte Pauline Charrington, d.1883, and her son Cyril Norman Charrington, d.1896, cut in a Gothic window style as above, with a cross above the inscription.

Spencer Charrington MP, d.1904, same design again, with shield of arms.

Edmund Knollys Charrington, Henry Charrington, andEric Charrington, similar again, this one partly hidden behind a curtain and ladder and I could not see the dates.

Victor Robert Montgomerie Charrington, d.1939, and his wife Mildred Mary [Bellasis] Charrington, d.1953. By this date plainness was the rule, and we have reverted to the Classical: specked stone, with frame cut from the same piece, upper and lower shelf with mouldings, and curly brackets below; painted insignia above the inscription.
Brasses:
Margaret Shelley, d.1495; the whole stone panel is set into the north wall of the Chancel by the Forster tomb; the brasses upon it do not survive entirely, but we have the main central figure of Margaret, hooded and wearing a cloak or shroud, from which protrude her praying hands and bare feet, also a small Trinity above, a bit of ribbon to one side, and two lines of inscription. See picture at top of page.

James Gray, d.1591, a curious scene showing Gray, the 'Parke and House-Keper in this towne' having shot a stag from a crossbow; between man and stag stands a skeleton (Death), looking at Gray while plucking the arrow with his hand. It is a proper composition, with the stag shown moving away from the spectator in ¾ rear view, Gray dressed in breeches and waistcoat, the skeleton quite nicely articulated, and a couple of plants on the ground. Unusual.
Also in the Church:
The screen to the Cary chapel has been noted above; within it rests a large anchor on a black plinth which forms the monument to Rear-Admiral Robert Archibald James Montgomerie, d.1908.

Fragmentary wall painting, tempus Tudor.

Woodwork – a 17th Century poor box, a few old pews; the rest are of Arts & Crafts date; an ancient chair.

A few pieces of reset ancient glass (see picture above).

Floor tiles, with tudor rose and lion designs.

Many panelled war memorial listing the names of those who died, with central cross, and little tapestries or banners of the Virgin & Child and St Dunstan.
Hunsdon Churchyard
The churchyard has been cleared somewhat and is kept neat. We may briefly note:
An unusual oval chest tomb, close to the wall, to Campbell, d.1786.

A number of pre-1800 headstones, with their characteristic curly tops, bearing winged cherub heads, scrolling etc.

Blocky chest tomb to James Brown, d.1818, with very wide corners bearing inscribed diamonds.

A chest tomb with Norman style cross to the Phelips family we met in the Church, mild Gothic.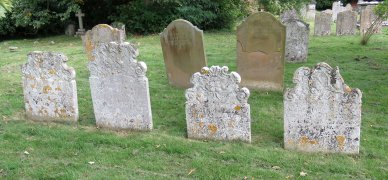 Hunsdon Churchyard, 18th Century headstones in foreground.
St Dunstan's website is at https://hunsdonchurch.org/a-history-of-st-dunstans-church/.