St John Stratford, London/Essex - Monuments
The early 19th Century church of St John's Stratford contains half a dozen simple panel monuments, of which five are signed by the stonemason. Outside, the Stratford Martyrs Memorial is a fine terra cotta shrine in satisfying conjunction with the Church spire.
St John's Church Stratford was erected in 1832-4, for its first decade being a Chapel of Ease to West Ham. It is in West Ham itself, an easy walk to the south of Stratford, that the medieval church lies (see this page). Stratford had taken off in the early 19th Century as a manufacturing site, with the navigable River Lea giving access to the Thames docks, and a boost after the railway arrived in 1839, when a huge railway works was developed, with the central parish of West Ham then becoming a backwater. Edward Blore was the architect of St John's Stratford, and the style is Early English. The Chancel was added in 1882, and there are modern church rooms on the north side.
Edward Blore (1787-1879) held appointments as Surveyor to Westminster Abbey and restored various religious buildings, including Lambeth Palace, and his reputation rests most on his work on detail, restoration and sensitive additions to existing buildings rather than new churches entirely of his own conception, though he was architect to around 20 of these mostly in London and the Home Counties, of which I think about a dozen survive.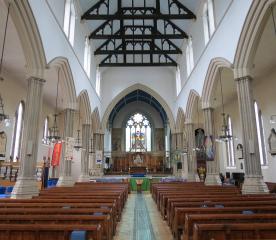 St John's Stratford, architect Edward Blore.
Externally, Stratford St John is visually dominated by the tall tower, buttressed at the base, with flying buttresses on the spire, and with numerous spirelets rising to different heights. The location, on Stratford Broadway where it divides, is advantageous and means the spire is something of a local landmark. The nice pale colour is Bath stone, which is also used for the arches inside the Church, which support a lofty nave, with tall aisles, and give a sense of light and airiness.
Monuments
There are half a dozen wall panels, fairly modest, but including five signed ones:
James Humphreys, d.1830, with a eulogy. With a severely projecting shelf above, and two carved, curly brackets to the sides which act as pilasters for the central panel, a less usual design. Above the inscription is a shield of arms carved in low relief, and on the base of the brackets are nice sea shells. On a thin black backing cut to shape, and signed by Joseph Theakston of Pimlico, London.

James Humphreys, d.1830, by Theakston.

Ralph Smith, d.1835, and his mother Mrs Mary Smith, d. 1842. Tall panel with somewhat Gothic arched top, with an edge, with a single tiny carved head left on one side as a small corbel. At the base, a thin shelf, then a slight, angled apron at the bottom of which is a bracket with a small coil, oddly asymmetric. On a black backing, and signed by Curtis, who is obscure.

Vertical format white-on-black tablets: Smith and Gibson monuments.

Robert Harrison Gibson, d.1838, and father John Gibson, d.1840. Tall white panel with upper shelf, and in front of this an uneasily projecting piece on which is the family crest; the motto is below on a ribbon. At the base, a thicker lower shelf, with two block supports, all on a black backing. By M.W. Johnson of New Road.
John Taylor, d.1846, and Samuel Taylor, d.1850, a casket end, with upper shelf, lower feet carved with stylised leaves, and on top, a central draped pot with two acroteria with acremions. On a black backing cut with a gracefully curved top. By Druitt of South Grove, Mile End Rd.

Taylor monument, by Druitt.

Gabriella Stirling, d.1892, Head Mistress of St John's National School for 18 years. Revival brass panel, with the typical inscribed border of foliage, crosses in circles at the corners, and a few capitals picked out in red.

Joseph Scott, d.1900, by Druitt.

Joseph Scott, d.1900. Carved as a trefoil window, under a pointed arch carved with simple repeating patterns, and with two short pillars to the sides, with leafy tops and red marble shafts; much moulding at the base. On a black backing, supported on two blocks. Another work by Druitt, here with signing as T. Druitt & Co, Stratford. Really looking rather Victorian rather than as late as 1900.
David Bendix, d.1918, with a shield with 'IHS' [i.e. Jesus], and a Gothic frame in brown and white alabaster, a material much favoured by monument makers from 1900 up to WW1.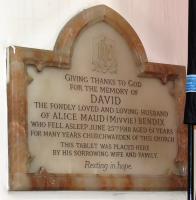 Arts and Crafts panel to David Bendix, d.1918.
Also in the Church:
Boer War monument for the Essex Volunteer Artillery, 1900. A fine bronzy panel listing the fallen and a border of embossed leaves, and crossed flags behind a wreath at the top.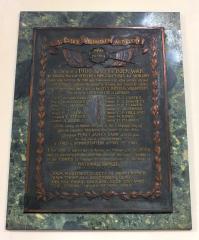 Essex Volunteer Artillery Boer War memorial, 1900.
The font, octagonal, with quatrefoil panels bearing central shields etc all the way round. It rests on a central stone shaft, encircled by small pink granite pillars with black capitals and pale bases.
Typical brass eagle lectern.
Reredos, with upper panel painted and with gold mosaic background, featuring the Lamb of God and a nice pair of angels swinging censors (see picture at top of page). Below are two more painted panels, each with a pair of winged saints or angels – three female, and a knight with a truly spiky sword and a pair of scales of Justice. The carving could be early 19th Century; the fine painted work 1880s or later.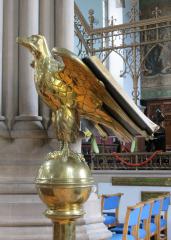 Font and Lectern in St John's Stratford.
Outside the Church:
Stratford Martyrs Memorial and John Buck pillar
The Stratford Martyrs Memorial is a pale terracotta shrinelike structure, prodigious in size, in front of the Church of St John Stratford. It is raised up on several steps, and is hexagonal in cross section, with tall panels between clustered pillars, a gable above each, and a tall steeple above. The 13 Stratford Martyrs were burned at the stake for being Protestants in 1556, and their names are listed, together a few others who were martyred at different dates. The principal side has a small terracotta scene showing martyrs tied to stakes, bunches of straw laid against them ready for firing, and soldiers and beseeching townspeople gathered round. It is rather damaged. The inscription beneath notes the Memorial was put up in 1878, the architect being J.T. Newman, and the terra cotta supplied by H. Johnson & Co, Terra Cotta Manufacturers, Ditchling, Sussex. Apart from the panel, there is much repeating floral ornament higher up, and winged cherub heads.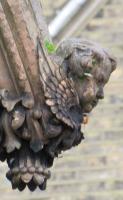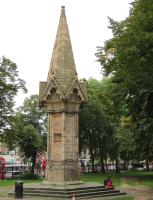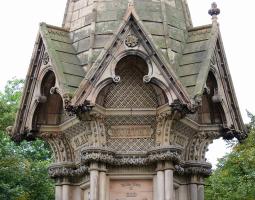 Stratford Martyrs Memorial, 1878, terra cotta by H. Johnson & Co. of Ditchling.
The churchyard has been mostly cleared, but we may note the pillar to John Buck, d.1899, the pillar being of pink granite, severed at the top, which often indicates the deceased was the last of the male line.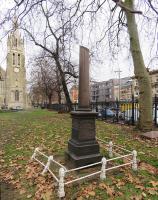 John Buck, d.1899.
Finally, brief mention should be made of the vanished ancient abbey – Stratford Langthorne Abbey, of the Cistercian order. After the dissolution monasteries, it passed through various hands, and apparently many parts still stood until the latter part of the 18th Century, when the land was bought by Thomas Holbrook, who barbarically pulled down the buildings to sell the building stone.
With many thanks to St John's Stratford Church authorities for permission to show pictures from inside the Church: their website is at http://www.stjohnse15.co.uk/history/history.html.
South to West Ham Church // or East to see Romford Road sculpture // North West to Leyton Church