Druitt dynasty of stonemasons, East London and Essex (active 1810s-1950s)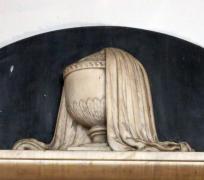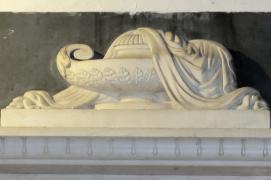 Carved pots by the Druitt stone masons.
A dynasty of stonemasons of East London and the bit of Essex that became London, thus the area broadly from Stratford to Ilford. Joseph Druitt of Stratford was a 'Journeyman stone mason' in the 1820s, becoming insolvent in 1823. Thomas Druitt of Mile End and Stratford, later Thomas Druitt and Co, had premises in Mile End Road (so a little west of Stratford), later in Stratford High Street, from at least the 1840s to the 1880s: He had two sons who became stone masons, Thomas junior, and Jabez. It seems likely that Thomas Druitt Jr continued his father's business in Mile End Road.
Jabez Druitt (1824-1900) set up a separate stone mason's yard, and became the most successful of the family, employing 8 men by 1851, and 22 and 2 boys by 1861. He too was based in Mile End Road, but his yard was in High Street Stratford by the 1880s, and later on his main premises were at 530 Romford Road, with a further premises in Ilford, and being owner of a Serpentine marble works in Cornwall from the late 1870s. Some of hiss family went into the business: Alfred Druitt, a son, and a daughter, Sophia Elizabeth Druitt (d.1938), who became the clerk in the family firm. The company continued through until after 1950, still at 530 Romford Road and at other local addresses.
Theodore Druitt of Stratford, another stone mason working from c.1862, also worked from Romford Road, Stratford, and later in Stratford High Street - where else - and is thought to be a nephew of Jabez Druitt: his company continued until 1926. There was a younger Theodore Druitt too.
Other mid-19th Century Druitts in the area included an Alfred Druitt of Mile End, a letter cutter in stone, and Charles Druitt of Stepney, a zinc and metal worker. A Joseph Druit of Stepney (one letter t) was listed as a statuary in a directory 1826-27.
Most of the work of the various Druitt stonemasons was of course cemetery monuments, and there are numbers of tombstones signed by them in East London cemeteries. However, there are also a few more costly marble monuments signed Druitt in the churches in the area. The earliest one I have seen is that to Nathaniel Rogers, d.1811, in Dagenham, a typical white-on-black panel with low relief carving, and other similar things exist through to the 1870s. There is generally no initial, and the address – which includes variously 'Stratford', 'Mile End Road' and South Grove Mile End' does not help to make a distinction, though the likelihood is that Jabez Druitt's firm was the author of most of them; the relative simplicity of these panels, which never go further than a draped pot in their carving, makes it a rather fruitless exercise to try and distinguish one mason from another anyway. The latest-dating monument I have seen is to Joseph Scott, d.1900, in St John Stratford le Bow, and this is signed T. Druitt, thus likely Theodore Druitt. It is rather different in style, being a Gothic blind window with red-shafted columns, and by this date looks rather old-fashioned, hearkening back to mid-Victorian times.
Anyway, even with the most humble monuments, it is always nice to see the work of the local craftsmen in a church.