Dagenham Church, St Peter & St Paul, London/Essex - Monuments
From the outside, the Church of St Peter & St Paul, Dagenham, is unpretentious: a low tower, in stone and brick, battlemented (the 'slated spire') is long gone, the body similarly battlemented but largely obscured by trees, and a cottage-like rendered extension at the back with thin Gothic windows, and the most distinctive feature being the canopy to the entrance, Classical and rounded. Inside, all is whitewashed and clean, with a relatively high exposed roof of not too dark timber, to increase the lightness and airiness of the interior space. The larger part of the Church is the rectangular block of the nave, and this is split off from the chancel by a wall pierced by a central arch, with one open and one closed arch to the sides. This leads to smaller second space, with low ceiling and broad arches separating a chapel on the northern side. This unusual arrangement is understood when we know that the eastern part - chancel and chapel - are from the medieval church put up in the 13th Century, and refurbished in the 15th Century. A disastrous collapse of the tower in 1800 took down everything else as it fell, and the nave and tower we see today were rebuilt by a certain William Mason, who reused the rubble from the old building and new brown brick. He signs his work on the porch arch, dating it 1800, though funding difficulties meant it was not completed until 1805. The organ gallery at the west end dates from this time, while much of the rest inside dates from a late Victorian makeover.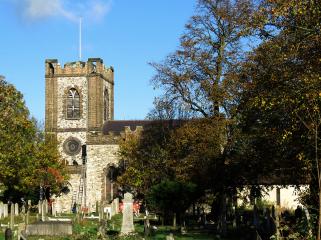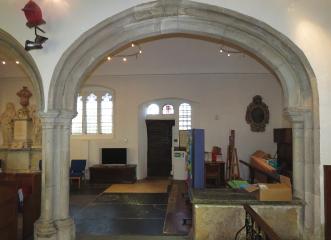 Dagenham Church, St Peter and St Paul, exterior, porch and interior views.
There are not so many monuments - about 16 in all, but these include the ancient and excellent Alibon and Urswyck monuments, and figural work by a local 19th Century sculptor-mason, Sturdy of Romford.
Monuments
We start with the grandest monument, the magnificent tomb of Sir Richard Alibon and his wife, Dame Barbara Alibon, and then look at the rest in date order.
Sir Richard Alibon, d.1688, and his wife, Dame Barbara [Blakestone]
Well, the inscription in Latin and English is to him, and it was she who erected the monument, but there are full sized statues to both of them, so I think the monument was for both, with the intent that some note to her would eventually be added. The monument is in the grandest 17th Century manner, with the two full sized statues of the couple on either side of the inscribed Latin panel, and raised up on a large block of heavily veined marble so that the viewer has to look up to them. On top and in the centre is a tall urn, dragooned (corrugated) at top and base in the 17th Century fashion - this pot, in red and white marble, is the only departure from the monochrome. The figure of Sir Richard shows him in middle age, with calm, rather pleased expression around the mouth, wearing a full periwig, fully robed, with the only note of contemporary costume being his broad collar, a bit of ruffle round the wrists, and a squared-off shoe protruding from the drapery. Very excellent drapery it is - swept back cloak, broad sleeves, a twisted fabric hanging from the waist, caught up in one hand, then falling gracefully to one side. His other hand holds a scroll, and the position of the monument is such that a small hole has been gauged in the wall to allow for this.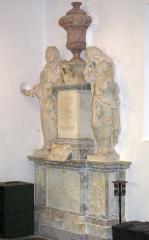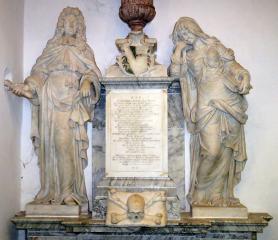 Sir Richard Alibon, d.1688, and Dame Barbara Alibon.
The statue of Dame Barbara is slightly leaning to one side, so she can rest her head upon her arm in mourning - she would be about as tall as her husband were she to stand erect, perhaps equalling his height given he is in shoes and her feet are bare. She is in completely Classical dress, apart from the headpiece, which looks more like a shawl, and the twisted bit of fabric forming a collar which then crosses between her breasts and then loops round. Much graceful and cleverly conceived drapery below. Her face is not young, but her body well rounded under the drapery, with something of an emphasis to the line of stomach and hips and forward leg. And the most graceful turn to the wrist of her other hand, which holds a book.
For the rest, we have a central shield of arms between the figures above the inscribed panel, a skull and crossbones below asa a memento mori (as in 'remember, viewer, you too shall die'), and low relief panels at the base, with crossed branches and crossed swords to the left as we look at the monument, a balance to the right, both symbols of Justice, as Sir Richard was a Justice of the Court of the King's Bench (and, as the inscription notes, the first Roman Catholic to be so for 150 years).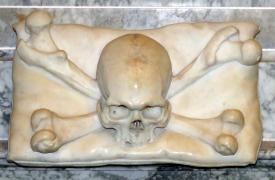 Other pre-1800 monuments:
Sir Thomas Urswyk, d.1479 and Lady Anne Urswyck. An altar tomb, thus a great stone chest with a single massive panel on the top of much darker stone. Nothing survives on the pitted sides of the block below, bar what seems to be an upside-down impression of a shield, a few scratchings which may be the remnants of text, and an even more pitted base. But the top bears the surviving brasses showing Sir Thomas and his wife, together with numerous daughters below - the sons are gone - indents of two shields of arms above, and two below, one of which retains half the arms. The figure of Sir Thomas shows him in a long robe and mantle, hands praying, facing directly forward. He is shown more in the manner of a recumbent figure than upright, as his feet rest on a small lion, beautifully medieval. Lady Urswyk is a much more elegant figure, her form slender, her face a long almond shape, her neck delicate, and wearing an ornate head dress (a so-called 'Great Butterfly' headpiece) and a gown, 'low at the bosom and very small at the waist' in the words of Thomas Urwick, a distant descendant. Her hands seem partly crossed rather than simply resting against each other in prayer. There is more detail to the drapery at the bottom, where sits a very small dog. She faces three quarters towards her husband - unusual to have her facing him but not him facing her in a brass. Underneath, we have their nine daughters, ranked according to age and mostly by size. We see a rather dumpy nun at the front, cowled and thickly gowned, and then the slim figures of her eight sisters, two with the same headdress as their mother (and hence already married - Katharine Langley and Anne Durward, later Lady Dacres), the other six to the rear, ranked by size in two rows, with conical caps ('steeple' head dresses) and long flowing hair down to their waists. All these have narrow waists and flared hips, and their gowns are low cut to show some cleavage, the aim being seemingly to show to advantage this gaggle of attractive young daughters of the noble couple. They are lined up beneath the mother, and there were once four sons on the other side (all of whom predeceased him, as did three daughters).

Sir Thomas Urswyck, d.1479, and his wife Lady Anne Urswyck, noble altar tomb with brasses.

Sir Thomas Urswyck was a significant figure, supporting the Yorkists in the Wars of the Roses, becoming Chief Baron of the Exchequer, and with large property in London and Essex.

Jonathan Lloyd, d.1654, his wife Anne (Walker) Lloyd, d.1652, their daughter Anne, d.1652, the monument being erected by Katharin Walker. The oval inscribed panel, black with gilt lettering, is surrounded by a generous border of carved alabaster, carved with an inner corn design and a much thicker more heavily carved outer part. At the top is a painted coat of arms, and around the edging is thick scrolling, with at the base a small bat-winged skull or death's head. Among the scrolling are emblems of death - an upturned torch and an hourglass (for time passing) are readily discernible.

Jacob Uphill, d.1662, and his wife Ann, d.1667, noting numerous offspring and their marriages and deaths as relevant, erected by one of their daughters, Philadelphia Duncomb, in 1707. Among her siblings, Richard Uphill is recorded as standard bearer to Queen Ann. This is a good piece of its time, most notable for the generously gadrooned (corrugated) shelf at the base of the central inscribed panel. Under this is a carved apron with scrolling, and there are more scrolls to the sides. On top is a shield of arms, now blank, surrounded with scrolling and chains of flowers, carved at appropriate scale to the size of the monument. There is a floor slab to one of the Uphills noted further down this page.

17th Century: Funereal helm and gauntlets; Anonymous panel, Lloyd monument.

Anonymous, with an inscription including at the beginning '...no epitaph nor monument nor line nor marble to decleare ...goodnes hath a lasting memory'. There is no date either. 17th Century panel with a richly carved alabaster surround, in low relief, showing alternating bunches of fruits, flowers, andribbons with tassels, and with painted shields of arms at the sides. There are black-shafted pillars to the sides, an entablature above, again with carving, and on top of the upper shelf, a painted shield of arms within a cartouche, with much mantling etc; to one side is a surviving swirl of strapwork, but whatever was to the sides above the pillars is gone. At the base, a heavy shelf, with black panel between carved sidepieces, and then a lower appendage which consists of a small alabaster panel with further minor carving and a central painted shield at arms. Finally, a small winged cherub head at the very lowest point.

Thomas Waters, d.1756, who left the interest of 100 pounds of South Sea Annuities 'to place out att School ye Poor Children of the Poor decay'd Parishioners of this Parish' - this was well after the South Sea Bubble, and the Company continued issuing annuities into the 1800s. Tall panel with upper shelf and a heavy top, larger than a pediment and more rounded, carved with part of a skull and crossbones surrounded by curly foliage, scrolls and a shell, all in relief. A simple shelf is at the base.

Maria (Fanshaw) Massingberd, d.1777, and three unnamed infant children. An interesting monument, both as an obelisk monument, and in the use of a fine streaked marble of a sort which disappeared around 1800. The inscribed panel is mounted on a panel of this, to form a frame, then a shelf above and below, and on top, the rather triangular obelisk, again of the streaky marble, a darker, more veined piece this time, which forms the background to a carved pot, quite wide and draped. At the base is an apron of white marble with two crossed branches.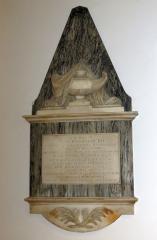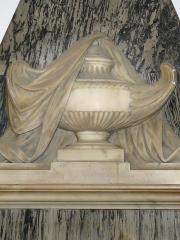 Obelisk monument with draped urn: Maria Massingberd, d.1777.
Post-1800 panels
John Tyler, d.1807, a figure piece, really rather nice. Above the inscribed tablet is the shortest of obelisks, as broad as it is tall, bearing a scene of a mourning girl seated next to a tomb. She is seated on a block, head in one hand, elbow resting on her lap, other arm tucked in behind it, most natural. Her drapery, well-conceived, is in slightly angular folds around and over her body and limbs, and she is seated in an almost three-quarters view which is well thought out. The tomb at which she mourns is a casket tomb, draped, seated on a plinth; rather lower relief and a little shorter than the figure, it serves to balance the composition while leaving the figure as the unquestionable centre of attention. For the rest, there is a lower shelf, and beneath that a shallow, curved apron carved with an open drape upon it, held at three points, and two stylised flowers. The backing panel, of a streaky black and grey marble, follows the contours of the monument at top and base.

John Tyler, d.1807, early 19th Century carving.

Nathaniel Rogers, d.1810, and James Rogers, d.1811, 'descendents of John Rogers, the first Protestant Martyr in the reign of Queen Mary', erected by James's grandson, Nathaniel Rogers. A nice tomb-chest end design, with the blocky inscribed tablet with feet and termini carved as acanthus leaves, and above the upper shelf, a lid or low pediment bearing scrolls, stylised flowers and anthemion carved in low relief. Below, a shield of arms and motto, still with paint attached. On a black backing and signed by the mason-sculptor, Druitt of Stratford - see picture further down this page.

William Ford, 1825 - not quite a funereal monument at all, but noting that in his will he gave 10,000 pounds to found a free school in the parish, plus the interest of 1,000 pounds to supply warm clothing to the aged poor, yearly, in perpetuity. Above the inscribed panel, on a shelf, is a piece of sculpture: a girl and boy kneeling, with a panel between them with the admonition 'Take heed that ye despise not one of these little ones'. The figures are charming: the boy with a little waistcoat, and an open book at his knees, the girl in bonnet and shawl, and there is a sheltering tree above and behind them. The detail is in parts naive: we cannot really tell if they are praying or holding the central panel, for the rear arms are only indicated and we cannot tell if they are meant to pass in front of or behind the central block; the panel has a shallow pediment with large acroteria, and the way the leaves fall make it look slightly lopsided; there is something odd about the chin of the girl; and overall the group is a little heavy for the size of the monument. Yet it is good carving, with a sense of childhood and respectfulness. It is not surprising to find that the carver is a local, perhaps provincial firm, called Sturdy (see this page). To the sides of the central panel are receded sides bearing upturned torches, indicating the snuffing out of life, and there is a thick base supported on two blocky brackets; the whole is on a black backing with curved top.

William Stone, d.1839, and his wife Mrs Sarah Stone, d.1852. Another figure piece by Sturdy of Romford. A mourning girl kneels next to a tall pot, one arm embracing it, the other with elbow upon it, and the hand obscuring her face. There is a slight problem over the pose, as among her nicely carved drapes we see the raised knee of her rear leg, but if both legs are in front of such a bulbous pot, her upper torso should be turned more away from the viewer so she could clasp its neck. Nevertheless, a charming piece, nicely rendered. I have seen just the same composition in Walthamstow in the monument to Jane Bonnell, d.184, and much later to George Lawrence, d.1861 in Salisbury Cathedral. If the Dagenham piece was put up when William Stone died (the script to his wife is a bit darker so probably added on her death), then this would be the earliest monument from which the others were carved, unless there exists some other elsewhere. To the sides, instead of pillars are upturned torches, symbolising life snuffed out, and above, a heavy, curved pediment. Beneath all this is a tomb-chest end, bearing the inscription, and with feet bearing slight carving.

Sarah Bonynge, d.1832, John Gascoyne Fanshawe, d.1803, and other members of the Fanshawe and Fanshawe Clerk families through to 1858: a change in the depth of the lettering after 1841 suggests the monument was put up in that year. A tall panel with blocky upper pediment and lower shelf, and likewise blocky feet, on a shaped black backing with nipped corners. This not very exciting work is signed by Sturdy of Romford, the third by him in the Church. Sarah Bonynge owned the advowson (right to appoint the vicar when the position was vacant) of the Church in the early 19th Century, and the Fanshawe family who were great landowners in the area and had previously contributed to the Church fabric.

John Guillemard, d.1844, panel with thick surround of dark marble, with cut out decoration including quatrefoils at the corners, and two small shields.

Alexander Milner, d.1846, 'whose death was caused by an accident on board the ship Boyne, off Vizigapatam', and Alfred Louis Milner, d.1846, brothers. Simple tomb chest end, with block feet, upper shelf and lid cut to pediment shape. On a black background, signed by the masons Noakes and Pearce, New Road, London.

Jonathan Arnold, d.1857, 'formerly of Whalebone Cottage in this parish' and his wife, Mercy Arnold, d.1864, who erected the monument. Simple white-on-black monument, cut to a tomb-chest end shape, with thick lid and a thin shelf, and on a rectangular black backing panel with two small block supports. Signed by T. Gaffin of Regent Street, London, the most prolific of monument makers who popularised plain panels like this.

Typical 19th Century carved panel: Nathaniel Rogers, d.1811.

Basil Frank Ward, d.1915, killed in action in the Dardanelles. In the modern style, with two varieties of streaky grey marble, but no decorative carving.
Also in the Church:
Floor slabs, not usually mentioned on this website, but we should note there are some early ones in the Chancel: Thomas Comyns, d.1656, 'Doctor of Physicke' in Dagenham; Sir Thomas Bonham, d. 1676 with a worn shield of arms, one to Richard Upphill, d.1717/18, Standard Bearer to the monarchs of his time, and who left £90 per annum to the poor children of Dagenham, with a deep-cut coat of arms in a circle - we noted the monument to the Uphill family above; Anne Foxe, d.1617, with an inscribed figure in long robes, like a simple brass; and members of the White family from 1673.

The original piscina from the 13th Century.

Two funeral helms, each with gauntlets and one with a sword, quite unusual, though once it would have been less so. 17th Century apparently - one group is mounted above the Jacob Uphill monument (see picture further up this page), though the rebuilding makes it hard to say that it is definitely associated with him.

A great wooden chest with iron bindings, likewise 17th Century.

The elegant, slender stone font, dating from the 1800s rebuild.

The organ gallery, noted at the top of the page, has a nicely painted royal coat of arms, and inscriptions to John White and others who gave charitable donations to the parish. Several brass panels note more recent alternations, including the reroofing of the Church in 1913.

The stone pulpit, with reddish marble little pillars, as if it were an ancient font, with three figures carved in alto relievo within Gothic niches on the sides. I did not notice an inscription plate, but would hazard a guess that this dates from the 1878 Victorian restoration, or later. The central figure is Christ, and to the left as we look at the pulpit is St Peter with his keys, to the right, St Paul, with sword (he was beheaded) and scroll (his gospel).

Victorian furnishings: Pulpit, St Peter and St Paul, and a stained glass window.

A few panes of stained glass, Victorian and later, and above the north door, a red cross in a charming Deco manner.
Outside, the Church stands in its own churchyard, with a variety of the usual types of headstones and a few chest tombs; across the road is the War Memorial in the form of a small cross on a tall stone shaft of rocket design.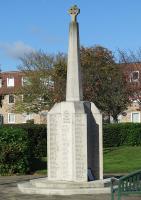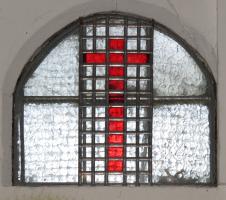 War memorial, and Deco stained glass cross.
With many thanks to the Revd. Joel Edwards for kind permission to use pictures from inside St Peter & St Paul, Dagenham; see the Church website at http://www.dagenhamparishchurch.org/tour/.
Essex-in-London church monuments
St Andrew Hornchurch monuments (Eastward) // Barking Church // or west and north to Walthamstow Church
Monuments in some other London churches
Introduction to church monuments // Angel statues // Cherub sculpture
Visits to this page from 21 Jan. 2018: 3,576