James Gibbs (1682-1754)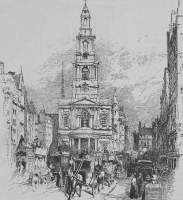 St Mary le Strand by Thomas Archer.

James Gibbs, architect of St Martin in the Fields and one of the successors to Christopher Wren, was born in Aberdeen in 1682, and studied architecture first in Holland, and then Italy, where he worked for the architect Carlo Fontana, before settling in England in about 1709 or 1710. He became friends with Wren, who was by then rather old, and was later appointed one of the two Surveyors for the intended 50 churches provided for under a 1711 act, (only a dozen were in the end built), after the previous incumbent William Dickinson (Hawksmoor was the other Surveyor). Gibbs's contribution to the new churches was St Mary le Strand (1714-17), replacing a previous structure demolished when Somerset House was built, and this established his reputation. Also on the Strand is Wren's St Clement Danes, to which Gibbs added the steeple, in Wrenish style in 1719 – the current steeple is a restoration after the church was bombed in World War II. From slightly earlier than this date St Mary Woolnoth, Hawksmoor's masterpiece, apparently has detailing by Gibbs on the north front.

Gibbs's next church was St Peter Vere Street (the 'Oxford Chapel' after the Earl of Oxford who paid for it), and then came his famous St Martin in the Fields at the corner of Trafalgar Square, dating from 1722-26. This church, with its splendid Corinthian portico, has its tower emerging from the roof, unlike Wren's churches, whose towers are always firmly and visibly rooted to the ground; the new style was much copied but a source of controversy well into Victorian times. A bust of Gibbs by Rysbrach was presented to the church in 1885. All Saints Derby is also a work of Gibbs, and his last church was in Aberdeen.

Other than ecclesiastical work, his is the famous Radcliffe Camera in Oxford (finished 1749), and the Senate House in Cambridge. In London, he was the architect of St Bartholomew's Hospital in Smithfield, originally four buildings, of which three blocks survive. Gibbs was also an early proponent of architect-designed church monuments, including no less than six in Westminster Abbey. He also wrote important and influential books on archictecture. His style was lighter than Wren, more Italianate and delicate, if less solid.

Gibbs died in 1754 and was buried in St Marylebone Old Church.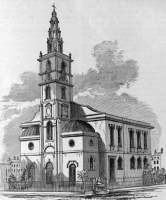 St Clement Danes, Wren church with tower by Thomas Archer.