St Martin's, Ludgate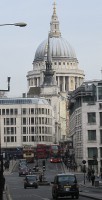 Ludgate and the slender spire of St Martin's Church, St Paul's dome behind.
Although the spire is not tall, and the church does not protrude from the surrounding buildings, due to the rise of Ludgate Hill from Ludgate Circus, the spire of St Martin's Ludgate is a feature when viewing St Paul's from the end of Fleet Street. Inside, it is a relatively large, cubical dark church, with much fine woodwork but very few monuments, these being in one corner and in the little robbing room but viewable through the door.
Christopher Wren built the church in 1677-87, replacing the previous church destroyed in the Fire of London. Externally, the church shows a narrow Portland stone frontage to Ludgate Hill, three bays wide, flush with the adjacent buildings, of which the palazzo to the east is almost as tall as the short tower. Rather plain, sculpturally, to left and right of the tower are thin ornamental swirly scrolls, and a festoon is above each of the arched windows. The steeple, lead-covered, is octagonal in cross section and rises to 158ft above the street.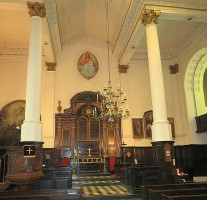 View of the interior.
We enter underneath the tower, into a sort of a lobby which has to left and right small rooms at a height of several steps; the arrangement conveniently reducing the noise from the street in the body of the church. Inside, the church is almost square, with four tall pillars (presumably carved by Nicholas Young) – of Composite order – in a central square, supporting a Greek cross ceiling, with raised, barrel-vaulted arms of the cross, and lower, flat corner ceilings. As noted above, the interior contains a considerable amount of dark wood, mostly from when the church was built, including pulpit, reredos, altar, cased doors and panels, and smaller items including chests, pews, bread shelves etc. This woodwork is in parts much carved, especially about the doors, with floral decoration and the odd carved cherubim among the wreaths and festoons.
Regarding the primary sculptural interest of this website, there are only a small number of sculptural monuments, rather simple panels, several of which are on the walls of the little vestibule, visitable if there is an attendant in the church, otherwise visible through the glass door. I noted the following, in date order:
A small brass dated 1586, depicting a praying man in a long robe, with a religious inscription in rhyme, not indicating who is represented. It is in fact a certain Thomas Beri, and derives from the church of St Mary Magdalene, Old Fish Street, another church rebuilt by Wren, but demolished after a fire in 1886.
Daniel Pinder, d.1820, and wife Mrs Ann Pinder d.1816, a chest tomb-end with a base, on a dark backing. There is also a second monument to Daniel Pinder, consisting of a little cartouche on a metal panel with leaves and nice scroll text, recording that he was a Senior Member of the Corporation of the City of London.

One of John Malcott's panels, to Jane Langstaff, 1820s.

Sophia Catherine Langstaff, d.1820 in Richmond, aged 10, with the brief inscription saying that 'her disconsolate parent in the East Indies has caused this memorial to be erected'. Panel as a tomb-chest end, with feet, low sill, and fan-shaped pot with candle on top. And a similar plaque to Jane Elizabeth Langstaff, d.182[3]. Both died as children, and both monuments are signed indistinctly 'MALCOTT' – this is John Malcott the Younger, whose infrequent work may also be seen in St Stephen's Walbrook, and who, according to Gunnis, made the font for St James Clerkenwell.

Monument carved as a hanging shroud, to Louisa Cautherle, d.1822.

Louisa Cautherle, d.1822. An interesting panel carved as a hanging shroud in low relief, with a falling dove above. A brief text notes that she died of a 'short but painful illness of five days'. Such tombs carved as hanging cloths are widespread, but were never that common.
Thomas Scott, d.1823 and first wife Sarah Townsend, d.1786, and second wife, also Sarah, d.1845, a simple plaque.
Barham family: Charlotte Maria Barham, d.1826, George Blackburn Barham, d.1832, and Jemima Henrietta Barham, d.1834, plain panel; Edward John Barham, d.1840 on another panel; and Revd Richard Harris Dalton Barham, d.1883, 36 years rector of Lolworth, Cambridgeshire, and wife Caroline, d.188[3? 8?] as a third plain plaque.
Mary Ann Eyles, d.1828, a pale marble slab with segmented pediment containing a wreath and scrolls carved in high relief, and ears (acroteria), carved in conventional anemone pattern, on a dark backing.

Monument to Frances Belchier, d.1832, by the sculptor-mason W.Mullane.

Miss Frances Belchier, d.1832, 'the only surviving relative of John James Mackrill Esq, formerly silk merchant of the City of London, and the only daughter of John Belchier esq FRS, Surgeon of Guy's Hospital. The most sculptured monument here, a chest-tomb end with richly sculpted sides, top and under the base, with naturalistic leafy fronds, berries, and stylised flowers. On top, a pot under a drape, and two fans; to the side, links of a chain to lower the coffin; underneath, surrounded by a wreath, what seems to be part of a simple coat of arms. On the slaty backing is the worn signature of W. Mullane, New Rd St Pancras, who has other minor works elsewhere in London churches.
This website does not generally note floor monuments, but we note here a few rather impressive 18th Century ones: John Purcas, d.1749, and wife Anna Purcas, d.1788[?]. And Thomas Mosely Armiger, d.1749, and Deborah Mosely, his wife, d.1767, and Thomas Mosely, their son, d.1758. Each with a roundel with shield, knight's head and phoenix and foliage.
The carved white marble font, with much repeating carving, is contemporary with the church, with the date 1673 in the bowl, noting that it was the gift of Thomas Morley Esq.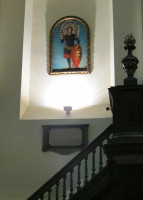 A few words on the pictures. There is a large triptych on the wall, with St Martin, and the dates AD 316 to AD 296, centrally placed, with St Mary Magdalen on left, and St Gregory on right. We may guess this to be 19th C, with good drapes on the Magdalen, and a fine horse for St Martin. On the other side of the pilastered altar is a big domed picture of the Resurrection. High up on either side of organ on wall, we see an angel in white drapes, and a saintly knight with Norman shield, but red with starburst and cross on the boss.
We may note that when Ludgate, one of the old entrances to the City, was pulled down in 1760, the statue of Queen Elizabeth which was upon it survived, and is now on the exterior of St Dunstan's in the West, some minutes walk from St Martin's along Fleet Street - for picture see this page; a picture of Ludgate is below.
With many thanks to the Church authorities for permission to show pictures of the monuments inside; their website is http://www.stmartin-within-ludgate.org.uk/public/stmartins_story.php.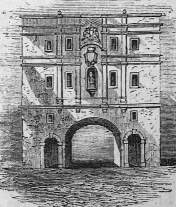 Old Ludgate.
Go west to Fleet Street // North along Old Bailey to the Central Criminal Court // and on to St Sepulchre, Holborn, or North and West to Holborn Viaduct // and the Prince Albert Statue // and the Prudential war memorial
Southwards to Blackfriars Bridge // South and East to St Benet's Paul's Wharf // East and north of St Paul's to Christ Church Newgate Street
City Churches // Christopher Wren // London sculpture // Sculptors // Introduction to church monuments
Angel statues // Cherub sculpture
Visits to this page from 9 May 2013: 6,477