George Dance the Elder (1695/8-1768)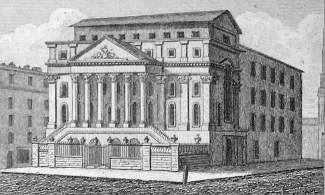 Mansion House, by Dance the Elder.

George Dance the Elder, an important 18th Century follower of Wren, was architect and surveyor the City of London from 1733 until his death in 1768.

As Surveyor of the City of London, Dance the Elder he designed the Mansion House (built 1739-53), a massive Portland Stone pile with a portico with six magnificent Corinthian pillars, and pedimental sculpture by Sir Robert Taylor. He was also responsible for three important London churches, which is the reason for his appearance on this website, with its interest in monuments and sculpture. These churches are: St Leonard Shoreditch (1736-40) in the East End, a major work, again with a major portico (4 Doric columns this time), the City Church of St Botolph Aldgate (1741-44), and St Matthias (Matthew) Bethnal Green (1743-46), where Dance's interior was lost to bomb damage, but the tower and exterior walls survive.