Monuments in St Mary's Church, Rickmansworth, Hertfordshire
At the eastern end of the long, picturesque High Street through Rickmansworth leading away from the reservoirs on the western side, an almost as attractive road turns off to the right, which is Church Street, leading quickly to St Mary's Church. The chief feature is the not particularly tall square tower of flint with corners etc of stone, battlemented, and with a short lead-covered steeple in the centre – this tower is in fact the oldest part of the Church, and dates from 1630. The rest of the Church – nave and two symmetrically placed aisles, all nice, mild Gothic, was rebuilt twice in the 19th Century - the aisles survive from the early 1820s, and further changes in late Victorian times rebuilt the nave and chancel, and presumably added the porch. Inside, the church is pleasantly light, and as well as the fair crop of monuments which are the chief interest of these pages, there is an excellent stained glass window. But first the monuments, of which there are about a score of wall tablets in all, two of which are 17th Century and the rest roughly split between the 18th and 19th Centuries; also a significant 17th Century altar tomb, and a 1613 brass, and several modern brass panels.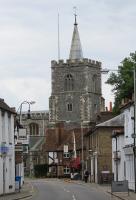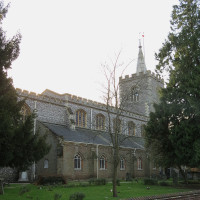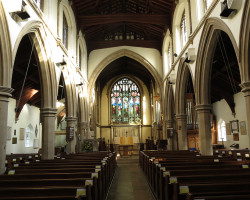 St Mary's Church, Rickmansworth: 1630 tower, rest 19th C; and view of Nave looking east.
Monuments
We start with the Fotherley family, important in the area, then the rest in roughly date order.
Fotherley family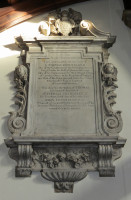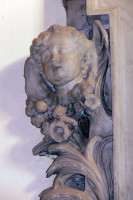 Sir Thomas Fotherley, d.1649-50, and detail.
Thomas Fotherley, d.1624, and wife Tabitha, d. 1584, daughters (?) of Giles Howse. Raised by son Thomas. Broken tablet with cramped lines of cut text in capital letters, with what looks like it could be the very top of some carving at the bottom.
Sir Thomas Fotherley, Kt, d.1649/50, 'One of the Gentelmen of the Privy-chamber to King Charles the First of glorious Memory, One of his Comissioners for the Letting and Setting of London Derry in his Kingdom of Ireland, and One of the Privy-Councell to his Son Prince Charles, after King of England of immortall Memory.', and son Thomas, and grandson Sir Thomas Fotherley, Kt. A rather splendid panel monument. The central panel has a frame, to the sides of which are scrolls supporting flowering fronds from which peer winged cherubic heads. Above a receding shelf is a curved broken pediment with central coat of arms. At the base, the apron, between two scrolly brackets, contains finely carved flowers. At the base of this, a jelly-mould like central bracket. Sir Thomas Fotherley was the son of Thomas and Tabitha Fotherley noted above, and as well as the offices noted on the tablet, he was an MP, and assisted the Duke of Buckingham in various capacities. The Church website ascribes this work to the sculptor William Wood the Elder, not a familiar name to me.
Henry Fotherley Whitfeld, d.1813 (presumably a descendent or relative of the Fotherley family), and sister Ann Whitfeld, d. 1813, panel with side pilasters, upper shelf bearing draped pot, and on apron, carved wreath with ribbons. All on a black backing. The work of the mason Sanders of New Road, Fitzroy Square, who made a number of monuments in southern England mostly in the mid-1840s.
17th Century altar tomb chest: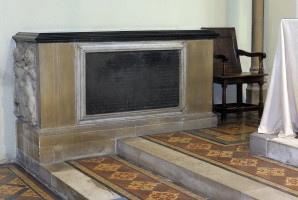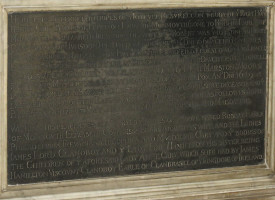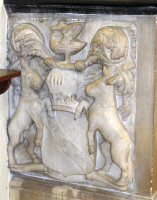 Altar tomb of Henry Cary, Earl of Monmouth, d.1661.
Rt Hon Henry Cary, Baron of Lepinton, Earl of Monmouth, d.1661, and family. Great altar tomb in the chancel against the wall, with lengthy inscription on black panel on the side, and on the front, large, sold carved coat of arms in alabaster with two rearing bulls, and on top of the central shield a coronet, knight's helm and a bird, all rather naive in style, presumably copied faithfully after a not particularly detailed reproduction of the coat of arms. Apparently the tomb originally had a more central position – not at all uncommon - and was moved on two occasions.
18th Century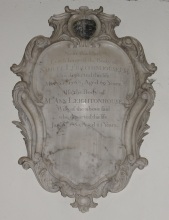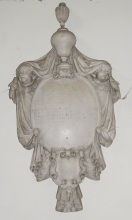 18th Century cartouches: Samuel Leightonhouse, and James Willett.
Emma Alcock, d.1722, wife of Richard Alcock, 'late Butler to ye Duchess of Monmouth'. Also daughter Sarah Higgins, d.1727, and eldest son, an unnamed infant, and sister to Emma Alcock, Elizabeth Bunyan, d.1728. Marble panel with Baroque shaped top and bottom, little Acanthus bud on top, single bracket below.
James Willett, an unclearly inscribed cartouche, likely early 18th Century, or even earlier, though I could not read the date, with domed centre surrounded by hanging drapery, depending from pear-shaped terminus at top, with little fluted bowl above that. Drapes caught up on heads of two plump cherubs, then dropping down at sides, caught again on little shells, with hanging drop folds below. Between these two, at base of plaque is central mini cartouche, elegantly formed with scrolling, and at the very base, more hangings. A most finely designed piece, presumably late 18th Century.
Mary Small, d.1763, Jane Booth, d.1757, and William Booth, d.1770. Panel with curved top and little feet attached to a heavier back panel of streaky marble, similarly shaped, with top border with keystone, which perhaps once held a small urn, three small carved flowers depending from each side, lower shelf with a curvy apron below with a circular ornament. Somewhat unusual.
Samuel Leightonhouse, d.1768, and wife Ann, d.1760. Cartouche with scrolling around it, acanthus at bottom, very small coat of arms at top.
William Bladwell, Rear Admiral, d.1783, and wife Margaret, d.1777, plain white panel with upper and lower shelf.
Francis John Lulham, d.1785, and infant James Lulham, d.1785. Oval with simple winged cherubic head at top, and a cut scrolly line at the base.
Timothy Earle, d.1787, and wife Dorothy, d.1781, and relatives. Thin lines of capital letters on a plaque, with decorated upper shelf, more a raised band, with an upper lid (if we regard the whole as a tomb chest end) and lower brackets serving as legs. At the top, an unusual wide fluted bowl with a wreath across it, broken, and some fabric. At the base on the curved apron, an odd somewhat heraldic design of shells and stars, upper sigil, and branches of olive, nicely carved. With a shaped black and white marble backing. Apparently a minor work by John Flaxman.
Domitilla Parsons, d.1796, and husband John Parsons, d.1798, panel with receding surround, black marble on the sides, red and dark speckled above, with a shelf, and a lower shelf beneath which is a curved, plain apron between two small fluted brackets.
Major Harris Thurloe Brace, of HM 1st Regiment of Dragoon Guards, d.1799, Revd John Alexander, d.1804, vicar, and wife Margaret, d.1795, niece of Brace. Plaque with upper shelf, wide fluted pot on top on dark backing, and below, two small fluted brackets.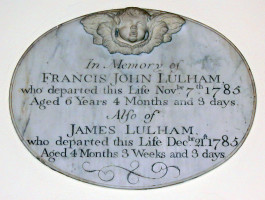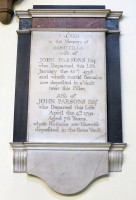 Late 18th Century: Earle, Lulham, and Parsons monuments.
19th Century
Jane Hodgson, d.1809, wife of Edward Hodgson (see below), vicar, daughter of John Foulerton of Trinity House, and infant daughter Catherine, with some prose in tightly carved lines of capital letters. Plaque with border, upper shelf on which rests an asymmetrically draped pot in high relief – behind this is a low relief smaller pot, to commemorate the daughter.

Jane Hodgson, d.1809 (left), young wife of Revd. E. Hodgson (right).

John Chamberlyn Swannell, d.1809, father James Swannell, d.1812, and his wife, Charlotte, d.1844. With a brownish classical surround, sides as pilasters, thin empty pediment above, with acroteria, and two rather geometrical brackets.
John Robert Cunningham, d.1810, one day old, with a poem, plain panel with small feet and an upper shelf.
Samuel Salter, d.1829, and wife Jane, d.1843 in darker text; square panel with dark inset border and two small brackets.
Revd. Edward Hodgson, vicar, d.1853, as a tomb chest end, on a shaped black backing. On top of the chest is carved an open Bible, with behind it an olive branch and a Crucifix. He was the husband of Jane Hodgson noted above. The monument is signed Manning, sculptor, London - presumably Samuel Manning the Younger, whose father was the long-time partner to the better known sculptor John Bacon Jr.
Thomas Fellows, of Money Hill House, d.1858, unusual diamond shaped plaque in dark marble, with anchor carved in white, bearing heart on cross. Crisp, distinctive.
Elizabeth Woolrych, d.1871, wife of Revd Thos. Jenkins, Rector of Caerphilly. As a vertically unrolling scroll, in white marble with black streaks, and two black brackets.
Marianna Barker, d.1875, and husband Revd. Alleyne H Barker, d.1884, Vicar, and son Robert Barker d.1915, with note that during the Vicar's time, his parishioners and others built the churches of Croxley Green and Mill End, and schools at Rickmansworth. White panel with upper shelf and pediment with no frame enclosing a cross, all on a black backing. By Sandlers, Euston Rd London.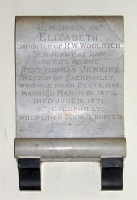 Victorian monuments, different shapes: Fellows and Woolrych.
Brass
Brass to Thomas Day, d.1613, and wives Alice, d.1585, and Joane, d.1598, with all three depicted, on separate panels. He is standing tall, bearded, cloaked and carrying a staff. The wives, one on each side, shown facing somewhat towards their husband, are both praying, and dressed alike in long, heavy skirt gathered to a narrow waist, stiff upper garment with soft sleeves, and high ruff. Each has a hat, and are witchlike in their visages, the right hand one being the younger, and apparently a modern restoration.

There are a few 19th and early 20th Century brasses, including:
Mary Fellows, of Money Hill House, d.1883, whose children erected the Church porch. Little metal panel.
William Joseph Parks, d.1900, Gunner, 4th Battery RA, died in action in the Boer War, brass panel on wood, with cannon emblem of his regiment.
Brass that clock dedicated by Revd. Charles Parkinson, Vicar, 1904, chimes given by Revd. Francis H Hodgson in memory of his father Arthur Hodgson, who went to Queensland, Australia.
Brass to Revd. Alfred Edward Northey, d.1911, and Aldred Northey, of Worcestershire Regt, d.1914.
Sarah Hutchings, d.1921, brassy panel with note that she provided electric light to the Church.
Violet Mabel Cassels, d.1923, brass panel with embossed lettering, and a small Crucifixion above.
We may also note a couple of very recent plain brass plaques to incumbent vicars of the Church, including Revd John Richardson, d.2002, Vicar of St Mary and Bishop of Bedford, and Revd. Ann Brown. Plain brass plaque.
The Burne-Jones Window
The East Window, instantly recognisable as by Edward Coley Burne-Jones, depicts Christ, flanked by two female and two male figures, epitomes of the Burne-Jones type, those on the left being rather reminiscent of Cophetua and the Beggarmaid (though they depict Longinus the Centurion and St Mary Magdalene, according to information in the Church). Four small angels above these figures, and below, square panels with male angel, and winged lion and bull, and eagle, thus symbols of the four apostles. There are several smaller musical angels, and various haloed winged heads, in the smaller lights above. The luminescent colours, characteristic of the work of Morris & Co for which company Burne-Jones designed his windows and other work, cause subtle coloured light to fall on the walls to the sides.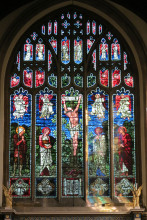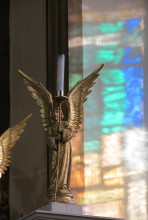 Burne-Jones window, detail, and light reflecting off the wall.
Other stained glass in the Church includes a WW2 memorial piece to St Christopher in the porch, and other 20th Century glass from a Methodist church in the village; there is also a small amount of reset fragments of early glass, perhaps contemporary with the Tower.
Among various other ornamentation in the church, we may note the stone pulpit, clearly from the late 19th Century remodelling, and the hexagonal font, with base with pairs of blind Gothic lights, dating from early in the 20th Century - another font, octagonal with quatrefoils on the sides, is outside, adjacent to the Church. There is a Stations of the Cross series around the walls. Some of the flooring is original stone, and near the tower we may note dark floor slabs to Gideon Awnsham, d.1684, Lady Elizabeth Cary, d.1676, daugter of Henry Cary whose large tomb we noted above. Almost lost under a heater is James Hamilton, Lord Clanebrassill, son of the Earl of Clanbrasill, d.164?, a supporter of Charles I.
World War I Memorial, Sculpture by William Reid Dick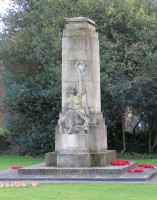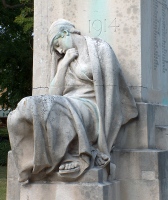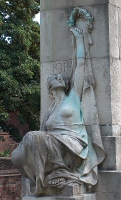 Rickmansworth World War 1 Memorial, with Grief and Victory.
Outside is the churchyard, with some 18th Century wood-framed building in the corner, and on the far side, Rickmansworth's First World War Memorial. This consists of a solid blocky cenotaph-like structure in Portland Stone, with a female figure on each side. The one, on the 1914 side, is an allegorical figure of Grief, seated with head bowed to one side, resting on her hand, draped and cowled, one sandalled foot protruding from under the heavy fabric. The second figure, on the 1918 side, is Victory, with a rather similar figure, but this time she has thrown off her hood, and gazes upwards towards the Victory wreath she holds in her upstretched left hand. A most evocative piece, by the sculptor William Reid Dick. There used as well to be a lion on top, killing an eagle (i.e. Britain defeating its Germanic foes); it was exhibited at the Royal Academy in 1921, but was removed to some other part of Rickmansworth; I have not seen it.
Thomas Wilson Monument
Among the monuments in the churchyard are tomb chests in a good state of repair, but we should particularly note the monument to Thomas Wilson, d.1843, up close to the wall of the Church, a two stage construction with an elegant urn on top: things like this were put up from the mid-18th Century through to the late 19th Century. There is a simple plaque to his wife, Elizabeth Wilson, d.1860 on the adjacent wall. Lurking under some trees are characteristic 18th Century gravestones, their inscriptions too worn to read.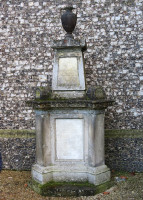 Thomas Wilson Monument.
With many thanks to the Church authorities for permission to show pictures of the monuments inside; their website is at http://www.stmarysrickmansworth.org.uk/index.htm, and contains much of historical interest, especially at http://www.stmarysrickmansworth.org.uk/7_history/history_church.html.
Aside from the links at the top of this page on the side buttons, see also Ruislip Church, also on the Metropolitan line, and Hillingdon Church. And in Rickmansworth itself, a small diversion can be made to Rickmansworth Cemetery.