Rickmansworth Cemetery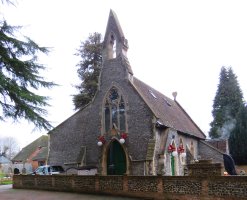 Rickmansworth cemetery is on Old Chorleywood Road, a couple of minutes walk north from the station. It is not so large, but visitors to Rickmansworth Church might wish to make the small detour in this direction to see the interesting chapel building.
The cemetery was opened in 1856, and the chapel put up in that year, now sold off as a private residence, is a characterful Victorian structure, quite small, whose notable features are the sharply steep roof and the flat steeple or bell tower (no bell) at one end. It is faced with flint with likely bath stone dressings. The architect, Robert Wheeler (1830-1902), is not well known today, but was an industrious man producing a range of cemetery chapels and churches, and apparently schools, though I've not seen any of those. This little building is very characteristic of his work, which strongly favoured the pointiest of Victorian Gothic. His best known work is probably the distinctive Woodvale Cemetery chapel in Brighton, from around the same date. Most of Wheeler's work is in Kent and along the south coast, though he has at least one church in Essex. His work tends to be modestly sized, and as well as flint faced buildings as at Rickmansworth, he also favoured brick, sometimes with polychrome brick interiors.
Various crosses in Rickmansworth Cemetery.
So far as the headstones and bigger monuments go, we may note:
A fair variety of crosses, including designs based on the quatrefoil and pointed quatrefoil, one carved as if made of wooden logs, and one with a chain round it to hold an anchor, commemorating Mary Anne Elliot, d.1875. If you are interested in styles of crosses in churchyards, see this page.
Just a couple of full statues of angels, one carrying a cross, and when I visited, covered almost entirely with ivy. For more angel statues, see the bottom of this page

One grand canopy tomb supported on 10 pillars – a shrinelike Victorian Gothic effort, very sturdy and which will likely last far longer than the Classical table tombs of the previous century still found in many churchyards. Note the corbel like bases to the upper pilasters, carved with simple floral designs giving a satisfying roundness.
Go back to Rickmansworth Church monuments