Sir William Reid Dick RA (1879-1961)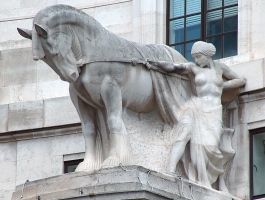 Energy Constrained, Unilever House, by Reid Dick.
The sculptor William Reid Dick is a significant artist of the early 20th Century, being notable for his art deco architectural sculpture, allegorical figures, war memorials, and portrait statues.
William Reid Dick was born in Glasgow, and studied at the School of Art there after an apprenticeship at very young age to a local firm of stone masons, Scott and Rae, before moving to London in 1907, joined the Army in World War 1, serving with the Royal Army Medical Corps. He returned to spend most of his working life in London, in the vicinity of St Johnís Wood. He was elected Associate of the Royal Academy in 1921, full RA in 1928, and was knighted in 1935, and held many official positions.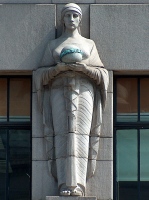 Figure for Adelaide House.
Reid Dickís portrait sculptures in London include the statues of George V in Old Palace Yard near the Houses of Parliament, and President Roosevelt in Grosvenor Square, John Soane for the exterior of the Bank of England building (see this page), as well as the Kitchener Memorial in St Paulís Cathedral. His allegorical statues include Fame in Fleet Street, for Reuters, the massive figures on Unilever House, the Spinner for Vigo House in Regent Street (see this page), and the figure on Adelaide House by London Bridge. He has war memorials in Bushey (see this page) and Rickmansworth (see bottom of this page) to the west of London, and in Port Sunlight near Liverpool. In Coventry he has a Lady Godiva. One of his early ideal works which attracted much attention, Femina Victrix, went to the National Gallery of New South Wales, Australia. And in India, in Coronation Park in Delhi, he has two portrait statues: Lord Halifax (known as Lord Irwin) and Lord Willingdon, both dating from the 1930s.
Reid Dickís career, spanning the whole of the first half of the 20th Century, means that his work shows much variety, but his most characteristic work is rather muscular female figures, Deco in style, with rather hard faces, and limbs and bodies often in a state of strained action.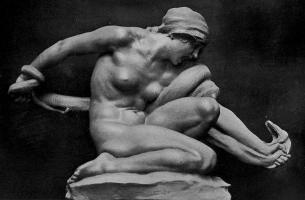 Femina Victrix.