Hornsey Church's Lost Monuments
Sad little page about monuments formerly in Hornsey Church, N London / Middlesex - one survives in public view in the V&A.
Only the tower of Hornsey's medieval church survives, and the monuments within it were scattered or lost. This page notes those which used to be there.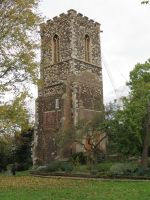 Alas, only the tower of St Mary's Church, Hornsey, survives, and according to the website of the group dedicated to its preservation -the Friends of Hornsey Church Tower – when the most recent church on the site was demolished in 1969, the monuments were largely 'disposed of, many disappearing without trace', though one made its way to the V&A Museum. A bit on the sad story of the Church first:
The medieval church survived until 1832, when it was deemed too small for the growing congregation, and all except the tower was demolished; that tower itself was raised by an extra storey, reusing the rubble from the demolished church, and a new structure built on the foundations of the old. However, that church was not a great success, and in the 1880s a new one was build close by, the architect being James Brooks. His design included a bell tower, but, typically, that was not built initially as the money was not there, and by 1904 when funds seemed more available, the weaknesses of the ground on which his church had been built made it apparent that no tower could be safely placed there. So the old, medieval tower had a further reprieve as a bell tower, though the 1880s church attached to it became so derelict that it was pulled down in 1927. The old tower became covered in ivy, and when pulled away, there were found two shields -still there but defaced – with the arms of Thomas Savage, Archbishop of York and Bishop Warham of London, both around 1500, from which it is supposed the tower was finished at that date.
But the whole new church, tower or not, was not so stable, with cracks appearing, and by the 1930s, interior scaffolding was needed. Nevertheless, still in the 1950s one writer felt moved to write that 'if completed with the tower and crocketed spire of 15th Century English type intended for it, this would be the most handsome 19th-century church in Middlesex and a great adornment to Hornsey.' But it was not to be: the whole thing was pulled down in 1969, and worship moved to a modern church, St George Ch Cranley Gardens.
So what were the monuments in Hornsey Church? Daniel Lysons, historian and topographer, for his survey of Middlesex published in 1795, noted the following monuments in the Church at that time, here augmented with a few details as far as I've been able to find them:
Richard Candish, made in 1601 , obelisk resting on ball-feet, with coat of arms.
Robert Harrington, d.1610 , black and white tablet with shield of arms.
George Rey of Highgate, c.1613 [date hidden in Lysons' time], incised stone placed upright, showing the deceased standing, praying, with his two praying wives standing to either side and slightly behind him, and a tiny child, also George Rey, kneeling on a cushion in front of his mother, Rey's first wife.
Francis Musters, d.1680 , kneeling figure in alto relievo with two cherubs flying above, skull on the floor in front of his kneeler cushion, and an oversized curved pediment above. The monument is by the illustrious Caius Gabriel Cibber, sculptor of the panel at the base of the Monument to the Fire of London, and was transferred to the V&A Museum, where it still may be seen.
Thomas Lant, d.1688 , rector for 51 years, panel with carved coat of arms.
Samuel Buckley, d.1741 – a cartouche panel.
Revd. Dr Cartwright, d.1749 , rector of the Church.
Col. Edward James, d.1782 and sister Elizabeth Chambers, d.1756.
Samuel Towers, d.1757.
John Carter, d.1776 – a simple oval panel with a moulded frame.
Elizabeth Chambers, d.1756, and brother Col. Edward James, d.1782, erected by Elizabeth's daughter Eliza Harington in 1792 – a tall obelisk monument [i.e. a flat obelisk placed against the wall rather than the slender 3D style of the Candish monument], with a draped funereal urn in front of it, and shield of arms with small drapes. This monument, along with others less recognisable, seems to be visible in the Royal Commission on Historic Monuments picture of the tower, published in 1912, hanging outside on one of the buttresses.
Burrage Angier, d.1792, and his wife Elizabeth, d.1771, who was the daughter of Samuel Buckley noted above. Panel with fluted side-pieces and upper shelf.
Mrs Lucretia Gazeley, d.1795, and infants Sarah Maria and others. Oval inscribed panel on a grey, roughly rectangular backing with small pot on top with flowers and winged cherub head, painted coat of arms with crossed branches, and carved drapes hanging to either side. By the monument maker Henry Rouw (see bottom of this page).
And several brasses and floor slabs not noted here.
While noting monuments were transferred to the new [Brooks] church, 19th Century guidebooks list only some of them: George Rey, Francis Musters, Richard Candish, Thomas Lant, Robert Harington, and Samuel Buckley. I've come across notes of two new monuments, after Lyson's times:
Lewis Atterbury, d.1731, brought from Highgate, a marble Corinthian column surmounted with arms.
Samuel Rogers, d,1855, author of The Pleasures of Memory, medallion by the sculptor William Behnes.
We may note one other survival from the old church: the 16th Century font, which was given to St George's Hornsey.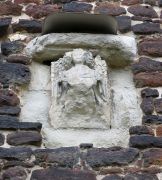 Also in Hornsey // East to Tottenham Church // North East to Edmonton Church // Introduction to church monuments