Sir John Soane R.A. (1753-1837)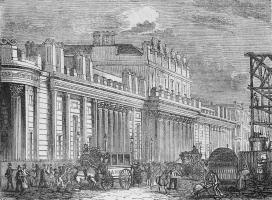 John Soane, Bank of England.
The eminent John Soane, architect of the Bank of England, is of particular interest to these pages in part because some of his buildings feature architectural sculpture. As well, he brings Neo-Classical architecture from the 18th Century through, just, to Victorian times, for he died in 1837, the year Queen Victoria was crowned. And his home in Lincoln's Inn Fields, now the Soane Museum, is a complex, subtle building with a plethora of architectural and free-standing sculpture, as well as paintings and other things artistic.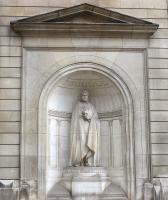 John Soane statue, by William Reid Dick.
Soane was born the son of a bricklayer who worked near Reading, and grew up and was educated in that town. His artistic proclivities led him to be employed first in George Dance the Younger's architectural studio, and then for rather longer in that of the architect Henry Holland, staying there until 1766 and at the same time studying in the Royal Academy Schools. Later, in 1776, he won a travelling scholarship to Italy, where he remained until 1780. His break came in 1788 when he was appointed architect to the Bank of England, followed by other public appointments and a career of continuing success and fortune. He was an important figure in the Royal Academy too, being elected Associate in 1795, Academician in 1802, and Professor of Architecture there from 1806, where he delivered significant lectures on elements of architecture, including one on the use of Caryatids.
Soane's designs are always Classical, Greek style rather than Roman, with arches and domes and clever use of space with recesses and views through from one room to another. His smaller scale works include unexpected views and use of mirrors and generally indirect light. As well as external sculpture, his interiors make use of decorative friezes and sculpture in niches.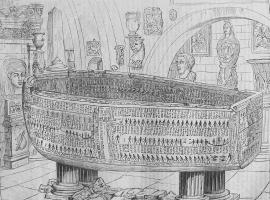 Soane Museum, the sarcophagus.
Because of the various offices Soane held, excepting some country houses he is essentially a London architect. His grandest surviving work is of course the Bank of England, altered somewhat by Herbert Baker in the 20th Century, but retaining the outer screen wall and some giant domed banking halls within. Next, his most excellent home, already mentioned, the Soane Museum, given by him to the nation as a museum, and containing his remarkable collections of sculpture, architectural models, paintings including by Hogarth, cameos, a large library of books and drawings, knick-knackeries and a giant Egyptian sarcophagus in the basement – surely one of the best small museums in London. It features his cleverest tricks of design, including a double staircase, and cut-through walls to give sudden revealed views.
Also his is the Dulwich Picture Gallery, another beautiful building, and to the west, Pitzhanger Manor in Ealing, now a rather emptyish public building used for concerts and shows, but retaining external Coade Stone statues and two plaques with lions. Others of Soane's public buildings have not survived.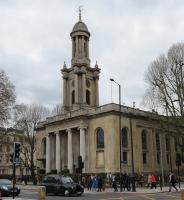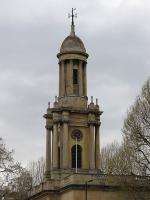 Holy Trinity, Marylebone Road.
However, in the 1820s, Soane designed three churches in London, all with characteristic exteriors:
Holy Trinity, Marylebone Road (corner of Albany Street), now a private venue, but the exterior very fine;
St John's Bethnal Green, Cambridge Heath Road;
St Peter Walworth, Liverpool Grove, which retains its interior as Soane designed it.
Soane's pupils included Robert Smirke, for a short period (they did not get on), and George Basevi, among many less familiar architects.
When Soane died, he was buried in the grounds of St Pancras Old Church, where his wife had been buried over two decades previously, and there the visitor can still see the curious but characteristic mausoleum which he designed – see bottom of this page.