George Dance the Younger (1741-1825)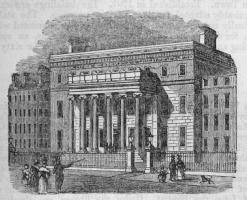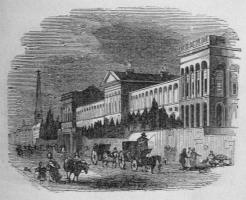 George Dance the Younger: College of Surgeons, and St Luke's Hospital.
The architect of All Hallows London Wall, George Dance the Younger, was also a portraitist. Only a few of his London works still survive.
A significant London architect, fifth son of the architect George Dance the Elder, and younger brother of Nathaniel Dance (later Baronet Nathaniel Dance-Holland), the portrait painter. He studied under his father, and travelled with with Nathaniel to Rome, returning in 1764. Perhaps through his fatherís influence, he was awarded the commission to rebuild the church of All Hallows London Wall, which had survived the Great Fire of London only to fall into a neglected state and be pulled down. Danceís church of the late 1760s, which survives, is a dark brick building with a stone tower, Italianate, and was much criticised by later savants, being described as Ďa monument to bad taste, being not merely inappropriate, but of itself ill designed and very uglyí. His more admired Newgate Prison (1770-78) was eventually replaced by the Old Bailey, and his Royal College of Surgeons lasted only until the 1830s when it was rebuilt by Charles Barry, though the portico survives. Others of his works, including St Lukeís Hospital, have also been lost. However, St Bartholomew the Less, Smithfield, which was rebuilt by Dance in 1789, though rebuilt again by Thomas Hardwick, keeps his basic plan, and his distinctive Gothic entrance to the Guildhall happily survives.
Guildhall portico.
When his father died in 1768, Dance the Younger bought his position as Surveyor to the City of London, in which office he acted as town planner, including St Georgeís Circus as the focal point of several important streets, Finsbury Square, and I think a part of Bloomsbury. Though what buildings were put up at that time have long been replaced, the ground plans remain, and in the centre of St Georgeís Circus is the original obelisk of 1771. Back in 1768, Dance and his brother Nathaniel were among the founding members of the Royal Academy, and he became a not very active Professor of Architecture there from 1798. Apart from architecture, from 1808 he published a series of chalk portraits of eminent men of the time, 72 in all, some of which are in the collection of the National Portrait Gallery. In 1815 he resigned his position as Professor at the RA, and outlasted all the other first Academicians there, dying in 1825, and achieving the posthumous honour of burial in St Paulís Cathedral.
Dance the Younger's pupils included the eminent architects John Soane and Robert Smirke.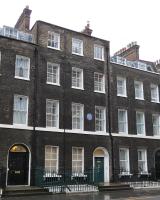 Dance the Younger's house in Gower Street.

Whitehall Court and the National Liberal Club, by Waterhouse and Archer and Green.