Thomas Hardwick (1752-1829)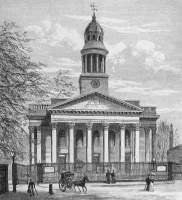 Thomas Hardwick's St Marylebone New Church.
The architect Thomas Hardwick spanned the later 18th and early 19th Century, and designed and restored several London churches.
The classical architect Thomas Hardwick was the founder of a dynasty of architects, the most well-known of whom was his son, Philip Hardwick, designer of the now defunct Euston arch; his grandson and great-grandson continued in the trade. His own father was a builder, and he studied at the Royal Academy Schools from 1769, and under William Chambers.
He is best known for his churches, and in central London are two important ones: Marylebone New Church (1813-17), and St John's Wood Chapel (since renamed St John's Wood Church), of similar date, close to Lord's Cricket Ground. Both of these are of interest to these pages for the monuments they have accumulated since they were built, and the Marylebone church has a prominent tower with eight statues of angels, apparently representative of the Winds. Hardwick's other important church, further out, is St Mary's Wanstead, in Redbridge, built very early in his career, 1787-90. An example of a late church by him, done to a tight budget as a Commissioner's Church, is the now-redundant Christ Church Cosway Street in Marylebone.
Hardwick also restored various churches, including St Paul Covent Garden, the well-known 'actors church' of Inigo Jones, where a devastating fire meant much rebuilding was required. Hardwick worked to Inigo Jones' design, but improved the roof structure, and clad the building in stone, apparently rather poorly. He also restored St Bartholomew the Less, working to the overall plan of George Dance the Younger, who had effectively rebuilt it in 1789, but using more durable materials, and altering much of the detail. In these works we can perhaps see an instinct towards robust construction inherited from his father.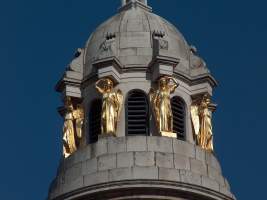 Detail of sculpture on the steeple, St Marylebone New Church.