Monuments in St John in the Square, Wolverhampton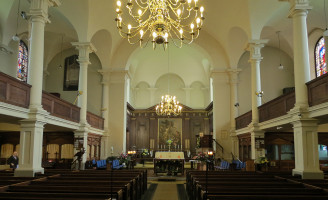 Nave of St John in the Square, Wolverhampton.
St John's in the Square, Wolverhampton is a lofty church of the late 18th Century with an imposing spire sited just within the central precinct of Wolverhampton. St John's is a bright church inside, with thin pillars at gallery height above thick square ones below, and a nicely domed ceiling. I think it would be this ceiling and the sense of proportion which would impress the visitor, rather than the monuments, which are rather few and rather plain, but they do have some interest, in that several are by the stone masons called Wilmot of Wolverhampton. There were a number of Wilmots, producing rather simple plaques of the white marble on a black backing type, but it is always worth seeing the work of local sculptors to a church, and they are noted below.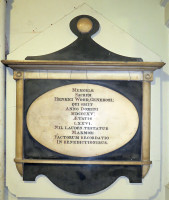 Henry Wood, d.1815, by Wilmot of Wolverhampton.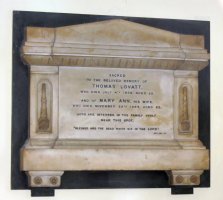 Lovatt monument by Gaffin of Regent Street, with upturned torches.
There is one 18th Century brass, as a long strip with tho lines of text, commemorating William Dagget, Robert Hicks and George Haltham, 1706, with lightly sculpted decoration of stylised flowers, and a tiny panel with bells.
As well, there are several more modern brass panel monuments, of the popular variety with red capital letters, black-letter text, and coloured line borders with some small ornament at the corners. That to Helen Riley, d.1900 is typical, and signed though I could not read it. William Allen's plate is similar, with a long inscription to the rest of the family, and more decoration on side pilasters and a lightly inscribed pediment. That to Arthur Price, d.1916, Lieutenant in HM Regiment of Shropshire Light Infantry, without colour, but low relief carving of an arch with Corinthian side pilasters and frondy spandrel decoration, on a red and black granite backing. The brass to William Leslie Astle, d.1915, is in a different style, more Arts and Crafts, with attractive lettering.
Stained glass picture of a girl playing the triangle, and two renderings of sheep.
We may also note the following in the Church: