Wilmot of Wolverhampton, Stone Masons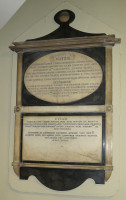 Characteristic monument by Wilmot of Wolverhampton, to Joseph Reed, d.1818.
There seems to have been a dynasty of stone masons called Wilmot of Wolverhampton from the later 18th Century through to the mid 19th Century; they may be the same Wilmot family represented by stone masons 50 miles away in Langley Mill, Derbyshire, and far off in Hammersmith, London, in which case their work lasts through to the 1890s.
St John in the Square, Wolverhampton has several monuments signed by Wilmot of Wolverhampton, all rather simple masonís work, with a single sculptural element in the carving of a small dying tree at the top of the Mary Jeavons monument (d.1830). Other work is to be found in nearby Bilston and Darlaston. These works, dating from a little before 1800 through to the 1850s, would seem to be due to James Wilmot (active 1793-23), stone mason of Wolverhampton, also described as a stone cutter of Bilston, and even stone mason of Birmingham; Thomas Willmot (active 1818, d.1846), who lived in Bell Street, Wolverhampton; and George Wilmot, stone mason of Bilston (active 1815 -20), also described as a quarryman and, if it is the same man, a burnisher. It may be the widow of either James Wilmot or George Wilmot who is recorded as receiving charitable support in Bilston in 1832.
The earliest artistic Wilmot, Daniel Willmot (the spellings Wilmot, Willmot and Wilmott seem to have been used fairly interchangeably), was a stonemason in Bilston, who became a bankrupt in 1797. For the latest ones, a stonemason called W. Wilmott was working at Langley Mill/Heanor in Derbyshire from the 1860s through till 1895, producing monuments for Christ Church, Ironville. And Thomas Frederick Wood Willmott, perhaps another member of the same family, was a stonemason in Hammersmith from at least 1855-1883.
Sculpture in Wolverhampton // St John in the Square, Wolverhampton // Introduction to church monuments // Sculpture pages
Visitors to this page since 17 June 2014: 4,449