Portsmouth King's Theatre, by Frank Matcham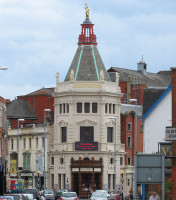 King's Theatre, Portsmouth, by Frank Matcham, view down Albert Road.
The King's Theatre in Portsmouth, on Albert Road, is a fine Edwardian building, looking much more impressive than its actual, fairly modest size would indicate, by the theatre architect and designer Frank Matcham.
The view along Albert Road is of the corner tower, just three and a half storeys to the balustrade, and a short steeple, with a cupola at the top. The significant sculpture includes four stone lions (if you like lion statues, see this page), standing upright (rampant) on the balustrade, each holding a shield, and the summit figure. Viewed close up, the lions are lacking in detail and simplified to the extreme in execution, yet from along the road they look fine and add considerably to the outline of the building. The summit figure is a girl dressed in very light drapes, so appearing almost nude, and holding a flaming torch. Again, close to, her form is simplified almost to the point of naivety, with plump face, hand holding the torch in an odd position and giving no sense of weight being borne, other arm crooked with hand on plump thigh. But at the height it is, it works, giving a recognisably female silhouette, presumably emblematic of Fame (though Fame normally carries a trumpet - see this page). In fact, the figure is a modern glass fibre replica of the original, which apparently is inside the Theatre: it would be interesting to compare the two, as various modern replicas which are supposedly true to the original are found on inspection to differ materially. To see the summit figure brings to mind a London theatre, the Palace Theatre in Charing Cross Road, much bigger, but gain with a summit figure holding a torch upward. But that, another modern replacement, is a far better work.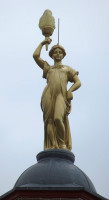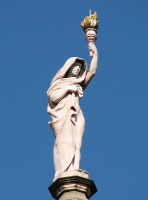 Summit figure, and comparison with the Palace Theatre, London.
The detail down on the ground floor of King's Theatre, in orangey-umber terracotta with deep red, is more carefully rendered and most characteristic of Edwardian Art Nouveau tileware: scrolls, Acanthus leaves, baubles within cartouches, and terminals.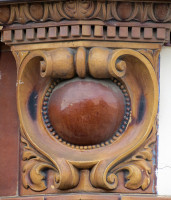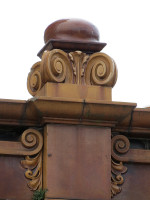 Detail of the ground floor Art Nouveau terra cotta.
Frank Matcham was the most prolific of all theatre designers, with work in London including the London Hippodrome in Charing Cross Road, the Coliseum (ENO's home) in St Martin's Lane nearby, the Victoria Palace by Victoria Station, and the Hackney Empire. Portsmouth's King's Theatre was put up in 1907, towards the end of Matcham's career, and indeed towards the end of the golden age of theatre building , which, already on the slide, was abruptly cut off by the First World War.
Portsmouth Guildhall sculptures // Statues in English towns
Visits to this page from 2 Jan 2015: 3,637