Frank Matcham (1854-1920)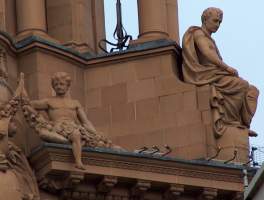 Figures on the Coliseum.
The architect Frank Matcham, the most prolific theatre architect, was responsible for a variety of buildings with sculptural decoration from the 1880s through to the 1910s.
Matcham came from the south west of the country, being born in Newton Abbot, Devon, and growing up in Torquay. From age 14 he was apprenticed to a local architect, but he found his particular metier when he came to London, where he worked for J. T. Robinson, an important theatre designer of the period. Matcham married his employer's daughter, and on Robinson's death, took over the practice. His biography after that is an unbroken list of theatres – well over 80 new ones, and perhaps half a hundred rebuilds of existing ones. Success came first in the north of the country, then the south, though not particularly the south-west, and then across the country.
Matcham was fortunate in that his career spanned a golden age of theatre building from the 1880s through to the outbreak of World War 1, with over 400 new theatres across the country. Concerns over fire meant that some existing buildings had to be redone, and the increasing use of steel structures rather than cast iron and wood meant that new types of architecture became increasingly possible, including wide spans with few columns inside the auditoriums and hence better views for all the spectators. It was Frank Matcham's particular genius though which was able to combine these elements and make something more flamboyant, almost gaudy, than any other architect of the day. He worked in a variety of styles, Renaissance, Baroque, Orientalist, Classical, sometimes mixing idioms in a single frontage, and of particular interest to these pages, often incorporating sculptural elements to his designs on both exterior and, in plaster, the interior.
In London we have by Matcham the London Hippodrome on Charing Cross Road by Leicester Square. The Hippodrome, rather tawdry today, retains an exterior clad entirely in pink terra cotta, with a long line of angelic half figures (steles), winged and busty, between the windows at first floor level, various garlands and other ornament higher up, principally around the third to fourth floors, and a giant portico on the corner, with tall half-fluted Ionic pillars, and two cherubs by a central round window. Above on the corner is a short blocky corner tower bearing statues of two Roman soldiers, each with spear, shield, cloak and helm, and to crown it all, an open dome with a Roman chariot – a soldier holds his sword aloft with one hand while with the other he holds the reins of two rearing horses – this latter assemblage is cast metal, painted bronze, or sometimes silver, and is something of a landmark from various views in Leicester Square, along Charing Cross Road, and further afield. A few more cherubs, pots, and flowers, and two lions, complete the structure, and the date 1890 is embossed on a large cartouche. I am not aware of a good source on Matcham's sculptors, but one of the Roman soldiers is signed 'Jez Ainsworth' on the base – not a familiar name to me.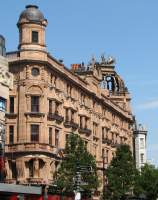 View of Matcham's Hippodrome.
Within a couple of minutes walk, just north of Trafalgar Square on St Martin's Lane, is the Coliseum, now the home of the English National Opera, which is even more of a showy building, with a heavy tower with an open ball, which can rotate, on top. This tower makes the view of St Martin's Lane both looking down it and up it, and is a splendid and characterful conception. The tower rises square solid to the fourth floor, with then a balustrade and another floor, now above the surrounding buildings, with many pillars. Another balcony, with a round tower with a cupola, and atop this the ball, held up by cherubs bending forwards to bear the structure on their backs – young atlantes I suppose we should call them. There are eight of these, identical, and they are the topmost element of the prolific sculptural decoration on this building. Descending, on the round tower, the porthole windows and buttresses are decorated with garlands of fruit and leaves, and on the balustrade are four lions, each with a paw on a globe. Between the pillars on the next floor down are a massive Baroque pot on each side, in a niche, but it is the lower balustrade at the base of the pillars which is the glory of the building – four classical figures of large size perch on the corners, and between them on the sides are pairs of youths, with legs dangling over the edge, and holding between them hanging garlands of fruit, flowers, leaves and harvistables – a splendid cornucopia of good things. The individual figures, looked at closely, are sketchy in design and made of blocks which design or time has left with jarring gaps in between, but the overall effect is splendid, and the skyline magnificent.
At Victoria, almost opposite the station on Victoria Street, is the Victoria Palace, a more modest effort by Matcham, dating from 1911. We see a classical frontage, three stories high, with an Ionic pillared balcony recessed on the upper floor, surmounted by a pediment with Matcham's characteristic circular window, then a little central tower with a cupola raised on four pairs of pillars. On the balustrade next to the tower are a pair of seated female figures, flamboyant Baroque in a rather French idiom. To the left of the viewer is Abundance, with a cornucopia, her other hand pointing aloft, wearing an off the shoulder drape leaving one breast exposed, and with a spending swirl of flying drapery over the opposing shoulder. She wears a diadem or headband. The figure to the right is Music or Entertainment, and carries a lute and a long frond of leaves. She is in lighter costume as if for dancing, again off the shoulder, and atop her hair is a high plume. Good quality work, but as is common for Matcham, no indication of the sculptor. Among the garlands and swirls on the front of the building is a centrally-placed female head, rather grotesqued, and two heads of young girls appear among the garlands over two oval windows to left and right. There was a summit figure of a dancer, lost, and replaced now with a modern piece.
Matcham's other surviving London theatres are the Palladium (1910), tucked away down Argyle Street, the Hackney Empire (1901) and the Richmond theatre in terracotta, the Lyric Hammersmith, and the Shepherd's Bush Empire of 1903. Theatre buildings, like the theatre itself, has seen its ups and downs over the years, and these eight are what is left from around 30 Matcham theatres in London. Outside of London, there has been a similar rate of loss, but among the survivors we may mention Brighton Hippodrome (1901), Blackpool Grand Theatre (1894), Wakefield Opera House of the same date with busts of composers, the very large if rather plain Liverpool Olympic (1905), and Harrogate Royal Hall (1903), which was not a theatre as such. At the other extreme would be the small King's Theatre, Portsmouth, noted on this page.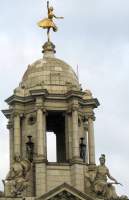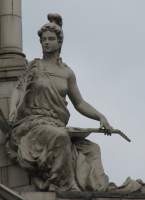 Summit and figure of Music or Entertainment from Matcham's Victoria Palace Theatre.