Monuments in St Peter Mancroft, Norwich Market Square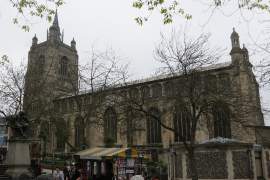 St Peter Mancroft, with, dimly, the Sir Thomas Browne statue in the left foreground.
St Peter Mancroft is the impressively large church which dominates one side of Norwich Market Square. A long, high nave runs along the side of the square, and at the west end is the massive Gothic tower. The structure is medieval, of the 15th Century, bar the small spire on top of the tower, which is a 19th Century addition. Inside, we have a lofty, long and broad space, with two rows of tall clustered pillars marking the boundary with the aisles. Above, a dark hammerbeam roof. And against each wall, and the main interest of these pages, is a series of monuments.
Monuments with full statues are not to be found here, but in the Cathedral. So what we have in this, the parish church of the municipal centre of the city, are typically what we might call mid-range monuments, ornate marble panels with decorations and cherubic heads and pillars, often to municipal leaders – mayors, aldermen, and sheriffs. But certainly an interesting collection.
The most significant monument is the 16th Century one to Francis Windham, d.1592. It consists of a half-figure facing forward in a window made of heavy pilasters and top. Above, a curly Baroque pediment with coats of arms, that which is central encased with flamboyant leafy fronds. A full tomb chest below with little coats of arms on panels separated by attached Tuscan pillars. The subject wears a skull cap, ruff, and flared cloak above some soft shirt, and rests one hand on a skull, with the other holding a book, presumably a bible. The features are stylised, almost oriental, and we get the sense not of any portrait, but certainly a presence, and of a self-conscious and haughty superiority.
Wandering round more or less clockwise, we note the rest of the monuments. The ones to particularly make sure to see are to Thomas Browne and Dorothy Browne in the 17th Century, and from the 18th, all of James Hudson, the strange Curtis memorial by James Barrett of Norwich, and the Coleburne monument by the better-known Robert Page, also of Norwich; Elizabeth Dersley, the Mackerell monument, the Starling Monument and the similarly composed one to John and Sarah Smith, and Henry Spark Patteson:
James Hudson, d.1807, Mayor 1794, a remarkable monument almost looking like art deco, but 120 years too early. Semicircular panel with roundel above, vertically grooved panel below with diamond, large circle backing, several coloured marbles.
James Hudson, a later one, d.1798, died in Bengal, and Mary, Jane and Anne Hudson, all siblings, died as teens and one aged 24 in 1798 and 1803. Oval panel on elongated octagonal backing, acanthus bracket below, little pot above.
Nathaniel Roe, d.1795, Sheriff 1767, Mayor 1777, nice script, pilasters and broken pediment, shield below on shaped backing.
Thomas, and Mary Till, d.1729, 1733 and their son Robert Hill, d.1725. Erected by George Hainsworth, Merchant, also buried there. Domed panel with coloured marble border, winged cherub head above keystone filling a broken pediment.
John Addey, wife Elizabeth, son Samuel, Alderman, d.1751 and others through to 1797. Shaped panel with little scrolls and summit beast which has lost head, backing in veined grey marble has broken pediment and 3 winged cherub heads below.
Augustine Curtis Senior, d.1731, and Junior, d.1732, carvers. Another odd one, by the Norwich sculptor James Barrett. Semicircular inscription with acanthus left and right, and a central projecting bracket, supporting a black shelf on which is a tall pyramid or obelisk of dark marble with a single freestanding pillar in front, supporting a platform with shield. Cherubic heads stick out from under hanging drapes from left and right of the pyramid. At the base, a tiny skull bites on a bat's wing. An example of the Curtises work can be seen at St John Maddermarket.
Edmund Manning, d.1838, benefactor of charity schools for manufacturing apprentices. Plain.
Sir John Harrison Yallop, d.1835, twice Mayor, knighted on presenting a petition to the king on Parliamentary Reform. Rectangular plaque with proper pilasters, shelf with heavy pot with drapes above, coat of arms with leafy surround below, all on a dark, shaped backing.
Robert Hawkes, d.1836, Sheriff and Mayor, and wife Elizabeth, d.1847, eared panel on black backing, and next to it, plain panel commemorating four of their children who died as infants. And on the other side, Frederick Hawkes, d.1839, and last surviving son of Robert, Robert William Hawkes, d.1870, and last daughter Elisabeth Anna, d.1893.
John Smith, d.1753, Sheriff, and wife Sarah, d.1832, and four infants. Large, ornate memorial with shelf, pediment, fattened pillars of obscure order, little shield and two reclining cherubs above on a backing rising to a summit obelisk, three winged cherubim heads below, and at the base, a little seashell as a bracket. The whole, in various different marbles, is rather baroque.
Thomas Cope, d.1841, tradesman, in the form of a tomb end with angled pilasters and scrolls as a rough pediment.
Sir James Edward Smith, d.1828, Founder and President of the Linnaean Society, and wife Dame Pleasance Smith, d.1877 (at age of 104), brass plaque with incised shield.
Thomas Starling, d.1718, and Rebecca, d.1724, and family, black panel with white pilasters, scroll pediment, brackets and shield below.
Johannis (John) Mackerell, d.1723, and family, with Latin inscription, veined marble with fluted pilasters, shield with foliage above, four little winged cherub heads below, and variety of fruit and flowers.
William Rye, d.1834, and wife Alice, d.1852, plain white plaque on grey backing, with top shelf.
Edward Wild, d.1929, simple plaque.
John Osborn, d.1719, Sheriff, died in office, and first wife Elizabeth, d.1704, black plaque, receding pilasters, shelves above and below, cartouche shield.
Revd Charles John Chapman, d.1826, tomb end with two circular backings in grey and black, little shield. Unusual.
Isaac Fransham, d.1743. Latin inscription. Plain, with pilasters and little shelves above and below, and shaped bottom with more Latin.
Revd John Peele, d.1804, another tomb end with sharply slanted sides, grey streaky backing including a circular top.
Thomas Ives, d.1781, merchant, and wife Mary, d.1827. A small baroque monument, with inscription on oval, on contoured backing in orangey marble, with little ornaments, and below, a coat of arms with fronds; above, a little lamp with flame.
Edmund Nettleship, d.1767, haberdasher, and wife Sarah, d.1777, and daughter Elizabeth, d.1763, and ten of their children who died in infancy. Scrolly text on plaque with receding pilasters, pediment, shelf, brackets and shaped undershelf.
Dorothy Browne, d.1685, with poem. Cartouche with hangings on the sides, shield above, pot above that, broad winged cherubic head below, foliage here and there, all crisply executed.
Thomas Browne, d.1682 nearby, with Latin inscription, and underneath, explanation that this is Sir Thomas Browne, 'Dr in Physick, author of Religio, Medici and other learned Bookes' etc. Correct wall monument with two pillars, open pediment with shield, brackets supporting the pillars, and shaped bottom and sides with scrolls etc, in pale and dark stone. Note there is also a portrait painting of Thomas Browne, from 1670. And his statue, by H. A. Pegram, stands outside (see the Market Square page).
Henry Harlington, d.1791. Underneath the Dorothy Browne monument, a faded black heavy plaque with shelf above and below.
Beneath Thomas Browne is Mary Bowman, d.1840, and husband Revd. John Bowman, d.1848. Plain tomb end on shaped backing.
John Browne, d. 1834, and wife Anne, d. 1837, plain.
Big wall monument to Briggs, d.1684, with much faded Latin inscription. A curved panel, with receding pilasters, open pediment with flaming pot, shield underneath with flanking brackets as leaf fronds over bones.
Underneath is Mary Turner, d.1842, wife of Very Revd. Joseph Turner, Dean of Norwich and Master of Pembroke Hall, Cambridge, and niece of Revd John Peele. Very curly edged panel on colourful marble backing.
Thomas Starling, d.1788, and wife Barbara, d.1795. He was a 'principal Inhabitant' of the parish, Alderman, Sheriff and Mayor. Panel with curly sides, pot above, brackets and shield below, shaped backing with obelisk or tall pyramid at the top. Baroque.
George Stacy, d.1836, born in Battersea, and Elizabeth, wife, d.1828. Very plain tomb end on backing of same shape, a simple irregular pentagon.
Edward Coleburne, d. 1730, Sheriff, Alderman, Mayor. Important because we have a signature to the Norwich sculptor Robertus (Robert) Page. Baroque monument with curved pediment, thin dark pillars, outer receding pilasters and curls, relatively large brackets, odd fronds, and above the inscription but below the pediment, three winged cherubic heads. A rather similar design by Page is in the Cathedral, for the John Moore monument.
John Hotblack, d.1879, and wife Virtue, d. 1879, and six children. Blackened brass with red highlights, the colouring perhaps a play on his name.
Henry Spark Patteson, d. 1736, wife Catherine, d. 1770, two children and wives, younger of whom was John Patteson, Mayor, d. 1774. Another large one, with two panels, shelves, side curls as pilasters, wreath below around a shield, classical pot above, all on a shaped grey marble backing with upper part as an obelisk.
William Bolton, d. 1718, simple plaque with upper and lower shelf.
Mingay Osborne, d. 1744. With some prose. Pediment, brecciated marble backing.
Alfred Pettet, d.1837, organist. Plain.
Sidney Pelham, d.1926. Vicar and later Archdeacon of Norfolk. Nicely cut letters on simple rectangular plaque of brown and white marble.
John Staniforth Patteson, d. 1832, eldest son of John Patteson, formerly MP. Mayor, alderman, magistrate, Lieut Colonel of E Norfolk Regiment. And wife Anne Elizabeth, d.1873. With pilasters topped by stylised flowers, coat of arms above in curly baroque pediment, the whole fairly simple.
John Patteson, d.1833, son of Henry Spark Patteson, and wife Elizabeth, daughter and heiress of Robert Staniforth, formerly of Manchester, and children. Severe panel with freestanding pillars supporting entablature, shelf below, shield above.
Revd. Lawrence Gibbs, d. 1825, tall tomb end with brackets, shelf, shield above with fronds, on dark shaped backing.
William Woodcocke, d. 1832, 'during half a century an inhabitant of this parish, under the same roof, in a career singularly unassuming'. Plain tomb end with shelf.
Elizabeth Dersley, d. 1756, as a cloth, with corners pulled up to give drop frilly folds on sides, on the one side by a winged cherubic head, on the other by a full cherub, appearing from behind, and holding coat of arms. Cheerful.
James Smith, d.1778, and wife Esther, d. 1757, and family, with longish inscription extolling their virtuousity. As tomb end above chest, with broken pediment with little bauble on top.
Apart from the monuments, we may note the altar, with a row gilded figures of saints and Christ, of later Victorian times, and at the other end, the ornate altar canopy. Also the 18th Century painting of the Liberation of St Peter, by Charles Catton, 1768, and of interest to these pages, two paintings by William Blake Richmond. We may note too that the wooden door below the organ has a pediment painting of putti. Off to one side, along with the church plate, are two interesting 15th Century alabasters, and we may also note the colourful sword rests. The stained glass includes an array of early panels with Biblical scenes, and is repays considerable examination.
Finally, back outside the church, we may note two exterior sculptures, a Virgin and Child and St Peter, decent 19th century work in keeping with the medieval building.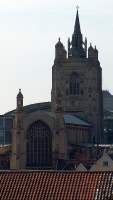 Norwich Market Square // St John Timberhill // St Michael at Plea // St John Maddermarket
Statues in English towns // Sculpture pages // Introduction to church monuments
Visits to this page from 19 May 2012: 7,304