St Michael at Plea, Norwich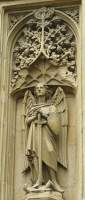 St Michael, St Michael at Plea, Norwich.
St Michael at Plea, at the corner of Queen Street with Redwell Street, represents one of the more successful transformations of a medieval Norwich church, having become a religious bookshop with café at the altar end. The altar has been removed, as have been the 14th Century painted panels which were once its chief treasures, but still there are a number of relatively modest but interesting wall panel monuments, and the font, with its apparently 17th C Jacobean wooden cover. There is also a fine wooden ceiling, with the arched supports bearing small decayed figures of angels.
A notice inside records that St Michael at Plea, having fallen into 'a wretched state of neglect', was restored under the Rector, Carmichael Clarke, in 1887, including a reredos made from the 14th C wooden panel paintings. A modern renovation at least of the porch took place exactly 100 years later.
I noted the following monuments, in date order:
Anne Ferrer, d.1530, wife of Robert Ferer (sic) Alderman and twice Mayor of Norwich, and offspring. A black panel, most likely a blackened brass, curiously shaped at sides, on a tight base. The interest is from the early period of this monument.
Nicholas Browne, d.1681? and other members of Browne family, rectangular panel, rather stained, with lightly carved surround, and above, pot with two heavy strands of leaves and flowers making something of a pediment without a backing – a not particularly usual design, which is also found in a more ornate monument in the church from 1789, see below.
Pevsner noted the monument to Jacques de Hem, d.1603, 'with inscription in black letter and to its right, a panel of the same size with kneeling figures incised, a pediment over the whole with shovel, pick, skull, cross bones. The whole thing round an obtuse angle at the West wall' – I did not see this.
From the 18th Century:
The Mann monument, including Samuel Mann, d.1735, and earlier. Black panel, with paler shelf top and bottom, shaped base, broken floral bits above which may once have been within a pediment.
John Boseley, d.1739, Gent, and wife Abigail, d.1730, and son Thomas. Shaped panel with rich black and white marble surround, broken pediment with winged cherubic head above, flowers hanging from capitals on sides in place of pilasters, and floral sprigs where bases of pillars should be, little pot or cup on the top, cartouche shield below. The most ornate monument in the church. Their daughter, also Abigail has her monument in St John Maddermarket.
Isaac Marsh, d.1757, and wife Anne, d.1762, and family. Simple light but browned marble panel with a darker border.
Francis Spendlove, d.1764, and wife Elizabeth, d.1786. He was a deputy registrar of the Archdeaconry and Proctor in the Consistory Court of Norwich. Pale panel with shelf below, completely open pediment above bearing a small pot, heavy, shaped dark backing with two flowers. Looks as if outer corners of pediment might have borne some minor sculptural adornments at one time.
William Clagett, d.1774, and second wife Mary, d.1775, with a poem. Nicely cut text on a panel with capitals and curly bases of pilasters to left and right, the columns with small flowers, lost on one side. At the top in the open pediment, a flourish of stylised leaves, at the base, two small winged cherubic heads.
Whartonus Peck, d.1777, and wife Elizabetha, d.1779, with Latin inscription. Oval panel with summit pot in relief, slender festoons of linked flowers hanging form the handles, caught up and then hanging down the sides. At the base of the oval in the spandrel positions are large sprigs of flower or foliage, and beneath the shelf, a small cartouche, with decayed painting where once was a coat of arms, presumably, surrounded with more fronds. All on a shaped black base, with at the top of the open pediment, a sigil of a clenched fist pointing upwards and two indistinguishable shapes above, perhaps birds, all in high relief. An effective monument, elegantly restrained.
A monument of d.1789, which I could not read, consisting of a black panel with curvy surround, pot on top with two garlands outlining a pediment, painted cartouche shield at base.
Thomas Goff, d.1796, oval panel on dark oval backing, with relief pot or lamp above, ribbons below, rather austere.
From the early 19th Century:
Richard Allen, d.1820, and wife Ann, d.1838. Red-coloured inscription on streaky marble rectangle with base shelf and brackets, dark backing with curved top, probably once contained a relief pot.
Mrs Elizabeth Alexander, d.1840, as a coffer tomb end on dark backing.
John Wells, d.1823, merchant of the city, and wife Elizabeth, d.1834. Simple coffer end on a dark backing, with on top a draped pot in relief.
Zebedee Beckham, d.1829, Lieut. in the Royal Navy, coffer end with shelf, little female figure resting on an anchor above, against dark and white marble backing.
Alexander Thwaites, d.1831, and wife Sarah, d.1811, and second wife Mary, d. 1831, on a protruding block forming the plinth to a relief pot with fluting, against a black obelisk backing. Under the shelf, a second, smaller panel to later members of the Thwaites family. One of the two or three most significant monuments in the church.
Dacre Barrett Lennard, d.1839, 6th son of Sir Thos Barrett Lennard, Baronet, of Belhus, Essex, and wife Rachel Anna, d. 1847. Coffer chest end with tiny head of a horse on a crown of flowers on the pediment.
Sophia Susanna Morse, d. 1845, signed by the sculptor J. Watson, plain rectangular panel on grey backing.
We should note on the outside wall, a statue of a male angel with sword, presumably St Michael, stabbing a very small naked leprechaunish figure - see top of this page. Clean 19th C face and wings, presumably from the 1887 restoration, but the little victim looks older, or at least more worn, and this could be a replacement or remodelling of an older work. The group stands within a shallow niche, with above, a very decayed and perhaps medieval floral backing. The oversized height of the angel to its position reinforces this. Among bits and bobs surrounding the building is a nice coffer tomb with decayed panels showing skulls and thighbones (below), also a panel to John Warne, wife Mary, and son Henry, the latter of whose date of death can be read as 1821?, and second wife Elizabeth who died in 1839.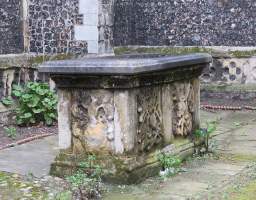 Coffer tomb outside the church.
Norwich Market Square // St Peter Mancroft // // St John Timberhill // St John Maddermarket
Sculpture pages // Introduction to church monuments
Visits to this page from 4 Jun 2012: 4,786