St John Timberhill, Norwich, & the sculptor Thomas Page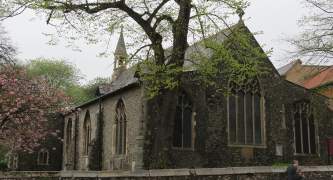 St John Timberhill, Norwich.
On a rise at the top of Timberhill, at the corner of Timberhill with Ber Street, and looping round to Westgate, stands St John Timberhill, one of the many Medieval (15th C) churches in Norwich. From the outside, we see a low building with a little spire rather than a tower – there was one once, but it collapsed, apparently, in 1784, and its bells were sold to pay for the repairs to the rest of the building. Anyway, the church retains a good medieval aspect, especially the porch, which is like a little gate tower. On the front of this (see bottom of this page) is a small statue of St John wearing an animal skin and carrying a tall bronze cross, doubtless made, or at least reworked, in the 19th C. His lower face is damaged.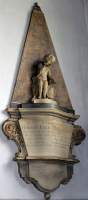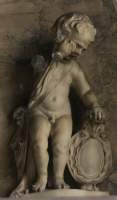 Robert Page's monument, sculpted by himself.
There are few monuments, but the principle one is of importance to these pages – it is to Robert Page, the eminent Norwich sculptor. He died in 1778, and the monument also commemorates his wife Melliscent, d.1755, and six of their infant children. Underneath, on the apron, are noted Ann Page, d. 1765 (or possibly 1763?), and Thomas Page, d.1776. The main inscription is on a coffer shape, with recessed sides with swirls and sprigs of foliage, and a shelf above, on which rests a dark pyramid backing with a full statue of a cherub standing in front. He is crying, resting one hand on a shield, the other dabbling at his eye. Most of that arm is missing. He wears a wisp of drapery hanging from one shoulder and falling behind. Underneath the inscription is a shelf, apron and terminal ball. The whole work was made by Robert Page himself. In the Cathedral may be seen his monument to John Moore.
There are three much more modest wall panels, two also concerned with the Page family:
Elizabeth Page, d.1792, wife of James Page, grocer, Robert Page, son, d.1776, aged 19, Martha Fiddy, niece, d. 1776, ('they died Suddenly, by the Visitation of God'), and James Page, 'who was a principal Inhabitant of this Parish for Fifty Years', d.1810. Panel with edging, and below a shelf, minor floralities, and crossed torches, and at the top a pot in low relief, on a backing shaped like an upturned Norman shield.
Jane Cocksedge, d.1831, sister Elizabeth, d.1828, and brother James Page Cocksedge, d.1836, one time Sherriff, and his wife Martha, d.1854. panel with curvy pilasters to sides, low entablature, no pediment, and underneath an apron with foliage, all on a shaped, beveled, dark backing.
Thomas Grimwood, d.1827, and wife Mary d.1833, a small monument, again with two curvy fluted pilasters and an entablature, and a pointed backing suggesting there was once a pediment.
We may briefly note the furnishings:
A rebuilt organ including some old material, including a little painted carved group of three musicians, one of whom is a bagpipe player, presumably dating from 1900s, a slight work. Also, rather better, a trumpeting angel, again painted. On a central beam above and in front of the altar, are a carving of the crucifixion, with flanking female figures, all painted. Other painted full size figures in the church include a standing Virgin and child, and St Peter. The Stations of the Cross have little groups in relief, all painted. There was serous restoration work at the end of the 19th C, and likely all these painted things date from that time. They look overly sweet close up, as so often the case with painted work, but the overall effect from a little distance is acceptable, rather Catholic.
An interesting stained glass window presumably dates again from the end of the 19th Century, rather arts and crafts, with an emphasis on the vertical, a treatment of the faces and poses reminiscent of Scottish illustrative work, and deceptively simple drapery.
There is an ornate, tall font cover in wooden tracery. And on the walls, two oil paintings, one presumably a youthful St John, hugging a sheep; the other shows a young harp player.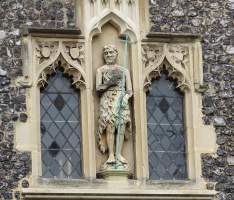 Figure of St John, porch exterior.
Norwich Market Square // St Peter Mancroft // St Michael at Plea // St John Maddermarket
Sculpture pages // Introduction to church monuments
Visits to this page from 4 Jun 2012: 6,397