`
Cabot Tower, Bristol, and the Statue of Commerce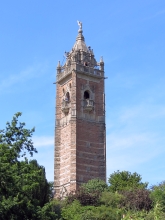 Cabot Tower, Bristol, 1897-98.
Cabot Tower is a great, square tower on Brandon Hill, overlooking central Bristol. It is of interest to these pages for its statue of an Angel of Commerce on top.
A few words on the tower itself: it was put up by the Bristol architect William Venn Gough in 1897-8, architect of several buildings in the City, most notably Queen Square House, one time Port of Bristol Authority Docks Office, put up 1889 – another building bearing interesting sculpture – see this page. The style is Tudor revival – think of Tudor gate towers such as to St James Palace in London – with protruding slightly buttressed corners, and in this case, rather than red brick, a reddish sandstone, with horizontal bands, balustrades and spired top with pinnacles in some paler limestone. It stands just over 100 ft high, looking taller because of its position on the top of the hill, and the massiveness of the design. The justification was to mark the 400th anniversary of John Cabot sailing from Bristol to Newfoundland in 1497.
Another Cabot tower was put up in Newfoundland, Canada itself, at the site where Cabot is believed to have landed, in 1898-1900, and that building is more of a blockhouse or small castle with a single octagonal tower than a tower in the Bristol fashion, and was put to practical usage for signalling.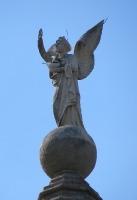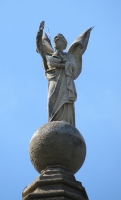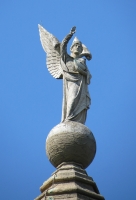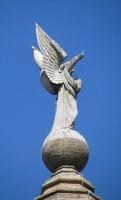 Cabot Tower statue of Commerce, various aspects.
Now to the statue of Commerce, which was made by Ralph Miller of Bristol.There are several sculptors called Miller, most notably F.M. Miller, known for his Parian ware figures, and Hugh Miller, of the Manchester sculptors Messrs. Earp, Hobbs and Miller, but the Bristol sculptor Ralph Miller is obscure, and seems to have made his career mostly as a teacher. So the Commerce statue on the Cabot Tower is his sole significant work.
The figure from the ground looks rather androgynous, but with visual aid is seen to be female, though this is from the face rather than the contour of the body, which is enveloped in a drape revealing neither breast nor hip. According to the local press, the statue was modelled on the 11-year old grand-daughter of the sculptor, though this must have been the pose rather than the figure, which is not that of a child. She stands on a globe, with head upturned, one hand raised in a benedictory gesture. As an allegory of Commerce, her other hand is cradling a model of a boat, apparently intended to represent the vessel Cabot sailed to North America. 19th Century statues of Commerce are rather disparate in their accoutrements, and a ship is not unusual; other attributes typically might include a money bag or scroll (for a trade agreement) or cornucopia, or if the composition permits, being part of a group engaged in some trading activity – but in general, I have found that Commerce figures, where labelled as such, could just as easily have represented Trade or Navigation or similar, and are consistent with Commerce rather than identifiable as Commerce. A more sophisticated figure of Commerce in Bristol is that by James Bubb, on the pediment of the Commercial Rooms in Corn Street (see this page, and picture below).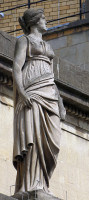 James Bubb's figure of Commerce for the Commercial Rooms, Bristol.
The work seems to be of stone, despite the upheld wings, and whatever fine detail there once was, is lost. There may never have been much – the figure, after all, is 100 ft up and because it is on a hill, is seen at a sharp angle. The drapery is a simple semi-Classical piece, with the long sleeves rather more modern-looking, and dissolving away into some shapeless garment under the outer, heavier cloth. The wings have a curious curl at the top, perhaps related to supporting the weight or enclosing some metal bar to provide support, though the visible copper protrusions are modern lightning conductors.
Regardless of any criticism, this statue of Commerce is iconic, by virtue of its association with Bristol's famous explorer and it place in by far the most prominent position of any statue in the city.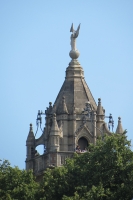 This page was originally part of a 'sculpture of the month' series, for May 2015. Although the older pages in that series have been absorbed within the site, if you would wish to follow the original monthly series, then jump to the next month (June) or the previous month (April). To continue, go to the bottom of each page where a paragraph like this one allows you to continue to follow the monthly links.
Sculpture in Broad Quay, Bristol // Sculpture in England // Sculpture pages
Visits to this page from 1 May 2015: 5,489