Birmingham Arcades - sculptural interest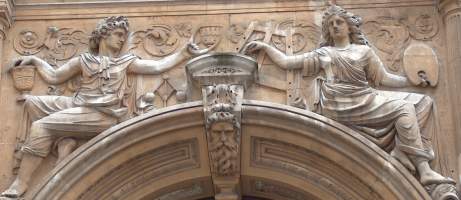 Figures on the Great Western Arcade, 1875-6.
Birmingham had a variety of arcades in Victorian and Edwardian times, and this page notes the very few with any artistic interest which seem to have survived.
The Great Western Arcade, was built on behalf of the Great Western Railway Company on a site owned by them. The architect was a certain W. H. Ward, the date 1875-6, and the style somewhat Continental. It runs between Colmore Row and Temple Row – the original Colmore Row entrance is lost, but at the Temple Row end remains a grand two-storey pillared entrance. In the generously proportioned area above the arch – the spandrel positions – are sculpted a male and a female figure. He represents Birmingham Manufactures: one hand balances a decorated bowl on his knee, the other measures a second bowl with a pair of callipers, and beside him is a regulator from a steam engine. She of course represents the Arts, with palette, easel, and (unfortunately broken) brush. Below centre, a bearded head forms the arch keystone. A nicely kept interior too, painted in terra cotta and beige, with a complex central light.
The Imperial Arcade, in Dale End, has a single entrance. The architect was Henry Naden, and the date about 10 years after the Great Western Arcade.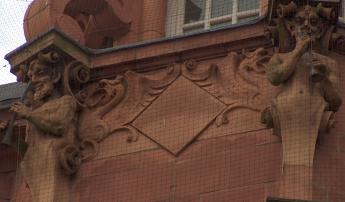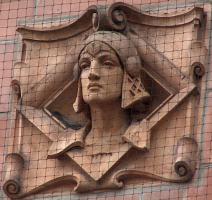 Terra cotta sculpture by W. J. Neatby, New Arcade, 1900-1
Considered the prize of the collection is the New Arcade of 1900-1901, its principal entrance in Union Street. The whole façade and the two little domes behind are clad in terra cotta, manufactured by Doulton's, architects Newton and Cheadle; green tilework survives in the interior. The sculptural decoration, in Arts and Crafts Celtic style, is by W. J. Neatby, and includes two heads, lines of very stylised grotesque dragons, dolphins and griffins, various flourishes, and high up, four steles showing bearded satyrs playing small hornlike or oboelike instruments. The two heads are mismatched – the one, a portrait of a helmeted man, perhaps a miner, the other a girl, utterly symbolist arts and crafts.
Finally, we must mention the rear entrance of the Piccadilly Arcade, which opens on the lower level of the New Street Station exit, where may be found the Midland Hotel, with one window with a decorative stone surround incorporating two decorative statues of winsome girls, their arms gracefully raised to support the head of the window above - John Wenlock Rollins was the sculptor.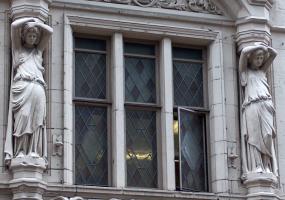 Wenlock Rollins's sculpture on the Midland Hotel, Piccadilly Arcade.
Birmingham pages // Sculpture in England // Sculpture pages
Visits to this page from 23 Nov 2011: 4,444