Bennett's Hill and Newhall Street
Bennett's Hill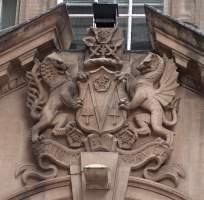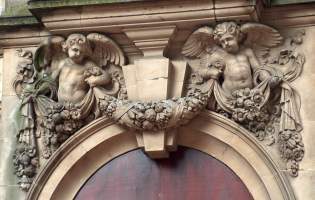 Heraldic beasts and cherubs, former Lancs and London Fire Insurance Co, Bennett's Hill.
Bennett's Hill is one of the short but interesting streets near to Chamberlain Square, running northwards from New Street, crossing Waterloo Street, and arriving at Colmore Row; the continuation is Newhall Street.
The Pre-Raphaelite painter Edward Coley Burne-Jones was born in this street, and it includes a variety of fine stone buildings, Classical and Italianate, among which are two with significant architectural sculpture.
The first is at the southern end, on the corner of Bennett's Hill with New Street. A square, blocky baroque building, it has three principal stories surmounted by an attic and dome. The principle entrance on Bennett's Hill, with a subsidiary door on the corner, each bearing a pair of sculpted figures. Those above the main entrance are a pair of heraldic beasts, a lion and a griffin, supporting a company shield with the motto 'Security and Service', while at the corner are a pair of winged half-cherubs holding a cornucopia of fruit and flowers. At second and third storey level, there are minor decorations of lions' heads, floralities, shields etc, and on top of the main building, in front of the dome, are two seated allegorical figures, in the same orangey stone. The figure to the left seems to be a rather masculine female, and holds a bulky sword and a shield. To our right is a more feminine figure, gathering up in her skirts a rich harvest of fruit. We may take the figure on the left as 'Security' and the right hand one as 'Providence' or perhaps 'Service': the edifice was built as the Lancashire and London Fire Insurance Company. These figures, and apparently the rest of the decoration on this building, are by Robert Bridgeman and Sons of Lichfield, a firm active around Birmingham.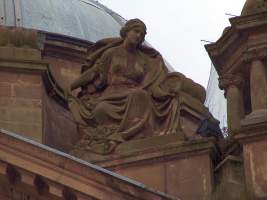 Allegorical figure by Robert Bridgeman and Sons.
Ascending, on the corner with Waterloo Street, to the right is a rather splendid classical pile, Midland Bank, dating from 1830 by the architect T. Rickman. And on the left corner, no. 8 is John Gibson's former National Provincial Bank building, dating from 1869. The corner entrance is an exquisite domed recess, with four sculptural panels running round the interior. We see a variety of manufacturing industries associated with the city, including a rather good group of glassblowers, all rendered in a rather blocky but effective style. High up on the top of this corner is a free-standing group of two figures, female and male, with a shield between. She is seemingly representative of Arts and Sciences, and among her paraphernalia is a pot and Corinthian capital and sculpted bust for Arts, and a chemical retort for Science. The bearded man represents Manufacture and Industry, with typical hammer, anvil, cogwheel etc. Both figures and the friezes below are the work of Samuel F Lynn, a rather unfamiliar sculptor.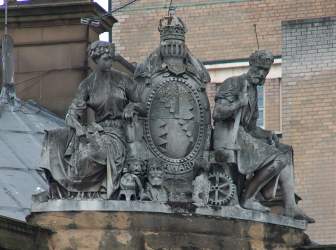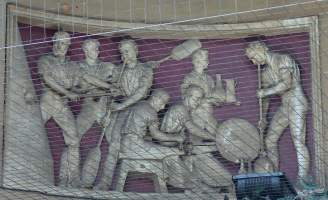 Samuel F Lynn's sculpture for no. 8 Bennett's Hill.
Continuing our ascent, past more Italianate efforts, at the corner of Colmore Row, which has a separate page, we have nos. 85-89 Colmore Row, which is one of the grandest buildings on that street, the Union Club, dating from 1870 by the architect Y. Thomason. This has much minor sculptoral decoration, including most notably from the Bennett's Hill vantage, the excellent pair of griffins on the corner above the second storey window.
Newhall Street
Philosopher, Theatre, Painter.
After Colmore Row, the road continues as Newhall Street, once the home of Elkington's factory. We go a little way down here.
On the first corner, with Edmund Street, No 19 Newhall Street, dated 1896, is a splendid thing in the bright red terracotta which Birmingham has made its own.
The stone edifice on the diagonally opposite corner, occupying the whole side of the block, has pairs of little spandrel figures, which at first sight are crude, lumpish things, but which have a certain charm and are actually skilfully designed to make a visual impact despite their small size. We see a female harpist and a Classical philosopher seated reading, with a skull on his desk, a pair of reclining nudes again with harps, two more semidraped girls with with lamps and mirrors, perhaps emblematic of Truth, a second pair of reclining nudes with actors' masks to represent the Theatre, and a painter and spinner.
Across Cornwall Street, both corner blocks are distinguished mixed terra cotta in a Queen Anneish idiom. Further, there are further worthy Victorian buildings, and half way along on the left is no. 56, which has terracotta panels of dragons fighting men in high relief, by the estimable W. J. Neatby (see this page for his work in Birmingham).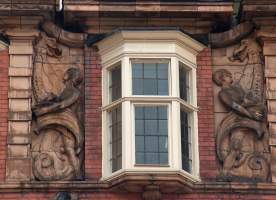 W. J. Neatby's dragons and men.
Birmingham pages // Colmore Row // Sculpture in England // Sculpture pages
Visits to this page from 23 Nov 2011: 4,398