W. J. Neatby in Birmingham
I wanted to have a short page on the work of the arts and crafts artist W. J. Neatby (main page here) in Birmingham. His best-known work in that city is the terra cotta decoration for the New Arcade (see the Birmingham arcades page), of which a couple of further examples are given at the top of this page.
A second work by Neatby in Birmingham is his four 'men and dragons' terracotta panels for 56-60 Newhall Street, dating from 1900. The pictures below show the building and two of the dragons - the others being insensitively obscured by drainpipes. I believe the more minor decoration on the twin porches is also due to Neatby.
Neatby also designed medallions - presumably but not definitively painted tiles - showing historical types in flamboyant costume - for the Theatre Royale in New Street as part of a colourful decorative scheme. This building, put up in 1903, was designed by Runtz and Ford at the time when Runtz made something of a specialty of theatres, including the Gaiety Theatre of about the same date in London. He had employed Neatby in the architectural decoration of at least one other building, in Cornhill, some 10 years previously. Alas, the Theatre Royal, like the Gaiety Theatre, was demolished to make way for an office building in the Age of Barbarism. The Neatby tiles are described thus in a contemporary journal:
'...a very interesting scheme of decoration which the artist carried out in the new Theatre Royal, Birmingham. Mr Neatby was responsible for the colour-scheme of the decorations, which form a very important feature in its effect. The medallions to which we refer are placed over the range of boxes on each side of the house, and are framed in wreathwork, which is painted in gold-brown on an ivory-coloured ground. The medallions give to some extent a history of costume, and the artist has carefully made the costumes characteristic in colour, as well as in shape, to the various periods, and he has successfully done this without out-stepping the prevailing harmony of the decoration. The decorations include a long painting over the proscenium, representing two aspects of the stage as a teaching institution - grave and gay. The colour-scheme is a very rich one.'
Having said which, the example below right has something very wrong with it in the positioning of the further eye and the slant of the mouth which suggests some blunder after it left Neatby's hands.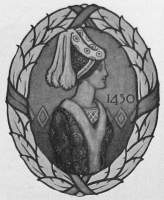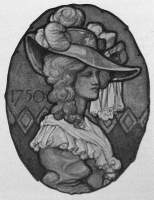 Medallions from the Theatre Royal, Birmingham.
These then are the works of Neatby in Birmingham. However, the sheer volume of terra cotta in the city makes me hopeful that there may be more by this most imaginative and versatile of Arts and Crafts artists - if you know of any, do let me know; my email address is on the home page of this site.
Neatby main page // Birmingham pages // Sculpture pages
Visitors to this page since 13 Mar 2014: 3,201