Passmore Edwards Museum. Technical Institute and Library, Romford Rd Stratford, East London - Sculpture for the month of Jan 2017
Out in East London, once long ago part of Essex, close to Stratford station and West Ham is the former Technical Institute, Library and Passmore Edwards Museum, now part of the University of East London, a building covered with Arts and Crafts sculpture of 1898: full statues of allegorical girls and youths, decorative friezes with leaves and scrolls and putti, and winged cherub heads. I've added in links to some other pages on this website concerned with allegorical figures.
It is just a few minutes from the centre of Stratford: Stratford High Street splits at the north-eastern end to flow around St John's Church, and the right hand side becomes first Stratford Broadway and then Romford Road. The grand block of the former Passmore Edwards Museum is on the left hand side next to Water Lane: the decorative elements of the building are on that road and on Romford Road itself, the rear of the building being fairly plain and the other side being shielded by modern blocks.
The Romford Road frontage has a long central range and two corner blocks, with short, slim towers at the joins, each with a dome and spike. The main central range has a long frieze at first floor level and a central doorway with caryatids, and a projecting smaller tower with figure sculpture in niches; curved gables contain figural groups, and the end block to the east has a bronze overdoor sculpture in low relief.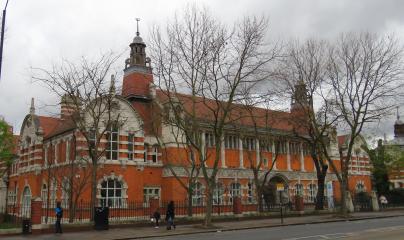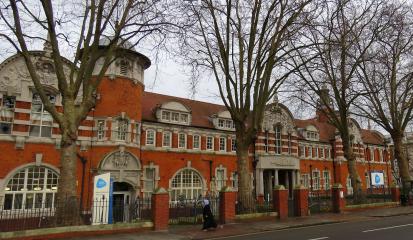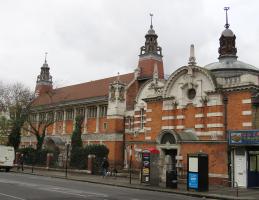 Stratford former Technical Institute, Library, and Passmore Edwards Museum.
Water Lane frontage:
There are several elements with sculpture: Three curved pediments, each centred on a seated figure, a full sculpture attached at the back within a niche, and a pair of subsidiary figures in high relief to the sides; a low round turret with a rimmed dome, under which is an entrance with a pair of boys flanking a cartouche with the Library sign, now the entrance to the University of East London; a statue of Shakespeare; and a modern figure piece attached to the central pillared balcony.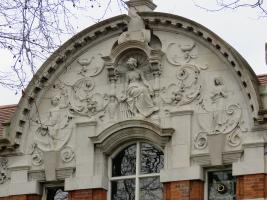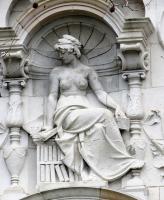 Allegorical sculpture of Literature.
Left hand curved pediment: Literature. Seminude girl seated on a bookshelf, a book in each hand. She is within a niche, its lower sides carved as pots, with small Ionic pilasters above supporting the curved top. To each side, a light carving of leafy floral swirls, with a cluster of ripe fruit, as in the ripeness of learning, perhaps. Flaming urns are above. A little lower on each side is a standing figure: to the left, a nude boy, holding a book and a flower, and the right, a girl holding some decayed book.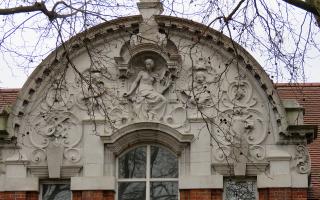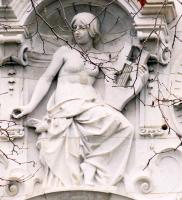 Allegorical sculpture of Music.
Middle pediment: Music. Another seminude girl seated under an arch, this time holding a lyre, and with a songbird fluttering beneath her waist on her nicely knotted garment. She is flanked by putti in roundels; one blows a long horn, the other holds some scroll, likely sheet music. Further out in the half round space are further enclosures with musical instruments – lute, another type of harp, tambourine, pan-pipes etc.
Right hand pediment: Manufactures. A central man, semidraped, showing a muscular torso and shoulders. Around him are the paraphernalia of mechanical work: tongs, a pail, vice, part of an engine. A nude boyish figure holds a hammer and piece of wrought iron, an anvil behind him, on one side; on the other, another young man has a curved sword and contemplates a knight's helmet on the ground. The decorative elements include hanging fruit again, and braziers.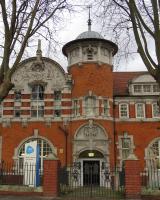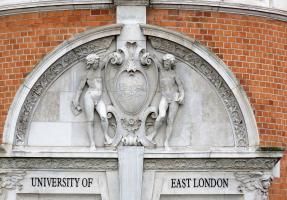 Central Library former entrance.
Library entrance under the round tower: now the entrance to the University, but a cartouche in the pediment above still has the words 'Central Library'; the supporters are two nude boys, one holding a scroll, the other a book.
The Shakespeare Statue: made in artificial Coade Stone, claimed to be harder wearing than marble, as proven by this statue and many other of the surviving works of Mrs Coade. The Bard is shown standing in front of a short pillar, included for structural reasons, on which his short cloak rests. He wears a buttoned jerkin, hose, and light shoes. One hand holds a rolled-up scroll, the other fondles the end of his beard as he stands in contemplation.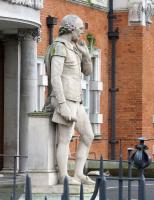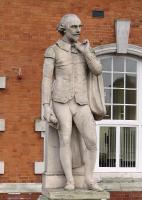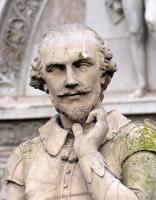 Shakespeare statue, made in Coade Stone.
Romford Road frontage:
Round to the long frontage to Romford Road now. To the centre is a broad block, 9 bays wide counting the pillars on the upper floor, with the central entrance widened to take up most of two bays width. The sculpture consists of the two caryatid figures to the sides of that entrance, and a long frieze above. There are towers to each end of this block, taller at the rear above the roof, and projecting forward, shorter towers with full figure sculpture in niches: one facing forward, one outwards to the sides on each tower. Then to the left and right, a smaller block with a rounded pediment with allegorical figure sculpture, as on the Water Lane frontage. Finally, on the far right, one extra block, being the former Passmore Edwards Museum entrance, with tympanum and a separate small panel.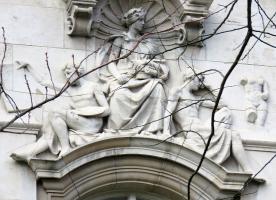 Sculptural group of The Arts.
Left hand block: The Arts. Seated female figure of Architecture holding the capital of an Ionic pillar. On each side a seated figure; to the left, a young man holding a palette and canvas, thus Painting, and to the right, a contemplative figure looking at a model of a nude female torso, thus Sculpture. And so the group as a whole is The Arts. (For more allegorical statues of Architecture, see this page, and for Sculpture, see this page).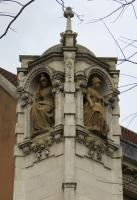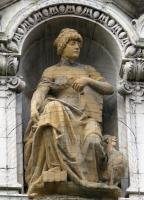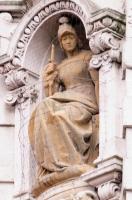 Left front tower figure sculpture.
Left hand tower figures: a seated female figure wearing a helm, holding a sword, and wearing what seems to be a armour, above thick drapery. The second figure is more lightly dressed, with an off-the shoulder top, and slightly less voluminous drapery below. She rests one bare arm on a heavy book propped on her lap, and in her other hand appears to hold some plucked flowers. By her side stands a cockerel. Under each figure, below the niche, is a line of three winged cherub heads, with Edwardian sweetness and rather good of their type – flowers and fruit hang between them – a thistle and rose another rose and a pear. (Lots more winged cherub heads on this page.)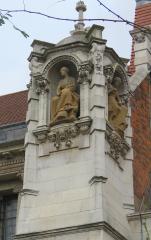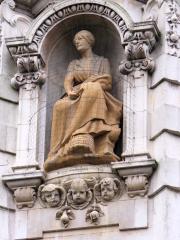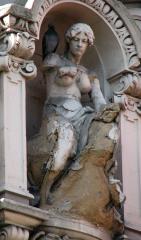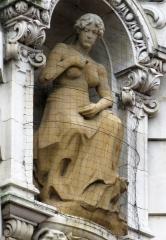 Right front tower figure sculpture: right hand pictures show before and after restoration.
Right hand tower figures: another pair of seated female statues. The first wears a light top, leaving the arms bare, and her hands are in her lap, holding the heaped up drapes of her long skirt. One leg is raised, a beehive being under her foot, representative of industry; a little to one side we see an anvil, also indicative of manufacturing. The second girl has her top bare, one hand across a breast, the other on her lap, both empty. But it should be mentioned that the statues have been restored, this pair being in a poor state, and it may be that once they did hold something: the lower arm has been moved from its original position certainly, and the restoration below has left something of the left leg as we look at her missing.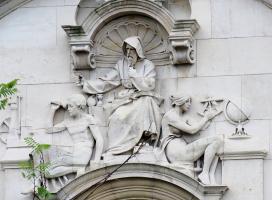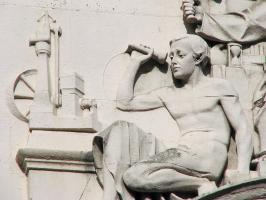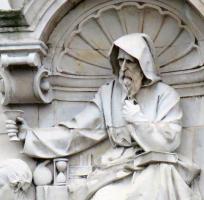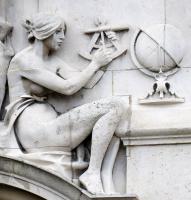 Sculpture depicting The Sciences.
Right hand block curved pediment: The central figure is an elderly man, evocative of Gandalf in Lord of the Rings, with bulky coat caught at the waist, hood, hooked nose and deep-sunken eyes, and a long beard which he fondles with one hand. His other hand, outstretched, contains a goblet, and beneath his arm is a table with chemical retort, hourglass and a couple of test tubes in a stand; his other elbow rests on a heavy book, and his foot is supported on two more. I take him then as representing Science. At his feet rest two nude figures; a crouched down boy with a small vertical steam engine, and holding a torch – it looks a bit like a sculptor's mallet but a torch it certainly is when looked at closely; and a girl, beautifully proportioned, holding a sextant, with a model globe in front of her, so representative of Navigation. So overall, the group is certainly The Sciences, to match The Arts on the left hand block.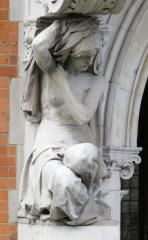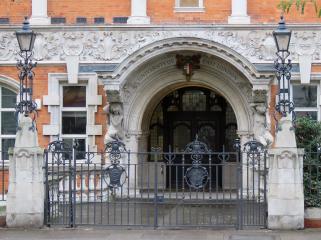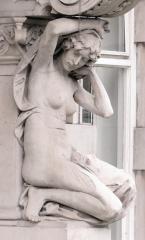 Main entrance, with nude caryatids by Birnie Rhind.
Back to the centre, and the grand doorway, very broad, with two Caryatid figures, female figures supporting the arch above. Nicely formed and extremely well made, they are semi nude, each with a hood of drapery falling othe sides to frame the figure, and caught up over one leg.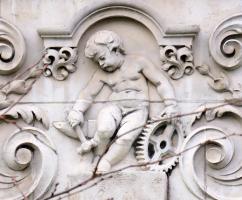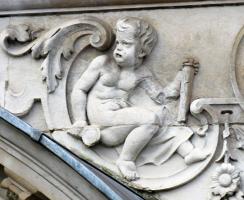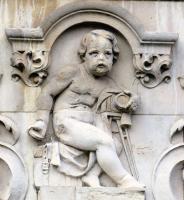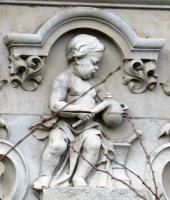 Putti from the central frieze, including allegorical figures of Photography and Chemistry.
Above and behind the doorway is a frieze running the full width of the central block, with decorative carving all the way along; we see much scrolling, cartouches and putti. From the left, the first seems to be carrying a trowel and mixing board, perhaps to indicate plastering; next a nude one seated on an anvil, holding the rim of a large gearwheel and a hammer, so Engineering again; then Plumbing, holding a section of bent pipe; then perhaps Astronomy or Navigation again, with what looks like a telescopic eyeglass and some book (more figures representing Navigation on this page); and then, to the left of the arch of the central doorway, a little figure emblematic of Bricklaying, holding a brick and flourishing a trowel. On the right hand side of the doorway is a putti (strictly a putto) more obscure in activity; he holds some sort of cylinder with low relief carving, and in his other hand, what could be a magnifying glass. Then an allegorical figure of Photography, with a nice camera on a stand, holding the lens cap in his other hand. Then Chemistry again, holding a retort and with a pestle and mortar on the floor. Then Electrical Generation, with a generator to one side, the boy rubbing some instrument against a turning wheel to generate static electricity, and in his other hand holding a lit-up light bulb. Then a fat little putti with chubby legs holding a palette and brush, hence Painting. As a set then, these putti exemplify the trades of the the larger figures above.
Finally the Museum block on the far right:
The block is shown at the top of the page. There are two sculptural elements. Firstly a semicircular composition above the door with the text Passmore Edwards Museum, in bronze, with low relief carving showing a girl leaning on a cartouche with a portrait of Passmore Edwards himself, and holding in her free hand a winged Victory.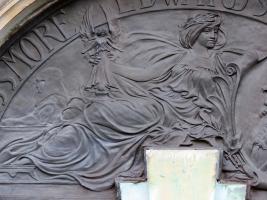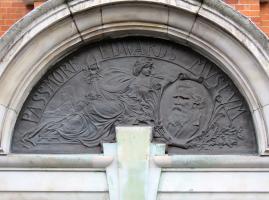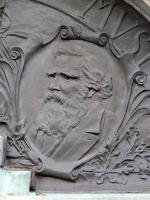 Passmore Edwards, and girl with winged victory, by the sculptor H.C. Fehr.
Secondly, a panel with text noting that one stone was laid by Passmore Edwards himself, 6 October 1898, with Gibson and Russell as Architects, and A.E. Symes as builder; on a cartouche with two winged cherub heads like some church memorial of an earlier generation.
And thus we have the sculpture on the old Passmore Edwards building in Stratford. I should say that there are many minor details, not mentioned above, the design of the towers being particularly pleasing, also little dolphins, and other Arts and Crafts detailing. And an interesting sculptural walk can be made from Stratford along Romford Road itself.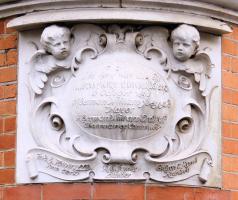 The sculptor of the pair of nude girls acting as caryatids to the sides of the central doorway was the Scottish sculptor Birnie Rhind – although the various other figures have been ascribed to him, I am not aware of the source of this information, and suspect it may be an unevidenced leap of faith from the known works to the unknown. The lunette with low relief bronze sculpture including the portrait of Passmore Edwards is by the important New Sculptor Henry C. Fehr.
Passmore Edwards was a philanthropist of interest to these pages as he funded some two dozen libraries and other educational buildings, mostly with interesting architecture and often with sculpture. The Passmore Edwards Museum closed in the 1990s, and as noted at the beginning of this page, together with the former West Ham Technical Institute, is now part of the University of East London. Another Passmore Edwards building noted on these pages is described here.
Back to Sculpture of the Month for Dec. 2016 // Onward to Feb 2017
Close by: South along Vicarage Lane to West Ham Church // or north to Leyton Town Hall // and Leyton Church // or along along Romford Road
Other London sculpture // Allegorical sculpture
Visits to this page from 1 Jan 2017: 4,918