Miss L Gwendolen Williams (1870-1955)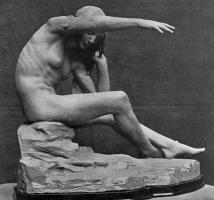 L. Gwendolen Williams, statue of Peace.
The sculptress Miss Lucy Gwendolen Williams is interesting for her 1900s statues and busts of winsome Arts and Crafts figure subjects.
Gwendloen Williams was born in Wales, but learned her craft in London, studying under Alfred Drury at Wimbledon College of Art, and then under Lanteri at the South Kensington school, also being for a while in Liverpool, where she attended classes by C. J. Allen. She exhibited at the RA from 1893, showing over 30 works there through her career, mostly busts, children, and nudes. She maintained an address in Wentworth Studios, Chelsea in the mid-late 1900s, but a proportion of her work seems to have been carried out in Rome, where she lived and worked through till the early 1910s. The Dictionary of Welsh Biography has some information about her later life - ill health causing her to stop sculpture, a return to England and recovery, and a resumption of her career.
Given the early influence of Drury and Lanteri, it is unsurprising to find in Gwendolen Williams' oeuvre several mythological subjects – The Lorelei, Sappho, King Cophetua's beggar maid, and so forth – and also something of the art nouveau in her work. These titles are revealing in echoing some of the best known titles to pictures by the Pre-Raphaelites, and like some of the excellent illustrators of her time, she seems to have shared their sympathies and hankered back to the art of half a generation previously. Her nude female figures tend to the rather slender to the point of thinness, with somewhat bony torsos, thinnish legs to emphasise the bone structure and something of the musculature, and flattened cheeks to the faces, while nevertheless retaining a feminine curviness to breast and thigh. Miss Williams's best known work in this style is a rather pensive Pandora, with a well captured nervousness of the hands about to open the box. Spielmann, a leading critic of the day, found her work delicate, and with sweetness and grace.
Though the literature of the 1900s contains scattered references to her, Miss Williams' work is hard to find today - there are works by her in the National Museum of Wales, and, apparently, 10 further works held by the central library in Cardiff. From pictures I have seen of her work, her imagination and talent seem to have been of high standard, but like so many sculptors and other artists, she blossomed in the 1900s, but did not win any of the public commissions of the time, and then faded into apparent obscurity thereafter.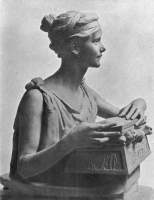 Pandora.