Charles John Allen (1863-1956)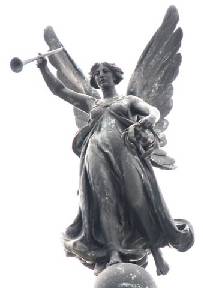 Summit Figure from the Victoria Memorial, Liverpool.
Charles J. Allen is the most significant sculptor to settle in Liverpool, and the city contains his most ambitious work - the Queen Victoria Memorial - along with other sculpture by him.
The sculptor Charles John Allen was born in Greenford, Middlesex, and studied at the Lambeth School of Art, South London. He was then apprenticed to Farmer and Brindley of Westminster Bridge Road, the well-known manufacturers of architectural sculpture, where he made wood and stone carvings. In 1887 he attended the Royal Academy Schools, and in 1890, while in his second term, became studio assistant to Hamo Thornycroft, remaining with him for four years, and helping with such works as the John Bright in Rochdale and the Institute of Chartered Accountants friezes in London. His first work exhibited at the Royal Academy, in 1890, was called Love Flies from the Doubting Soul. In 1895 he was appointed Instructor in Sculpture and Modelling at Liverpool School of Architecture and Applied Arts, where he became friends with Robert Anning Bell, who was teaching decoration and stained glass. In that year his Love and the Mermaid was cast in bronze for the Liverpool permanent art collection, and the same work won a gold medal at the Paris International Exhibition in 1900.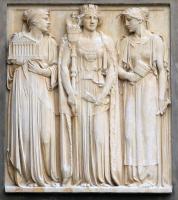 One of the St George's Hall panels.
Allen's chief work was the Queen Victoria Memorial in Derby Square, Liverpool (1902-5), and he also made two panels for the exterior of St George's Hall, reliefs for the Royal Insurance Buildings, and other architectural sculpture in the same city, including two now-battered figures on the Mersey Docks and Harbour Building and the Florence Nightingale monument. Early work by Allen, when he worked for Powell and sons, includes wood carvings at St Albans Cathedral, decorations for various Oxford Colleges, and a marble reredos at St Pauls Cathedral in London. His later work included various ideal groups (two examples are shown towards the end of this page) and single statuettes, typically unclad, such as A Dream of Love (1895) in the possession of the Birmingham gallery. He also made a variety of ornamental work for gravestones. Allen's ideal figures, and his portrait sculpture too, often have a slightly sad expression. Although his male figures often tend to the Classical, he is most comfortable in a sinuous, New Sculpture art nouveau style, and his work in Liverpool stems from his best period.