Andrea Carlo Lucchesi (1860-1925)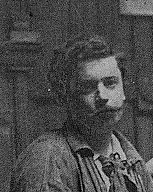 Lucchesi in his studio
The sculptor A. C. Lucchesi was born in London, the son of a Tuscan sculptor's moulder and an English mother. He became assistant to his father, then studied at the West London School of Art, and worked as an assistant (at first as a moulder) to several important sculptors, including H. H. Armstead and E. O. Ford. He also worked at one time and another as a model painter, carriage decorator, sculptor's model and furniture painter, as well as modelling for silversmiths such as Elkington and Garrards.
As a sculptor, his first original conception was exhibited at the Royal Academy in 1881, and the following year his Waif won him entrance to the Royal Academy Schools, where he was a successful student over five years.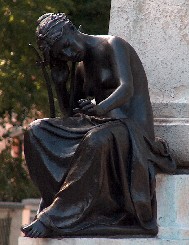 Lucchesi favoured above all the nude female figure. Among his ideal nudes are The Flight of Fancy, Destiny, Oblivion, The Vanishing Dream, The Soul of the Rose, Oblivion, A Water Nymph and A Woman of Carthage. Along with these single figures are several groups of a girl and an infant, including Verity and Illusion, The Bud and the Blossom and (with three figures rather than two) The Two Voices. Of such works, Lucchesi said that he considered
'... the female figure [to be] nature's masterpiece, and the fact that I have so often used it, to endeavour to convey or symbolise a poetic thought, shows how strongly I feel this.'
He made a very few unclad male figures, notably Nemita vitae and The Crash of Doom, and a young boy with a broken bow called The Surrender. He also made a few busts, including portraits and ideal ones, among the latter of which we should mention Soft Eyes Looked Love and The Sentinel and A Valkyrie, and the exotic Soul of Innocence.
As always on these pages, we give some prominence to outdoor and architectural sculpture. Lucchesi's works in this vein are few: the Victoria and accompanying figures for the exterior of the Victoria Art Gallery in Bath, the Onslow Ford Memorial, St John's Wood, London, and The Victory of Peace for Auckland, New Zealand.
In style, Lucchesi's figures fall clearly within the naturalistic New Sculpture movement, and he is firmly placed in the second generation of New Sculptors, though his later work, what little I have seen of it, moves away to something rather odder. His figures tend to the slender rather than the muscular, and his females are more sensual in mood and pose than the sculpture of his fellows and contemporaries. He favours hair which is shorter or bound up, perhaps with some sort of headdress or hairband.
Lucchesi's best known work, The Myrtle's Altar (1899), is a languidly reclining nude of which a miniature version is in the Birmingham Museum and Art Gallery. Examples of his portrait work include his Bishop Bardsley monument (1906) in Carlisle Cathedral, the aforementioned Queen Victoria on the exterior of the art gallery in Bath, and a medallion portrait of John Ruskin at Keswick.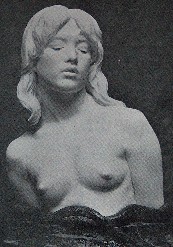 Soul of Innocence
Visitors to this page since 22 Nov 2011: 7,600