Gilbert Ledward RA (1888-1960)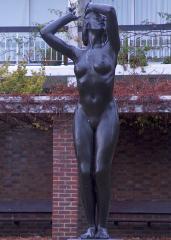 Gilbert Ledward's statue, Awakening.
The sculptor Gilbert Ledward spans the period from the 1910s Century through to the Art Deco period and beyond, specialising in nude figure statues, architectural sculpture, war memorials, and portraiture. He won a good number of commissions for public sculpture, so his work can be seen widely without hoping it is out on display in a museum.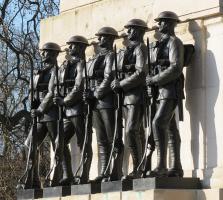 Guards Memorial figures by Gilbert Ledward.
Ledward's two female nudes in his Chelsea neighbourhood show his change of style over time. Awakening, on the Chelsea Embankment, is a figure somewhere between Victorian and Edwardian in her physique, with a roundness to breast and hip and thigh, some musculature and some ribs, and an Edwardian face upturned to the sky. In Sloane Square, the fountain figure is a smoothed, stylised Art Deco nude, difficult to recognise as by the same sculptor, though her physical type is not so different to the earlier work. To see one of his male nude figures, we need merely walk through to the Victoria Embankment, where there is a stone figure by Ledward (and three by other artists) on the river-facing side of the Adelphi Building, Deco again, with powerful physiques, simplified musculature, symbolic poses to hand and pitch of the heads. In Westminster is an example of his war sculpture in the Guards Division memorial in St James Park; other examples include war memorials for Harrogate, Stockport, Blackpool (where he also has a figure of Britannia for the Hall of Memory) and Abergavenny, the latter with a careworn soldier resting an arm on his rifle butt, feeling more personal and individual than simply representational. His memorial sculpture includes WWII memorials in Westminster Abbey, and the Alfred Gilbert memorial in St Paul's Cathedral.
Ledward has some public statuary for other countries, including George V statues for the capitals of Uganda and Kenya and a statue of George VI for Hong Kong, and Dr Woolner for the Woolner Memorial Hall in Lahore.
He was one of those sculptors who became interested in carving directly in stone, and various of his later ideal figure sculptures were made by this method. There are a good number of these, Art Deco nudes, with a sense of massiveness and solidity, with simple, pure lines to the drapery where this is present, and generally a tilt to the head giving a look of reflection or pensiveness.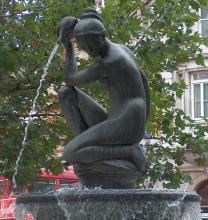 Ledward's fountain statue in Sloane Square.
By way of a brief biography, Gilbert Ledward was the son of the short lived Richard A. Ledward, sculptor and modeller of Chelsea (1857-1890), and his wife Mary Jane Ledward, d.1942 – he likely modelled the monument to them in Perivale Churchyard, West London (see bottom of this page). He studied under Lanteri at the Royal College of Art from 1905, where his father had studied, and then entered the Royal Academy Schools, where he won the Acadamy's first Scholarship in Sculpture to go to the British School in Rome in 1913. That was meant to be for three years, but the outbreak of World War 1 led him to return to England, service in the Royal Garrison Artillery, and then as a war artist.
Ledward exhibited profusely at the Royal Academy, well over 100 works from 1911 over the five decades until his death: he was elected ARA in 1932, and RA in 1937. Through his career he filled many prestigious roles in the artistic establishment, including being one of those choosing works for purchase by the Chantrey fund, a professor at the RCA, and President of the Royal Society of British Sculptors.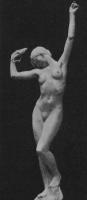 Visitors to this page since 15 Jan 2017: 3,517