Richard A. Ledward RA (1888-1960)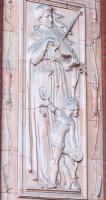 Richard Ledward's terra cotta panels of Music and Painting.
Richard Arthur Ledward, sculptor and ceramic artist, was a distant relative of Wedgwood. He was born in the Potteries at Burslem, Staffordshire, and studied there at the Burslem School of Art, and afterwards in London at the Royal College of Art. There he became himself a teacher of modelling in the early 1880s, then worked as a ceramic artist for Wedgwood, and it seems for Doulton, and afterwards taught in other art schools.
He exhibited 9 works at the Royal Academy between 1882 and 1890, mostly portrait busts in terra cotta, and among his later work are some works in marble. In London, a pair of terra cotta reliefs by him, entitled Art and Music, may be seen just behind the Albert Hall in Prince Consort Road - see pictures above (click to enlarge). However his oeuvre is not large, for he died aged just 33. He is buried in the churchyard in Perivale, and his gravestone, with a relief roundel, can be seen today - see bottom of this page.
His son was the highly successful sculptor Gilbert Ledward, and a daughter, Phyllis H. Ledward, in 1911 married Newbury Trent, another sculptor.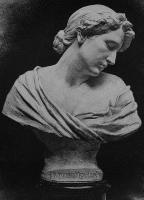 Bust by Richard Ledward, A Young Mother.
Visitors to this page since 15 Jan 2017: 3,058