St Mary's Church, Chesham, Buckinghamshire - Monuments
St Mary's Church, Chesham, is a largely 13th-14th Century and Victorian building which has two grand monuments and a modest number of wall panels to see.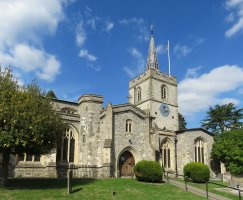 St Mary Parish Church, Chesham
St Mary, Chesham's main feature is its three-stage tower, battlemented and with a spire, which from a short distance pokes up appealingly among the trees; it is a modestly sized church of flint and with pale stone dressings, with the view towards the main porch dominated by large Perpendicular Gothic windows, with a parvise (upstairs storey) to the porch, heavy buttresses; a clerestory can be seen above and behind. It is mostly of 13th and 14th Century date, with quite a lot of changes later and after some structural problems a quite significant Victorian restoration by the eminent architect George Gilbert Scott. Inside, we have a good ambience, with quite a lot of light, and despite that there are not so many monuments, a reasonably busy appearance to attract the eye with the large mural, hatchments and so forth. There are a few fragmentary remains as far back as the 12th Century, and one of the windows is of similar date. The structure has broad aisles to both sides of the nave, and in addition a transept.
Monuments
There are a dozen monuments in the Church: three ones from the early 17th Century, one from the early 18th, a few white and black ones from the end of the 18th and early 19th Century, and three from early in the 20th Century. They incude two grand monuments, and two with figure sculpture.
Monument to John Cavendishe, d.1617.

Johannes Cavendishe [John Cavendish], d.1617, son of the Earl of Devonshire. A grand wall monument, big enough to block out half a window. The centrepiece is a sarcophagus, in different coloured marbles, with two little lion heads above the feet. It bears upon it a Latin quote, and above and behind is the inscription, both being on black stone as is usual for the period. The inscription is surrounded by a carved strapwork border, with crossed bones to the left, crossed gravedigger tools to the right, ribbons and tasselled rope, all well carved. All this sits under a deep rounded arch with coffered panels bearing flowers, above which is a curvy upper, bearing fish-scale tiles, and with a splendidly large carved coat of arms above surrounded by curly protuberances, one of which has been knocked off; a little ball and spike crowns the summit. The sides of the monument protrude, with a pair of black-shafted pillars of the Corinthian order on each side, and obelisks at the top. The whole is set into the wall, and beneath, a sideboard like structure takes the piece down to the ground. With its coloured marble panels and bold carving, this is a grand monument indeed.

Revd. Richard Woodcoke, d.1623.

The Revd. Richard Woodcoke, d.1623, Vicar of the Parish with a painted portrait bust. Pieces like this appeared from the later 16th Century, and while by far the more usual would be kneeler monuments which would usually face to left or right (see this page), there are numerous examples like this, with a forward-facing figure or half figure, as we have here. He is shown bearded, capped and with a fine ruff, and a heavy enveloping coat, with small ruffs at the at the cuffs of the sleeves; he holds an open book in his hands, and rests on a tasselled cushion, similar to those which kneelers kneel on. The bust is within a painted oval niche, but the outer border is unconvincing and not contemporary with the monument. The Latin inscription is on a black panel below with pale marble surround, separated from the bust by a shelf; there likely would have been outer pillars or pilasters. A 1900s panel below with a religious admonition surrounded by a gilt border painted with a design of repeating flowers.

Richard Bowle, d.1626, 'who faithfully served divers great Lords as auditor on earth', characteristic small monument of the Jacobean style, with the inscription on a black panel, with pilasters to the sides with low relief carving of meandering ribbons, and memento mori on the left - crossed bones, grave-diggers' tools, hourglass; and on the right, bible and crossed arrows. Above, a shelf with a painted coat of arms within a roundel, and a little skull on top, and to the sides, flaming urns with egg-shaped bodies. At the base, panels with two further shields of arms, and brackets. A good piece: see picture above.

Lady Mary Whichcote, d.1726. A tall free-standing obelisk upon a broad base. The inscription is on the obelisk itself, which bears at the summit a flaming urn, and at the base, a carved shield of arms. See picture at top of page. Below this is a roundel portrait in high relief of Lady Mary, and the whole is surrounded by an iron railing, and dramatically placed in front of a window. The costly memorial, and costly funeral with a grand procession from London, apparently led to her husband, Sir Francis Whichcote, having to sell the manor of Chesham Leicester four years later to the Skottowes, whose monuments are noted below; it was pulled down in the 19th Century.

Coulson Skottowe, d.1788, and his wife Ann Skottowe, d.1788. An obelisk monument, thus with a rather broad obelisk of black stone, upon which is a high relief carving in white marble of an elegant pot on a base, carved with tied festoons of flowers etc in a light, airy style. Above, a small shield. Below, a shelf supported on curly brackets between which is the inscribed panel.

John Skottowe, d.1786, and Thomas Skottowe, d.1788, tall pale panel with a thin shelf at the top, and a pediment made of a central carved device with scrolls to the side. The panel was meant for more of the family. John Skottowe is noted as having served under the Duke of Cumberland in five campaigns, and then becoming Governor of St Helena from 1764-1782; Thomas Skottowe was Secretary to the Province of South Carolina in America, 'until his attachment to his king and Country forced him to leave America in 1782'.

Nicholas Skottowe, d.1798, and his wife Grace Skottowe, d.1792. A good piece with a carved figure of a mourning girl mourning next to a casket. She is kneeling, her nearer leg slightly forward, her body bowed down over the casket, head in one hand, with the elbow on the casket itself, and other arm stretched out with the hand extended like a caress. She wears thin robes, and a hood. The casket itself has light carving at the top, and is itself draped on the top and sides. The inscription is below between two pilasters. A very good piece, signed by the eminent sculptor John Bacon the elder, and dated 1800.

Elizabeth French, d.1803, 'a lady whom nature and fortune united to adorn with their choicest gifts', with a long eulogy. She was of the Skottowe family. Rather a nice panel, carved as a hanging drape over a rectangular panel with side pilasters, partly covered by the drape, upper and lower shelf, and on top, curly side pieces flanking a painted shield of arms. There is a black scratched base below, suggesting there was previously some further portion of the monument.

19thC panels: French, Hewett.

The Revd. Thomas Hewett, d.1844. White-on-black panel, carved as a tomb chest end, with side pilasters, cut with pediment above a shelf and acroteria ('ears'), and feet below carved as flowers; on a shaped black panel.

Martha Lowndes, d.1890, a brass panel, typical of the time, with red capitals and a border with a repeating design of leaves and red dots. Erected by her daughters. The Lowndes family was another of the great land owning families of the area, and her husband William Lowndes, or some previous William Lowndes, paid for the stained glass in one of the windows of the Church - they also bought Chesham Leicester house, previously owned by the Skottowes, and demolished it.

Walter Edmond Charles Adye, d.1908 'at sea on board S.S. Rameses' - the ship itself was later torpedoed a decade later in the First World War, with the loss of five lives. Another white-on-black panel, carved as a scroll unrolling left to right.

Joseph Hare, d.1917, churchwarden and superintendent of the Sunday School. Arts and Crafts panel with mosaic border, pink marble outer border, and a frame. Nice of its type.
Also in the Church:
Among the few remnants of the pre-13th Century Church, note the Part of a Norman window in the wall of the north transept.

A niche with crocketing, and tall pinnacles to the sides, likely a 14th Century stoup.

Floor slab to Mary Neale, d.1677, 'Eldest Daughter and Heyre to William Weedon of Pednor', a great black stone with arms above. We may note that Weedon gave money for an almshouse in Chesham.

Several heraldic hatchments.

Two small Burne Jones windows, depicting knights, with the characteristic features and attention to drapery of the Pre-Raphaelite painter. There is other stained glass, including a bit of 15th Century design.

A Victorian font in an early Gothic style with many clustered pillars below an octagonal bown with blind windows.

Nice Victorian floor tiles.

World War 1 panel, with a half angel at the top and flowers carved in relief.

Modern painting to the chancel arch, with many figures, by John Ward RA (1917-2007); there are also fragmentary ancient murals.
St Mary's Churchyard:
The Churchyard has been partially cleared, but retains some headstones and a few altar tombs. We may note:
The Churchyard walls, brick of the 17th Century apparently.

A low vault entrance to the Reynolds family with acroteria.

A few 19th Century altar tombs retaining iron railings.

An odd structure of stone with a pediment in the corner of the Churchyard, twice the depth of a mausoleum. Not sure what to make of this; maybe just a storage area of early 20th Century date.
St Mary's website is at https://stmaryschesham.org/history.