Stanley Nicholson Babb (1873/4-1957)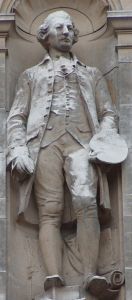 Babb's figure of Gainsborough for the V&A.
S N Babb, not to be confused with the earlier Bubb, whose initials are JG, is a rather obscure sculptor whose work mostly dates from the turn of the century through to the end of the 1920s. His most familiar works – the figures of Gainsborough and Romney on the front of the V&A – are not particularly typical of his work, which included allegorical figures and groups on the one hand, and war memorials on the other. His allegorical work mainly dates from the 1900s through to the mid-1920s, and features rather full-figured female figures somewhat in the style of Thomas Brock, either single figures, or groups (see for example Love and the Vestal shown on this page), often with infants, and also several panels in high relief with many figures. In the mid-1920s he produced the sensuous Jupiter and the Princess of Phoenicia, in deco style, but I am not aware of other pieces he made in this style. Babb's war memorial work includes a Boer War Memorial in Grahamstown, South Africa, but mostly relates to WW1, hence dating from the early 1920s. A web search shows he made at least a few portrait busts. From the late 1920s, his work seems to have tailed off, though he did produce various works in earthenware pottery, of limited appeal to visitors to these pages.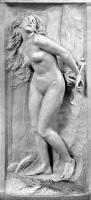 Typical nude figure by Babb, 'The Victim'.
Babb was born in Plymouth in Devon, and studied there, before taking up residence in London by 1898. He attended the Royal Academy Schools, where he won a a travelling scholarship in 1902 for his panel Boadicea urging the Britons to avenge her outraged daughters. He went to Italy, and also France, and then returned to London, working first for Brock apparently (though I have not been able to confirm this), before setting up his own practice in Baron's Court by 1911. He was an active member of the Royal Society of British Sculptors, but did not make Royal Academician despite several nominations. He taught for a period at Wimbledon.
Apart from the V&A figures mentioned above, in London is a lampstand by him, sponsored by the Leighton bequest, which stands just off Horse Guards Parade. It can be viewed only from a distance, but with cherubs at the base and a cupid on top, it is not the most appealing thing anyway. In St Paul's cathedral is his plaque to Scott of the Antarctic, significant because the small figures atop the monument, above a portrait and small frieze, comprise our only accessible example of his allegorical figure work, which otherwise I have seen only in reproduction. I am not aware of any examples of his work in museums.
His public war memorial work includes the Tunbridge Wells memorial - a sombre infantryman with bayonet - and that at Bridlington – with an angel - as well as the already noted South African example, which includes a very large angel.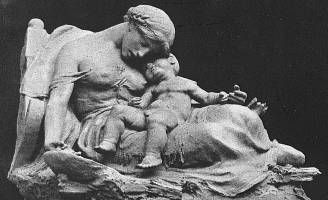 A not untypical work by Babb.
Visitors to this page since 22 Nov 2011: 3855