Liverpool's Florence Nightingale Monument, by C. J. Allen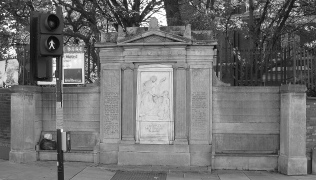 Florence Nightingale Monument.
Along Princes Road, leading out from the centre of Liverpool towards the south-east, and Princes Park, and beyond that, Sefton, is the Florence Nightingale Monument. It consists of a classical portico with Ionic pilasters, entablature, and pediment with acroteria, to the right and left of which are inscriptions, and in the centre of which is a panel with sculpture in high relief. To left and right of this structure is a bench, with masonry backing, and simple masonry posts at either end join to the wall.
The central relief sculpture shows Florence Nightingale administering to two wounded men, one lying against the kneeling figure of the other. She is in nurse's uniform, but with an outer piece of drapery, some sort of shawl, draped over her back and arms. The men are more or less undraped, bar some cloak over the frontal figure, and the kneeling one seems to be wearing breeches. The sculpture is rather worn, and the faces have been vandalised. However, we can see some hint of the skill of the sculptor in the finely poised hands of the figures. The overall composition is focussed on the act of the nurse pouring some medicine or sustenance into a bowl held by one of the figures at her feet, and many of the lines of the figures converge on this point. Nightingale holds in her other hand a lamp raised up, and the line of her arm forms one of several which start at the bottom left of the panel and fan out like rays across the field; this device helps give a harmony to the unsymmetrical design.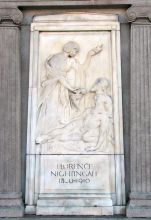 Florence Nightingale administering to the wounded.
The sculptor of the piece was C. J. Allen, the Liverpool-based sculptor and teacher of sculpture, whose principal work is the Liverpool Queen Victoria Monument. The piece was unveiled in 1913, some three years after Florence Nightingale's death.
St John's Gardens // Liverpool's Queen Victoria Memorial // Other sculpture in Liverpool
Statues in English towns // Sculpture pages
Visits to this page from 20 Mar 2014: 4,768